Alumni Success Story
Alumnae Turn Old Letterpress into Creative New Business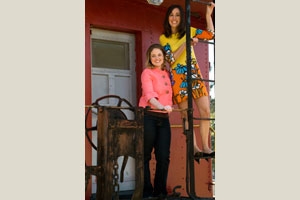 What weighs 721 pounds, was built in 1897, and has become an important part of two AU alumnae's thriving business?

An antique letterpress named Pearl, that's the centerpiece of a one-of-a-kind stationery business owned by Sarah Meyer Walsh, SPA/BA '05, and Erin Doerflein Miller, CAS/BA '02. The alumnae bought Pearl in 2008, and they now offer their growing list of clients beautiful hand-printed, invitations and stationery. Haute Papier, their couture social stationery studio in Georgetown, is the only stationer in Washington that operates an in-house letterpress, say the alumnae.

Walsh and Miller met as students while working together at Chef Geoff's restaurant and became fast friends, realizing they shared many common AU experiences, including study abroad—Miller went to Paris and Walsh went to Australia—and participating in community service, sororities, and the crew team. (Both also met their husbands, Stevenson Hockley Walsh IV, SIS/BA '05, and Cameron Miller, Kogod/BS '02, respectively, while at AU.)

Following graduation, the two stayed close. Then in 2006, Walsh offered to make a friend's wedding invitations, crafting them by hand. She had made valentines and homemade paper as a child, and was intrigued with the idea of working with paper as a profession. Haute Papier was born, and a year later, Miller became permanent part of the venture, after having already been giving Walsh friendly business and financial advice.

The two realized that Miller's business skills complemented Walsh's artistic skills—a perfect match.

Today, Walsh and Miller search the world for unique paper, accessories and embellishments to fulfill their clients' special requests. They have boxes of treasures collected from all over the globe to aid in their artistic inspiration; many of which they discovered while visiting Thailand and Europe.

It was their trip to nearby Pennsylvania that remains the most rewarding, however. The AU grads drove 250 miles to Pittsburgh to acquire Pearl when they learned she was for sale. Purchased from an 88-year-old printer who was retiring, Pearl now maintains a special spot in Walsh and Miller's Georgetown studio.

Although using the letterpress is a time consuming process—Pearl must be hand-fed one page at a time—Walsh and Miller say it's a process well worth the time, because they're able to create such distinctive designs for their clients.

Of course, clients of Haute Papier can always request the modern printing and engraving technologies so many other companies offer. The letterpress process has a special appeal for Walsh and Miller's successful business, though—and produces elegant results that some clients demand—and love.