Alumni Success Story
Taking a Stand for Education and Paying Forward the AU Spirit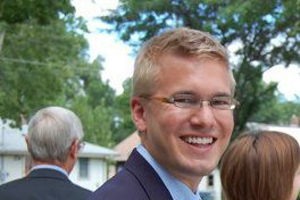 At the Minneapolis Convention Center this fall, Nicholas Banovetz, SPA/BA '03, SOC/MA '06, staffed AU's college fair table. Standing next to Admissions Assistant Director Jeri Kott, Nicholas shared experiences as a member of the Alumni Admissions Volunteers program. In Nicholas's view, AU offers great opportunities for students and is a natural fit, especially for Minnesotans who are civically minded and politically oriented. Now the public affairs manager for MinnCAN, an educational advocacy organization driving policy to address the K-12 achievement gap in Minnesota, Nicholas says that AU opened doors to him, and he's glad to pay it forward.

Nicholas almost didn't enroll at American; pride in his home state runs deep, and he strongly considered the University of Minnesota. But Nicholas's dad had participated in the Washington Semester, and Nicholas had visited D.C. universities. He felt AU achieved a perfect balance between the urban D.C. setting and an engaged college community. Even now, he recalls conversation during his campus tour that spoke to how individuals can affect their communities – locally and around the planet. Activities and curriculum as well as the international affairs connection ultimately drew Nicholas to AU.

A policy wonk, Nicholas recalls many enriching courses in the School of Public Affairs as a CLEG (Communications, Legal Institutions, Economics, and Government) major and his interactions with AU's faculty, including economics professor Mary Hansen. But the creation of a 5K run on AU's campus stands out as the most challenging learning experience in his college career. Today, Nicholas clearly recalls each step of the 18-month planning process, including promotion, marketing, and coordination of the race, which included 350 runners and 90 volunteers. The proceeds went to Habitat for Humanity. Active in Alpha Phi Omega and Sigma Chi as well as a four-year class officer, the 5K run defined Nicholas's AU experience. 

Though Nicholas always knew he would return to Minnesota, his roots in D.C. took shape as an intern at the Center for Public Integrity, the Council for Excellence in Government, and in the U.S. Senate office of Mark Dayton, who now serves as Minnesota's governor. From the Center for Public Integrity, Nicholas noted the "role and need for a watchdog for regulation. . . and what it looks like." From the senate office, he gained a sense of camaraderie in a fast paced and grueling environment, noting "people don't realize how hardworking [people are] on the Hill." His AU and internship experiences gave Nicholas the skills to write well, feed an inquisitive mind, ask thoughtful questions, and engage with other people. 

While advancing educational legislation on behalf of MinnCAN, Nicholas serves as the leader of AU's Twin Cities Alumni Chapter as well as an admissions representative. Jeri Kott has worked with Nicholas for two years and remarks, "He has played a key role in helping students get a better understanding about the AU community . . . alumni are an important part of the college search process for students, and they quickly feel connected to Nicholas during their discussions about AU." Whether meeting college-bound Minnesotans or fellow alumni, Nicholas is glad to share his strong feelings for AU.

Do you also believe that AU helped you grow as a person? To join Nicholas and other volunteers in spreading the word about AU's opportunities to prospective students, read about the Alumni Admissions Volunteers program.