Student Success Story
SPA Doctoral Student Wins Fulbright to Examine Migration and Local Politics in Mexico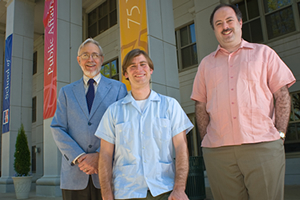 The next time Mike Danielson returns to Mexico to research indigenous communities, he will do so as a Fulbright Scholar. The PhD student in the School of Public Affairs has just become the 54th American University student since 2000 to earn the award.

"The Fulbright is a great honor," says Danielson. "It will allow me to contribute to important research on Mexican migration to the United States and the changes this brings to local politics in migrants' hometowns."

The Oaxaca "Experiment"
Danielson, who has a master's degree in international policy and Latin American development, has been collaborating with SPA Professor Todd Eisenstadt on a three-year research and training project in Oaxaca, Mexico, funded by the United States Agency for International Development (USAID) and Higher Education for Development (HED).

Oaxaca has served as a natural experiment for the researchers, owing to the government's policy of granting indigenous-majority communities their autonomy over local political and legal affairs.  The localities are allowed to select their mayors and other local authorities according to the procedures they choose, often in public community assemblies and without codified, formal procedures in place.

"The down side of autonomy, for all the benefits it brings to communities that have been marginalized for hundreds of years, is that if the rules are not codified, locally powerful political actors can manipulate customary law to exclude political rivals, women, or other groups," says Danielson.
 
Danielson spent two summers in Oaxaca supporting the project and working with colleagues based at Benito Juárez Autonomous University of Oaxaca (UABJO). In the summer of 2007, Danielson helped Eisenstadt and members of the Oaxaca-based research team design and test survey questions. In 2008, the team conducted a survey of authority figures in 400 municipalities—a nearly complete census of customary law-governed municipalities in Oaxaca.  This year, they are analyzing and writing up the data.

One question the survey will help the researchers answer is if migration and other pressures of globalization have led to the monetization of traditionally reciprocal and voluntary customary practices. The new survey will also allow Eisenstadt and Danielson to build upon their previous research on customary law and gender discrimination, in which they found that, across the state of Oaxaca, women's participation in local politics was significantly less in customary law-governed municipalities.

The Oaxaca project—directed by Eisenstadt and Dr. Jaime Bailón Corres at UABJO—has also offered two-year fellowships to nearly a dozen Mexican law students studying the intersection between customary and state or "positive" law, and trained over one hundred lawyers in Oaxaca in how to apply new criminal laws.
Impressions
Danielson has taken away from the Oaxaca project a heightened appreciation for the complexity of cultures and the difficulties of doing social science research. "There are so many dynamics—in this case, indigenous cultures, state government, migration, the decline of a long-dominant political party, poverty, gender discrimination—all interacting together," says Danielson. "So I did a lot of qualitative research work in addition to the survey, talking to the authorities and other residents there to better understand how things work."

The project has enabled Danielson to apply and test knowledge acquired in the classroom particularly courses on advanced methodology and comparative politics. "When you do fieldwork your outlook determines what you see," says Danielson. "It shouldn't be based on some unexamined assumptions, but rather have a solid methodological and theoretical foundation."

While conducting the research, Danielson noticed that the local authorities in these municipalities were often affiliated with local migrant-based organizations. This was a shift from the past, as municipal governments tended to be run by people connected with the dominant party in the state and federal government, according to Danielson.

"At least in the places I was visiting, it was very clear that these migrants—indigenous migrants specifically—had come back from the US having earned money, and formed organizations through which they had gained power," says Danielson. In Oaxaca, a growing percentage of households have a member living in the US, a relatively recent phenomenon, according to the research by Danielson and his colleagues.

This observation led the student to the central question of his upcoming dissertation research, for which he received the Fulbright: How does migration affect local political structures in Oaxaca and beyond? This question will take Danielson back to Oaxaca as well as to Guanajuato, a state with a long history of migration and without a significant indigenous population.
Student-Faculty Collaboration
As part of their work together, Eisenstadt and Danielson have co-authored and presented research papers on the "Oaxaca experiment" in Mexico, Canada, and Brazil. The authors have just co-written a piece in the journal Politics & Gender, have drafted another journal article they will send out for review soon, and are co-editing a book. 

This February, the SPA researchers brought their learning from the field back home, organizing a two-day conference at AU entitled, "Reconciling Liberal Pluralism and Group Rights: Oaxaca, Mexico's Multiculturalism Experiment in Comparative Perspective." The conference attracted more than 50 academics and practitioners from the U.S. and Mexico.

Danielson's dissertation committee includes Eisenstadt as chair, Prof. Ruth Lane, SPA Dean William M. LeoGrande, and Prof. David Fitzgerald of the University of California-San Diego.

Beginning in 2006, Danielson assisted LeoGrande in a research project on the legitimization strategies of Fidel and Raul Castro since the Cuban Revolution, conducting a content analysis of their speeches to ascertain how their rhetoric evolved over time. The work resulted in an article, co-authored by LeoGrande, Danielson, and two other researchers (including another SPA PhD candidate and alum), now under review for publication.

AU faculty have also played a critical role in the Fulbright application process, according to Danielson. "It was a very rigorous process, and I got some excellent feedback on my proposal from members of my committee, as well as from SIS Prof. Phil Brenner, whom I worked with intensively." Danielson was also assisted by Office of Merit Awards Director Paula Warrick and Department of Economics Prof. María Floro and Department of Language and Foreign Studies Prof. Juán Pablo Rivera.
More Questions Ahead
While Danielson has his work cut out for him for the next two years, once he completes his PhD, he'd like to continue looking at this same phenomenon of migration impacting local politics back home, but in other locations. "I'm convinced there is something universal about how politics works; things just play out differently in different places," he says.

"A lot of focus is placed on how migrants are incorporated into places they go, but the other side of the equation is what happens in places that are left behind," says Danielson. "Migrants continue to be connected in their hometowns—not just Mexicans settling in the U.S., but Turks in Germany, Ecuadorians in Spain… The families and communities that migrants leave behind, send money back to, and sometimes return to, are affected not only socially, but also, as I'm arguing, politically."

Now having begun to explore these questions of migration, Danielson returns to San Diego with new eyes. On a recent trip home, he discovered, right down the freeway from where he grew up, a community of migrants from one of the towns in Oaxaca that Danielson had visited. The migrants celebrated the same festivals at the same time as their families back in Oaxaca.

"There is a remarkable amount of connection between these communities. I didn't see it, but it was always there," Danielson concludes.