Student Success Story
Poli Sci Student Goes Behind the Scenes at Primary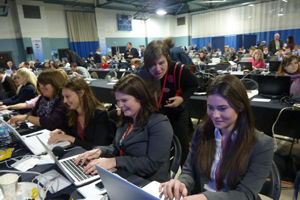 Elise Tollefson was living a politico's dream. The 24 year-old graduate student was rubbing elbows with presidential candidates, reporters, and pundits while covering the New Hampshire primary—and calling it schoolwork.
A master's candidate in SPA's Applied Politics program, Tollefson was among a select group of government and communications students reporting from the Republican primary as part of a special SPA/SOC class "Communicating the 2012 Election."
The AU students dashed around Manchester, N.H., taking in the election from all angles—attending a Mitt Romney rally, a town hall meeting with Jon Huntsman, and exclusive press events, as well as conducting man-on-the-street polling.
"Having grown up in the 'Super Tuesday' state of Illinois, where television is the closest you get to the candidates, I found the retail politics of New Hampshire fascinating," said Tollefson. "We asked one woman who she supported, and she said she'd met Mitt Romney once and Newt Gingrich twice, but she hadn't yet met the others– she'd let us know her decision once she had."
The AU class got to learn the ropes of campaign analysis from the best.  Program faculty included veteran media professionals like Richard Benedetto, Rose Ann Robertson, and others who have been covering politics for decades for AP, USA Today, PBS Frontline and other national news outlets.
Tollefson and her classmates tweeted breaking news from the press filing room, flanked by reporters from revered media organizations like the New York Times. Ushered into the "spin room," AU students interviewed candidates after debates.
"It was a unique opportunity to literally be in the shoes of a reporter," said Tollefson. The student also wrote a few columns for the American Observer, and had a cameo on a live taping of the Morning Joe show.
The class culminates in a final multi-media project; Tollefson's group is applying their polling findings to the topic of voter motivation. Students are also conducting interviews on Capitol Hill to see if what Washington thinks people wants matches up voters' opinions in New Hampshire.
Tollefson also enjoyed her fellow students had a diverse mix of skills and perspectives.
"New Hampshire was a team effort," she said.
Whether traveling to Manchester for the primary or flying to Brussels to meet with European Union officials for SPA's European Public Affairs and Advocacy Institute, Tollefson found SPA's applied politics program to be hands-on at every turn.
"We didn't just sit in the classroom and talk about political issues; we went out and experienced them."
Tollefson, who has interned in the U.S. House of Representatives, FEMA and Illinois state Senator Chris Lauzen among others, is shooting for a Hill job after graduation in May. If she can find a position where she can apply the passion for tax and business policy she's cultivated at SPA, all the better.
"You get to study what you want in this program," she says. "Professor James Thurber says, 'Write what's in your guts,' and I've really taken that to heart."