Academics Success Story
Political Communication Graduate Student Masters the Field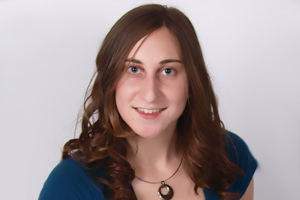 Like many of her peers, Stephanie Slade came to the School of Public Affairs (SPA) not just for the education but also its address. As a University of Florida undergraduate she enjoyed a taste of DC life as a White House intern--"the opportunity of a lifetime," she recalls. Slade knew she had to come back and make her mark in Washington.
Slade started out in the applied politics program at SPA, but switched tracks when the new program combining her two professional passions, was unveiled. In May, she will become among the first to graduate under SPA's new political communication master's program, offered jointly with the School of Communication.

"Communication is such an important part of the political process. It's so smart for AU to offer this program for people like me who want to be equally strong in politics and communication without having to choose one over the other," said Slade.
The program encourages students to master the fundamentals and finer points of political communication. "I've written three communications plans so far, which has been such great practice," Slade said. "We're not just taught abstract theories of communication, we're given what we need to write a plan for an organization or a candidate and then challenged to put it in practice."
Slade also got a great working education as a communications fellow at the nonprofit Partnership for Public Service, a non-profit which encourages young people to serve in government. As a fellow, Slade wrote articles for the Washington Post, planned a black-tie gala, drafted a daily news bulletin, and transcribed interviews with key people in government and more.
Slade worked her scholarly muscles by helping to edit The Public Purpose, SPA's journal for graduate students. Another bonus was assisting Dr. Kristine Kalanges, a professor in SPA's Department of Justice, Law and Society. "That was a real secondary education, as law is not my background. It allowed me to delve into research on topics like international law and religion that I wouldn't otherwise."
One of Slade's most memorable – and intense – experiences was attending SPA's two-week Campaign Management Institute. "In the day, we would listen to speakers explain all aspects of running a campaign, and in the evening we'd channel what we learned in our own plan," said Slade, who worked on a 158-page campaign plan for Sen. Arlen Specter, who at the time had just switched parties. "I got a sense of what it's like to be on the campaign trail… Stressful, but awesome."
For her master's capstone project, Slade is writing a content analysis of all the keynote addresses from the Democratic and Republican national conventions going back to 1960. "It's been a really fun project. I'm looking at the narratives that keep emerging and how they changed over time," said Slade, as well as "whether Republicans and Democrats choose different narratives."
While Slade is working to finish her capstone, she has already accepted a summer fellowship with website GovLoop, a position that will build on the considerable writing experience she amassed at SPA.
Next stop, Slade hopes, is her dream job: speechwriting for a member of Congress or for the White House. Slade will surely get there sooner or later, and when she does, she'll be well prepared.