Student Success Story
SPA Undergrads Capture the "Oscar of Political Advertising"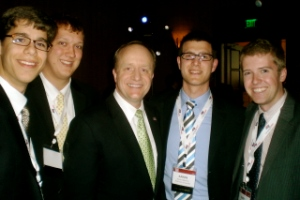 A team of five SPA undergrads has captured a coveted Pollie award for Best Student Campaign Strategy. Sponsored by the American Association of Political Consultants and selected by a blind jury of political experts, the Pollies are known as "the Oscars of political advertising." 
The winning strategy was crafted for the Tim Kaine for U.S. Senate campaign under the Campaign Management Institute (CMI), a two-week, hands-on intensive taught by SPA government professor Candice Nelson. "It's a tremendous honor, not only for the students but for the Campaign Management Institute and the university," she said.

The students' comprehensive 200-page strategy covered every dimension of a real-life campaign, to include field office locations, analysis of prior voter data, voter demographics, and geo-targeting of TV advertising spots.

 "We stayed up for 56 hours straight before the project was due. We really got a sense of deadlines in the real world," said Garret Bonosky who, with classmate Aaron Alberico, submitted the strategy to the Pollies on the suggestion of another professor.

"In just two weeks the institute gave me a more comprehensive look at the campaign process than I had even gotten working directly under a campaign manager," from direct mail pieces to the finances and fundraising, Alberico said.

The student team, which included SPA students Noah Benjamin, Joshua Roll and Bart Thompson, all traveled to Austin, Texas, to attend the Pollie Awards and Conference in March.
"There were a ton of different award categories, from mail vendors to media buys, but we were the only Pollie winners to actually be called on stage," said Alberico. 
At the conference, the students got a chance to deepen their knowledge of the field in break-out sessions ranging from direct mail and online campaigning. They also got to rub elbows with political elites like Karl Rove, former senior advisor to George W. Bush, and Paul Begala, Bill Clinton's former campaign manager.
The award was the perfect finish to their time at SPA, according to the graduating seniors.

"SPA has given me the invaluable combination of real-world experience and rigorous classroom learning. The fact that SPA employs so many quality adjunct faculty, top professionals who are actively practicing their craft, really enhanced my experience," said Bonosky, who will start a new post this summer as New York Governor Andrew Cuomo's junior director of federal policy.
While the award-winning graduates now leave Ward Circle behind for the corridors of power and politics, there's a good chance they'll be back, according to Nelson.

"A lot of students who go on to become campaign managers, candidates or consultants say that the Campaign Management Institute started them on their professional journey," said Nelson, who has taught the CMI for over twenty years.

"We recruit many of them back as expert guest speakers, bringing their journeys full circle."