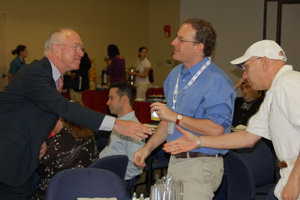 Faculty
Learn what AU has to offer you and your students or expand your own skills and knowledge through our training.
We offer classes on topics including:
Financial and Physical Wellness - Health Wellness & Promotions (HR)

Professional skills such as interpersonal communication and conflict resolution - Workplace Learning and Development (HR)

How to use software such as Blackboard and PowerPoint - OIT & CTRL

How to Register
Faculty who are interested in registering for a professional development training offered by Workplace Learning and Development team of Human Resources may do so by sending their name, AU ID #, course title, date, and time to AsuccessfulU@american.edu. Confirmation of registration will be sent to your AU e-mail address. If you wish to cancel, please send an e-mail to AsuccessfulU@american.edu.
Faculty Supervisors who manage staff may log in to AsuccessfulU's Learning Module, to register for classes.