International
AU Catches Justin Fever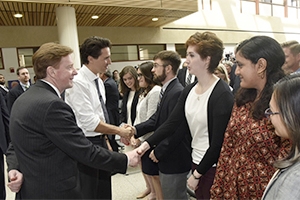 If Canada really is the United States' oft-forgotten neighbor to the north, nobody told Justin Trudeau. The charismatic Canadian Prime Minister has been all over the U.S. news media, and he's certainly grabbed the attention of official Washington.
Last week kicked off with Trudeau's prime time interview on 60 Minutes. He later met with President Barack Obama at the White House, the first official visit by a Canadian leader since 1997. Trudeau also made a special appearance at American University's School of International Service, where he gave an inspiring speech and fielded questions from AU students.
In His Own Words
Trudeau's message was largely student-oriented and forward-looking. "The work that President Obama and I did yesterday wasn't so much focused on the coming months, as much as the coming decades. We're focused on your future," he said.
Whereas older citizens are often used to the status quo, he noted how young people are already accustomed to massive transformation—moving away from home, studying in college, launching a career, starting a family. "We need you to be thinking and challenging us about why we're doing this, why we're doing that, why we're not doing this," he said. "And that means not just speaking up, but it also means getting involved." 
View photos, social media posts about the event in TrudeauAtAU Storify.
He expressed a desire for new thinking on many issues, including climate climate. "You cannot anymore make a choice between what's good for the environment, and what's good for the economy. They go together," he said.
Trudeau also talked about diversity in the age of globalization. "We have to understand that that diversity—while bringing certain challenges with it—ultimately is a tremendous source of strength," he said. "I'm excited to see the extraordinary mix here at American University, but know that this is again something that this generation gets to a greater degree than previous generations."
The Things That Unite Us
A student mentioned that some people are blaming Obama's policies for the rise of GOP presidential frontrunner Donald Trump. He then asked Trudeau how he'd prevent another Trump in Canada.
Trudeau said there was some fearmongering during the recent Canadian election, but it failed to resonate. "[Canadians] find it hard to sustain anger and fear for very long. We are an optimistic, hopeful people," he said. "The things that unite us are always far greater than the things that divide us. And I think that, ultimately, is what democracies keep moving steadily towards. So I have confidence in the American electorate, and look forward to working with whoever you elect come November."
Watch 2 minute video capturing Trudeau's AU visit.
An AU alum, after noting Trudeau's embrace of Syrian refugees, asked him how he's tried to create a welcoming community. "It's easier to point blame, and to say, 'Oh, it's this person's fault or that group's fault,'" he said. "One of the responsibilities of leadership is to draw people out of that. To understand that countries like ours need people to work together to succeed together, or else we all fail alone."
A Symbolic Visit
A Washington Post article characterized Trudeau as the "anti-Trump," with a more inclusive message. SIS professor Amitav Acharya, who taught in Canada and consulted for the Liberal Party-controlled government in the 1990s, also believes that Trudeau offers a positive alternative to Trumpism.
Acharya sees a contrast between Canada—moving in a progressive, internationalist direction—and the inward, xenophobic views taking hold in the U.S. "Trudeau didn't come here to send a message to America. That's not his agenda," he said. "But it's a really symbolic visit."
Enthusiasm on Campus
Some AU students felt that Trudeau shares many of their core values. For instance, Trudeau has argued that men should embrace feminism, and at the event, he re-iterated this position. "There are lots of extraordinary women standing up for women's rights and fighting for it. But I need more men to do that, too," he said, to huge applause.
Sarah Riley, a graduate student and program coordinator of the U.S. Foreign Policy and National Security Program at SIS, commended him for implementing gender parity in his cabinet. Riley also praised his promotion of mental health, which she calls an important domestic issue in the U.S.
Riley talked about the enthusiasm on campus last week. "He's a world leader. And he's here at our university, on our campus," she said in an interview. After the school recently sent admissions letters, she wrote emails greeting students and mentioning Trudeau's appearance. In response, several prospective students immediately asked her about tickets.
"It's really good for AU and for SIS," she said. "I think it's a huge selling point for us. And just as a staff member, it makes my job easier because I can say, 'Here's why you should maybe consider coming to SIS: We have a great curriculum, we have dedicated faculty members; oh, and the prime minister recently visited.'"
Lucas Olson, an SIS graduate student and research assistant, studied abroad twice in Canada during his undergraduate years. "I remember learning about Pierre Trudeau, his father, and how famous he was," he said. "It's kind of a political dynasty that's formed, but in a good way. [Justin] seems like he's a very good leader."
Connecting With Students
With his sleeves rolled up, Trudeau conveyed a relaxed, compassionate demeanor on stage. He engaged the students with thoughtful, detailed answers. This did not go unnoticed by people in the crowd. "I really appreciated the fact that he was focusing most on students' questions," said Tara Weixel, a junior psychology and philosophy major.
Since his AU appearance took place the same week as his White House visit, it coincided with spring break. But SIS Dean James Goldgeier noted that some students came back to attend.
Weixel happened to be staying on campus, and she jumped at the chance to hear Trudeau speak. "I thought, 'This is exactly what I want to do for spring break,'" she said. "I think that everyone is really hopeful about his election to become prime minister, and just curious about where it's going to go."