Student Life
Final Answer?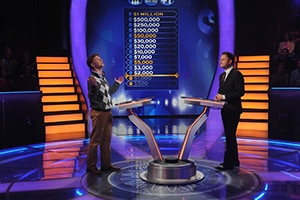 Patrick Reed has done some outstanding work at American University. An Honors student, he just graduated magna cum laude with a bachelor's degree in international studies and minors in computer science and Russian language. Yet he's also leaving AU with some savings and traveling money—to the tune of $30,000—that he recently won on the game show Who Wants To Be A Millionaire.
Though he taped the segment in August 2015, the syndicated TV show aired last week—just days before he walked during commencement.
"It's still kind of surreal, even months after it happened," says Reed.
Game Day Arrives
Reed is a longtime trivia buff, and among friends, he's known as a person who knows things. Yet plenty of people play Jeopardy! or Who Wants To Be A Millionaire from the friendly confines of their living room. It's much tougher to stand under the bright lights of a TV studio and answer arcane questions about the Boxer Rebellion or the Hundred Years' War.
Last year, Reed auditioned for Who Wants To Be A Millionaire in Baltimore. Later, while he was studying abroad in Russia, he missed the network's invitation call to appear on the show. Upon returning to the U.S., he frantically called to express continued interest in being a contestant, and he subsequently taped the program in Connecticut.
As the final contestant that day, he waited in the green room from about 9:00 am 'til 5:00 pm for his turn. Yet when the questions started rolling, his segment moved at a brisk pace. "There was about a minute or so for each question," he says. "So, it really kind of blitzes by."
Especially in the age of YouTube, there's a natural risk of embarrassment for anyone in front of cameras. And Reed says he was particularly nervous during those first two simpler questions. "You're so concerned about not stumbling over the first two, because you don't want to be the person who messes up the easy questions," he says. "But it definitely became easier as it went along."
Fun Questions and Lifelines
During the Regis Philbin years, contestants could call their trusted "lifelines" on the phone if they needed help with a difficult question. Nowadays, with the ubiquity of Google and iPhones, lifeline friends are required to be in the studio to ensure that they're not researching an answer.
So Reed brought along AU classmate Lucas Wright to be his lifeline, and he assisted Reed with one of the questions. Though their areas of interest overlap somewhat, Wright has knowledge of politics, movies, music and pop culture generally. Reed's specialties include history, geography, international affairs (he just earned his degree from SIS), and technology.
One question, in particular, was in Reed's wheelhouse. Host Chris Harrison asked, "Snapchat's mascot 'Ghostface Chillah' is named after a rapper from what group?" Reed recalls, "I thought to myself immediately, 'Oh, Wu-Tang Clan, of course.'"
He got the first nine questions right, with his winnings climbing to $30,000. If he knew the answer to the 10th question, he'd hit $50,000. But if he missed, he'd leave with $5,000. At that moment, unsure of the answer, he polled the audience. Most audience members—as it turned out—had the right answer, but he'd seen enough Millionaire YouTube clips with audiences guessing incorrectly.
"I thought it was better for me to just walk away at that point, unless I was 100 percent certain," he explains. "The difference between $30,000 and $50,000 to me is not that great. Either way, it's an incredible sum of money."
Life Experiences
Reed is planning to put much of that money towards graduate school in public policy or government. It will also pay for his two-month trip through Europe this summer.
It should be a nice break for Reed, who started his educational journey as a Silicon Valley kid in Menlo Park, California. His mother does finance for start-ups, and his father works in bioengineering. His dad also shares Reed's love of trivia.
"I get beaten practically every time we play against each other watching Jeopardy! on TV," he says.
So, how exactly does someone go from an armchair watcher to a game-show master? In the Oscar-winning film Slumdog Millionaire, we see protagonist Jamal Malik answer questions through mental flashbacks.
On stage, Reed says, he also thought about daily interactions. At AU, he was vice president of the foreign service fraternity Delta Phi Epsilon, where he got to know well-traveled, globally-minded members. Sure enough, when Harrison asked him a question about a country capital, he remembered some of those conversations.
"There were definitely different parts of my life that I felt like I drew on for the purposes of this show," he says.
Now, it seems, he'll have another life-altering memory to cherish.
"There's just this excitement of being on a show that you watched growing up, or at least knew it as part of the pop culture zeitgeist," says Reed. "Being able to participate in that, to some degree, is really just an experience that's hard to describe."