On Campus
The Road to Glory: Hip-Hop Star Common Speaks at AU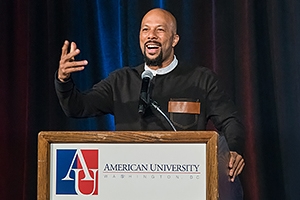 Among his many accomplishments, Common won an Oscar for "Glory," a song co-recorded with John Legend for the movie Selma. "Every day women and men become legends/sins that go against our skin become blessings," Common intoned on "Glory." That idea—victory in the face of adversity, belief in the face of oppression—was a theme he returned to at American University's Bender Arena on Wednesday, April 5.
The rapper, actor, and author struck an optimistic tone throughout the night, reflecting on his Chicago upbringing, his hip-hop career, and his dedication to social change. The student-run Kennedy Political Union and the College of Arts and Sciences co-presented the event. Michael Harvey, an AU professorial lecturer in audio technology, and Sean Glover of SoundExchange, moderated the question-and-answer session. Co-sponsors included the AU Alumni Association, the Office of Campus Life, the AU chapter of the NAACP, Black Student Alliance, the Kogod School of Business-Business and Entertainment Program, Men of Empowerment and Excellence, 94 Forever, Second District Records, and WVAU.

On Ali and Greatness
Common—real name, Lonnie Lynn—was here to speak and not perform. Well, almost. To the delight of the AU crowd, he broke into a freestyle with shout-outs to "coffee at the Dav," "Mass Ave.," and KPU Deputy Director Aaliyah Lambert.
He opened by talking about attending Muhammad Ali's memorial service in 2016. "I started to think about, 'Why did we call Muhammad Ali the greatest?'" he said. Common believes it was Ali's humanity that drew people to him. He noted how Ali "spoke up against injustices, how he had sacrificed his career, at the height of his career, for something he believed in. How he greeted each and every individual with love, no matter what your background was. Or what you looked like. That's why we called him the greatest."
Common then thought about harnessing greatness within himself. "Find your path. Believe in your path. And live your path," is his motto.
He recalled finding his path when he worked with his cousin on his first-ever rap song (which he briefly performed to the audience). "Little did I know that that path would take me to China, take me to Japan, take me to Africa. Little did I know that that path would take me to the White House, to visit our first black president and first lady," he said.
On Believing in Yourself
Common described several pivotal moments in his life, including his breakup with singer Erykah Badu. At the time, he didn't believe in himself. "I was dimming my light for others. You can't dim your light for anyone," he said. "Not if you want to contribute to this world in the highest way."
He discussed his collaborations with Kanye West, who was a producer on Common's critically-acclaimed 2005 album Be. The record got multiple Grammy nominations, and he told a funny anecdote about preparing potential acceptance speeches. Ludacris was announcing best rap album, and judging by the way he was talking, Common assumed he'd win. But the award went to Kanye himself, for Late Registration.
"Living your path is knowing that everything that you may desire, may have dreamed of, may have worked for, may not come exactly at the time," he explained about losing at the Grammys. "The next morning, Kanye called me and said, 'Let's get back in [the studio] and do it.' I said, 'Let's get back in and do it.' I didn't fall. I just took this as a challenge."
Hip Hop, Activism, and Politics
Common expanded on his work on social issues, and he made a reference to the current political climate.
"People have asked me, 'Man, we are in the worst times of our lives.' And I actually believe we are in the best times. You know why? Because it's bringing out the humanity in so many of us. It's bringing out the love in so many of us. It's bringing out the understanding in so many of us," he said.
Just this year, he visited with inmates in several California state prisons. It was part of an effort to understand how prison affects incarcerated people and their families. "One of the greatest things I learned as I walked through those prison cell blocks was forgiveness," he stated.
During the making of Selma, former UN Ambassador Andrew Young gave advice that resonated with him. "The first thing he said to us in our rehearsal was, 'What are you willing to die for? Live for that,'" Common remembered.
He reiterated the same point to the AU audience. "Find that passion, find that purpose, and live for that—every day," he said.
During the Q&A, he was asked about the role of hip hop in social activism. "One of the first gifts I learned from being a performer is when I looked out in the audience and I saw black people, white people, Latino people, Asian people, and—when I went to certain states—Native American people. And I was like, 'Man this is incredible.'"
Common noted that nowadays, he'd like to see artists not only speaking out, but taking action. "If it's a policy that I could be a part of changing, I need to do it."
*Bonus Track! For the Q&A, someone submitted this gem of a question: If you could listen to one album again for the very first time, what would it be? Common's answer: Michael Jackson's 1979 classic Off the Wall.