Government & Politics
Health Care 2018: A Look Back and a Look Forward at Politics and Policy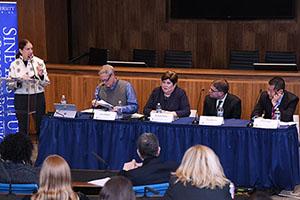 The 2018 midterm elections were driven, in large part, by the issue of health care, two panels of veteran pollsters and party officials agreed in a post-mortem held on November 14. The event was organized by AU's Sine Institute of Politics & Policy and the School of Public Affairs.
"The Sine Institute exists for these kinds of conversations," American University President Sylvia M. Burwell said of the Institute, which was launched in September with a milestone gift of $10 million from alumnus, trustee, and entrepreneur Jeff Sine, SIS/BA '76, and Samira Sine, an advocate for women and children and a seasoned journalist.  
President Burwell, who served as Secretary of Health and Human Services in the Barack Obama administration, called health care "a topic where the connections between the substance and the politics are actually clear to people. One common refrain when you're sick or when a loved one is sick is that what we need is pretty simple: health care we can access, health care we can afford, and our expectation is that we have the highest quality health care."
Panel One Moderator Jennifer Duffy of the Cook Political Report told the audience that health care was the number one issue cited as important by voters in 2018, just two years after it was not listed in the top four. Sixty-nine percent of voters who were sampled in exit polls agreed that the health care system requires "major changes," and more than one-third of the nearly seven thousand television advertisements broadcast during the 2018 cycle focused exclusively or partially on health care, Duffy said. 
Republican consultant Glen Bolger, BA/SPA '85, of Public Opinion Strategies noted the irony that a growing economy had removed financial worries from the top of most voters' agendas, leaving confusion over health care to take its place.
"Voters don't like major changes," Bolger said of the GOP. "When Obamacare became the law of the land, they didn't like it, but once it came into effect they said, 'Don't change it.'"
"It's very easy to go back and see where the blue wave started to really take off," said Tom Jensen of Public Policy Polling, noting that Republican efforts to repeal the ACA drew negative reactions from voters in swing districts. "Right off the bat, it was incredibly unpopular, and right off the bat these candidates tanked."
"I'm not convinced that the average voter really knows what they want about health care," Jensen stated. Looking ahead to 2020, he said, "It will be interesting to me to see if Republicans just drop the effort to repeal Obamacare once and for all."
"The whole health care debate has shifted radically from where we were two and four years ago," Democratic pollster Tom Yang of Hart Research noted. "I'm not sure what the mandate is right now – accessibility, affordability, quality, and probably four other things. It is a 'bucking bronco' issue - what can we pass and what can we say we're for in the next election?"
Yang predicted that advocating for a single-payer, government-run "Medicare for All" system will be a litmus test for Democratic presidential aspirants. "People have one basic question: 'Can I get my health care cheaper when I need it?'"
A second panel discussion was moderated by Capri Cafaro, executive-in-residence at SPA. Leslie Dach, Protect Our Care campaign chair and former Obama administration official said that "Voters sent a very clear message on what they want to see in health care. The agenda is quite concrete and quite real—the GOP has to stop this relentless war on HC and this relentless sabotage."
Health care, Dach said, is "an issue of deep economic anxiety. While the economy was better most Americans are still one emergency-room visit away from personal economic disaster."
"Everybody has a health care story," said Jessica Mackler of the Democratic Congressional Campaign Committee. When voters saw Republican lawmakers celebrating their repeal of portions of the ACA, Mackler said, the image forged "a real connection with people who understood what it meant to their lives for Republicans to take this away."
"That gave viewers something to attach to, and it had a big messaging impact that really framed the election. It became about whose side you were on."