Research
Out of the Margins: Prof. Finds Jewish Women at the Forefront of American History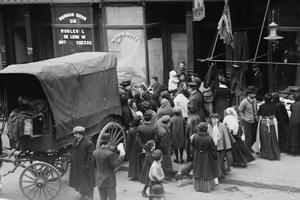 The words are inscribed on a plaque in the Statue of Liberty's pedestal—and embedded in American minds: "Give me your tired, your poor/Your huddled masses yearning to breathe free."
Many schoolchildren know the iconic lines—from the sonnet "The New Colossus"—were written by Emma Lazarus. What they might not know? Lazarus was a Jewish woman. According to American University history professor Pamela Nadell, her background was common knowledge during her writing years. And it's significant, showing the immeasurable contributions from Jewish women in the United States.
Nadell chronicles these stories in her upcoming book, America's Jewish Women: A History from Colonial Times to Today (W.W. Norton, March 2019). She opens the text with a discussion about Lazarus, while spotlighting her great-grandmother, Grace Nathan, an early American wife and mother whose poetry went unpublished.
"This is a book about well-known Jewish women. But it's also about Jewish women, living on smaller canvases, who were astonishingly important to their families and local communities. All of these women left a legacy," says Nadell, who directs the Jewish Studies Program in the College of Arts and Sciences.
Early Visibility
Like other minority groups, Jews are often left out of traditional American narratives, and Nadell hopes to provide a sorely needed corrective.
"Historians of American women tend to pay attention to Jewish women who were active in the labor movement, and not much beyond that," she says. "And Jewish women tend to get collapsed into other white American women. I'm trying to show that actually they do have an independent history, and the fact that they were Jewish mattered."
From the beginnings of Colonial America, Jewish women were visible in everyday life. Since they didn't attend church on Sundays, Nadell says, their neighbors were aware that they practiced a different religion.
Nadell writes about early trailblazer Rebecca Gratz, a Philadelphia philanthropist who helped establish the nation's first Jewish orphanage and first Hebrew Sunday school. When Gratz noticed that Christian anti-poverty groups tended to proselytize, she started a Jewish female society to aid the Jewish poor.
Starting in the 1880s, a wave of Eastern European immigration brought more Jewish women, and they achieved newfound prominence in American life. "These women become political activists in the labor movement, and also activists in the home. Their lens changes and we start to focus more on the family," Nadell explains.
She examines the implications of the 1902 Kosher Meat Boycott in New York City. When Kosher meat prices spiked, Jewish women took to the streets and smashed butcher shop windows. "They didn't want anybody buying Kosher meat, and they launched a food boycott. So when we add women to the picture, all of the sudden we get different elements of activism," she says.
Women's Rights and Jewish Identity
The book explores Jewish women's central role in larger battles for gender equality. In earlier phases, Nadell says, they made significant contributions to the suffrage, birth control, and peace movements. By the time of Feminism's Second Wave, they became household names: Betty Friedan, Bella Abzug, and Gloria Steinem (whose father was Jewish). Mid-to-late 20th century Jewish women were following in the footsteps of their ancestors.
"They came from a long history of political activism. It was their grandmothers who were striking for better labor conditions," she says. "It's a tradition that demands you stand up for justice."
Notably, their Jewish identity was germane to their struggle for women's rights. "Betty Friedan wrote very clearly that it was the marginalization she experienced from anti-Semitism that led her to understand what it was like to be marginalized as a woman," Nadell says. "Ruth Bader Ginsburg, the Supreme Court Justice, remembers seeing signs that said, 'No Jews Allowed, No Dogs Allowed.' And that impacted her life."
While anti-Semitism affected all Jews in the US, Nadell explains why women were acutely aware of it: "Jewish women were usually the ones present when their kids came home from school and told them they'd been called a dirty Jew. Their husbands were often at work."
Luminaries and Hidden Heroines
Nadell also looks at Jewish-American women's political involvement in Jewish issues overseas. During the Cold War, the plight of Soviet Jews became a human-rights rallying cry. When a young American Jew had a Bar or Bat Mitzvah, they were "twinned" with a Soviet Jewish kid who theoretically couldn't have the same ceremony.
Nadell found an old letter from Facebook executive Sheryl Sandberg to her Bat Mitzvah twin in the Soviet Union. Since it was long before the Facebook technology of "friending," Sandberg sent her lots of stationery to use for letter writing. While researching her book, Nadell interviewed Sandberg's "twin," a web designer now living in Israel.
She analyzed American Jewish women's support for—and occasionally complicated relationship with—the State of Israel. "In the book, I show how Jewish women embraced the Zionist idea, and how their position on Zionism expands when Israel is established," she says.
Actress Natalie Portman was born in Jerusalem and now holds dual American and Israeli citizenship. After getting the prestigious Genesis Prize, she declined to attend the ceremony over Israeli Prime Minister Benjamin Netanyahu's policies.
"I asked the question, 'Well, what's happened recently?' And this crops up as an example of Jewish women today who are voicing their concerns around Israel," Nadell says.
Again, America's Jewish Women doesn't just dwell on high-profile feminists, but highlights lesser-known figures who were no less consequential. In 1970s New Jersey, it was a Jewish judge, Sylvia Pressler, and a Jewish professor, Judith Weis, who paved the way for girls to play Little League Baseball.
"You've probably never heard of Judge Sylvia Pressler or professor Judith Weis. But Jewish women all across America were advocating for changing women's lives."
Her History
Nadell started teaching at AU in 1982 and was contracted to write Conservative Judaism in America. That book dealt with a grand total of two women, prompting Nadell to forge into gender issues.
She published various texts on the Jewish experience, but this book is the culmination of an entire career of research and reflection. And she says she benefited from excellent work by her colleagues in the field. "It's very hard to take on an extraordinarily large subject," she says. "This is built on a quarter-century of scholarship, both in Jewish women's history and US women's history, but it's made accessible for a wide readership."
Nadell believes AU facilitated a supportive research environment for her, noting her 2010 appointment as the Patrick Clendenen Chair in Women's and Gender History.
"I am deeply grateful to the university and the confidence it expressed in me," she says. "It gave me the time and the research resources to produce a big book like this."