On Campus
President Burwell Offers Encouragement to Veteran Program Leaders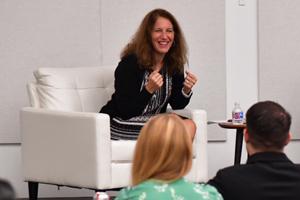 Speaking to a group of active duty military service members, veterans, and civilians working to advance services to post-9/11 veterans, American University president Sylvia Burwell shared her insight on leadership and what higher education can do to support military students and their families.
Burwell addressed the 2019 class of scholars in the Stand-To Veteran Leadership Program meeting on September 13. Sponsored by the George W. Bush Presidential Center and hosted by the American University School of Public Affairs at the Washington College of Law, the program was designed to develop the skills of those who serve our nation's veterans and helping increase their impact.
During the event, Burwell highlighted how students with military experience add value to the campus community, adding that she would like to have more of them participating in life at AU. To facilitate that participation, she said that the university should establish appropriate facilities and spaces for military students and their families to gather — many of whom live off campus, are older, and have jobs.
"It's about culture. Having the university be a place where people have a sense that veterans are important, that we honor them, and we embrace the contributions they have made," said Burwell.
AU's recent commitment to "inclusive excellence" is an effort to create an environment where students from all backgrounds, including veterans, can belong, said Burwell. Because most people on campus are not veterans, there needs to be a sensitivity to asking about combat or singling them out in class for their opinion.
"You are leaders. You want to get in there and do," said Burwell, who has held high-level positions in the government, corporate, and nonprofit sectors. "You have to restrain yourself to really have an understanding before you set that broad strategic vision."
Offering leadership advice to the veterans' group, Burwell underscored the importance of learning about an organization and listening before setting an agenda.
"Part of what the leaders will take away is the invitation to be themselves," said moderator Todd Connor, chief executive officer of Bunker Labs in Chicago. "The fundamentals of leadership are working hard, doing your homeworking, and bringing your values to work."
Connor said Burwell was "extraordinary" in her unique capacity to frame the issues of the day, ground her comments in the data, and offer stories of real people.
"I'm proud of the public policy scholars here today and grateful that SPA is hosting them," said SPA Professor of Practice Daniel Gade, a U.S. Army Lieutenant Colonel (Ret.) who was twice wounded in combat. "Their work on veterans' issues will reverberate through this generation and the next."