On Campus
Susan Rice Talks Tough Love at All-American Weekend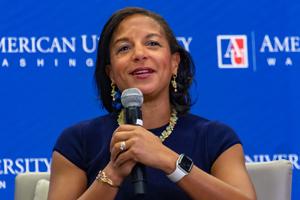 It makes sense that Susan Rice's talk on a stage above the hardwood at Bender Arena turned to point guards.
Rice—the former US ambassador to the United Nations and national security advisor under President Barack Obama—was a former point guard at Oxford University and the National Cathedral School in DC. "Point guard" was also her Secret Service code name.
After an introduction from her former Oxford teammate, AU president Sylvia Burwell, to kick off Rice's Saturday night All-American Weekend talk—sponsored by the School of International Service and the Office of Campus Life and Inclusive Excellence—Rice described how the position exemplified her work in public service.
As Rice, visiting distinguished research fellow at SIS, writes in her new memoir, Tough Love: My Story of the Things Worth Fighting For, a point guard "isn't a glory position" and requires "strategic vision, leadership skills, effective ballhandling, and lots of selfless assists."
Running the point, Rice said Saturday, also demands uncommon toughness.
"Tough Love is about how I was raised, how I've tried to raise my kids, how I've tried to lead teams, and how I've tried to serve our country," she said. "Tough love means loving fiercely, but not uncritically."
A Chance to Reflect
Tough Love, Rice said, can be a valuable tool for those who wish to get back up when they've been knocked down. Her personal experience with both is, in part, why she published a memoir now instead of 20 years down the road.
In the aftermath of the 2012 terrorist attack on two US government facilities in Benghazi, Libya, that killed four Americans, including US ambassador to Libya Christopher Stevens, Rice—then the United States UN ambassador—was a regular on the political TV circuit.
"I became a villain if you watched one network, or a victim, or a vanquisher on another, and [none] of those portrayals bore any resemblance to who I was," Rice said. "Because I was still in government and speaking on behalf of the United States and representing our president, I could never say what I wanted to say. I could never explain who I am and where I came from and what was right and wrong in those portrayals. That ran fundamentally counter to something my father taught me, which is to never let anybody define you for you."
Rice used Tough Love to recount the lessons she learned from her parents, and to research her family's history. Her mother's parents immigrated from Jamaica and sent all five of their kids to college. Her great grandfather on her father's side was an emancipated slave who fought in the Union army, earned a college degree, and founded the Bordentown School, a trade and technical school for African American youth in New Jersey that closed in 1955 after the Brown v. Board of Education decision.
"On both sides of my family, there was this extraordinary commitment to education, to service, to community, and to the imperative that whatever you have, whatever benefits you've been blessed with, your obligation is to give back and reach back and bring others forward," Rice said. "That's what I got fundamentally from my family on both sides."
The Value of Tough Love
Rice described being one of the few black women in the room—both at the predominately white National Cathedral School and at the senior levels of the national security field. But her biggest challenge early in her career, particularly as a 32-year-old assistant secretary of state for African affairs during the Clinton administration, was her youth.
"I was leading a bureau at the State Department where the ambassadors and the senior officials who worked with me and reported to me were in most instances 20 to 30 years my senior and predominately white males who, I think understandably in some respects, were skeptical of a young, female, African American, breastfeeding mother coming into the bureau and being their boss," she said.
Despite those challenges, Rice said she benefited from the guidance of others who provided tough love when she needed it most.
She made mistakes as she learned how to balance smart policymaking and effective leadership, but she was fortunate to receive a dose of hard truth from a colleague, former representative Howard Wolpe (D-MI), who became the presidential special envoy to Africa's Great Lakes region under President Clinton.
"He sat me down and said, 'You're really screwing up, you're too hard-charging, you're not listening enough to the experience of the people around and if you don't change course you're going to fail . . . and I don't want to see you fail,'" Rice recalled. "He gave me some very valuable, concrete advice. I tried hard to take it and it helped me turn my experience [working in government] around."
An Urgent Challenge
Rice titled the last chapter of her book "Bridging the Divide" to underscore the political divisiveness that she considers "our greatest national security vulnerability right now" because of the government logjams it creates and the opportunities it presents for adversaries to "weaken us from within . . . and exacerbate our divisions."
"We have to realize the urgency of that challenge, that this is not something that we can afford to ignore or afford to sort of lament," Rice said. "We've got to be active and proactive about bridging those divides at the interpersonal level, whether within families or communities, and at the national level."
Rice proposes a policy measure that would require 18- to-21-year-olds to engage in up to a year of domestic community service work, uniting young people from diverse backgrounds. The idea stems from her upbringing in Washington, DC, and the fact that many of her classmates, neighbors, and friends were Republicans.
"If we know each other, if we have to trust each other, if we have to listen to each other, it's a lot harder to hate each other," she said.