Questions?

Contact: Rebecca Davis
Director, SIS Diversity & Inclusion Initiatives

SIS 112C
202-885-1599
sisinclusion@american.edu

Get Involved!

SIS Connections is a network that expands pathways of historically underrepresented students and creates a more inclusive community.

Exploring Identities
Extend your world. Expand the possibilities.
Alumnae of Color share their success stories with current students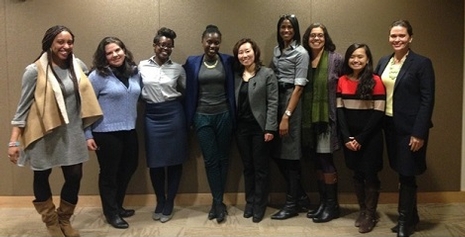 "We felt empowered, encouraged, and better able to compete!"
Six accomplished SIS alumnae gathered with a group of over 50 students to talk about their career paths and their experiences as women of color in the field of international affairs. The alumnae shared tips about navigating the field of international relations, searching for jobs, and managing stress in between opportunities.
With a balance of humor, exasperation, and mutual understanding, students and alumnae alike shared stories of what it is like to be the only one who looks like them in professional or academic settings. In a large group conversation, they shared strategies related to navigating their underrepresented identities around both gender and race/ethnicity; anecdotes about finding mentors and networks of support; and, most powerfully, stories of triumphant success that left everyone feeling inspired as the event closed.
This installment of the SIS Exploring Identities Series included broad attendance across graduate and undergraduate student populations as well as recent alumni, faculty and staff, an indication of the need for programs that reach out to the range of underrepresented populations that are part of the SIS Community. The discussion was very candid and gave students an opportunity to share challenges they've experienced and ask questions in an informal setting. Students left feeling encouraged, empowered and better able to compete in future career endeavors.
Pictured above are the alumnae who participated in the event along with SIS faculty and staff who were involved. From left to right: Karmen Brooks, Current MA student in the GEP Program and Grad Assistant for Diversity and Inclusion Initiatives; Rebecca Davis, Assistant Director of Graduate Enrollment Management and Director of SIS Diversity & Inclusion Initiatives, SIS/MA '11; Linnisa Wahid, U.S. Department of State, SIS/MA '04; Mary Christine ("Tina") Byenkya, National Democratic Institute, SIS/MA' 08; Prof. Kyoung-Ah Nam, International Communication Program; Jorhena Thomas, Washington Regional Threat Analysis Center, SIS/MA '04; Marjorie Macieira, Macieira Consulting, LLC, SIS/MA '90; Huong Mai Nguyen, The World Bank, SIS/MA '11; and Mileydi Guilarte, U.S. Agency for International Development, SIS/MA '02.
Exploring Identities: LGBTQ Student Experiences Abroad

A student panel will discuss their experiences identifying as LGBTQ and studying abroad. ALL are welcome! Don't forget to RSVP!

About the Exploring Identities Series
The SIS Exploring Identities Series provides space to consider the impact of missing voices in the field of international affairs. In bringing together members of the SIS community from across all identity groups, the School can explore what is possible when the field becomes more inclusive of historically underrepresented groups.
Each installment of the Series will focus on a particular identity group while encouraging all members of the community to use these events as opportunities to interact with people from different backgrounds. The Series aims to increase the culture of inclusion at SIS while also preparing SIS alumni to approach their future careers with a sharper eye toward inclusive practices in their work environments.

The SIS Commitment to Diversity & Inclusion

In the global context of the 21st Century, SIS believes a diverse population and an inclusive school climate are essential components for preparation to work in the field of international relations. Read more.

 
What does SIS mean by "historically underrepresented groups?"

 SIS recognizes that certain demographic groups have been underrepresented in graduate education and international affairs because of social and economic structures that have denied them access. These historically underrepresented groups have particular experiences and perspectives that deserve our focused attention and targeted support. These include, but are not limited to, domestic students of color, first generation college students, veterans, and low-income students as well as women in regard to leadership roles.
1st
SIS has become the first DC area school in the Association of Professional Schools of International Affairs (APSIA) to join the GAP Consortium.
>80
languages are spoken by current SIS graduate students. 
Interested in learning a language and traveling abroad?  Check out the Boren Fellowship and other opportunities through the Office of Merit Awards.