WeLead, a bipartisan leadership training program run by the Women & Politics Institute, works to increase the number of women working in politics and running for office. Our program graduates are employed in the White House administration, congressional offices, campaign consulting firms, lobbying firms, and non-profit organizations. WeLead empowers young women, ignites their passions and prepares them to succeed in politics and public service.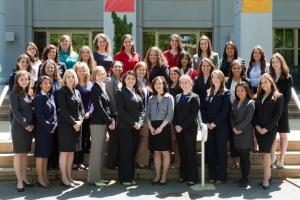 WeLead Class of 2010-2011 (Photo courtesy of Les Talusan).
WeLead targets women between the ages of 21 and 27. Monthly workshops focus on campaigns, communications, professional development, fundraising, and public policy. The annual WeLead Kick-Off reception brings WeLeaders face-to-face with women in Congress. Evening events provide WeLeaders with opportunities to network and socialize with each other and with prominent women in politics and public service. The Women & Politics Institute is a non-profit organization and participation in the WeLead program is free of charge for accepted applicants.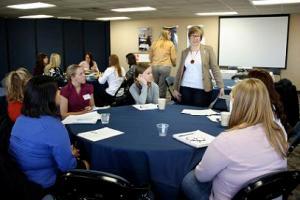 WeLead Alumna, Carolyn Pierce, facilitates a lunchtime activity. (Photo courtesy of Pamela Riis)
The program consists of seven Saturday training sessions that address campaigns and elections, communication and message development, fundraising, public policy and government relations, and professional development. In addition, the program includes a Kick-Off Reception, where participants discuss come face to face with female members of Congress. The program provides participants the opportunity to explore various careers in politics, develop strategies for advancing their political careers, and form relationships for mentoring and networking. 
WeLead Class 2015-2016
The application period is now closed.
To receive an email notification about the next application cycle, email welead@american.edu.