4th Annual 5K Race to Representation Saturday, March 28, 2015 at 8:00 AM

Let's run to help close the gender gap in political leadership!

For more information and to register, visit here.

Are Women More Honest than Men in Elections?

 

 

 

 

 

 



 
Watch Jen discuss with MSNBC why more women don't run for elected office.

Women in Politics

 

 

 

 

 

 



 
Watch Jen discuss with C-SPAN the impact the 2014 midterm elections had on the number of women serving in public office (as well as her report analyzing what gains women made.)

Everything You Think You Know About Women and Politics is Wrong

The Washington Post's "She the People" blog chats with Jen about her research with Richard Fox and Danny Hayes - most of which revisits a lot of the conventional wisdom regarding women and politics.

Read Article
Celebrating SPA's 80th Anniversary

The School of Public Affairs had 80 students in its first class 80 years ago. To celebrate, Jen was one of the faculty members selected to share their story about SPA.

Read Article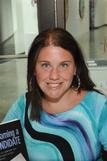 It is impossible to deny the substantial progress women have recently made in government and politics. Over the course of the last 30 years alone, the number of women in Congress has more than tripled. . .