Miss Out on Hearing About Running from Office?    No Problem!

 

 

 

 

 

 

 

 

Watch as Jen, Richard Fox, Congresswoman Debbie Dingell (D-MI), Congresswoman Elise Stefanik (R-NY), and Ronan Farrow discuss Running from Office and their thoughts about political engagement among young people. 

Watch the Panel Here
Just Say Run: How to Overcome Cynicism and Inspire Young People to Run for Office

In a Brookings blog post, Jen and Richard Fox provide a summary of recommendations that inspire young Americans to run for office.
Why Young People Aren't Interested in Running for Office

Jen joins Free Thoughts Podcast for a discussion about why young people in America seem to be so uninterested in running for political office.
To Win With Women, How Can the GOP Ramp Up Its Appeal?

 

 

 

 

 

 

 

Jen comments on female voters.

Watch Jen on PBS NewsHour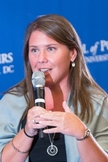 It is impossible to deny the substantial progress women have recently made in government and politics. Over the course of the last 30 years alone, the number of women in Congress has more than tripled. . .