Young People Are Running From Politics

 

 

 

 

 

 

 

 

Listen to Jen discuss Running from Office at the Westminster Town Hall Forum in Minneapolis on MPR News. 
Miss Out on Hearing About Running from Office?    No Problem!

 

 

 

 

 

 

 

 

Watch as Jen, Richard Fox, Congresswoman Debbie Dingell (D-MI), Congresswoman Elise Stefanik (R-NY), and Ronan Farrow discuss Running from Office and their thoughts about political engagement among young people. 

Watch the Panel Here
To Win With Women, How Can the GOP Ramp Up Its Appeal?

 

 

 

 

 

 

 

Jen comments on female voters.

Watch Jen on PBS NewsHour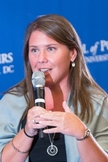 It is impossible to deny the substantial progress women have recently made in government and politics. Over the course of the last 30 years alone, the number of women in Congress has more than tripled. . .