Achievements
Rep. Underwood Addresses Graduating Women of WeLead Program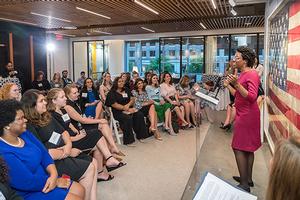 Research shows that when women run for political office, they win as often as men. They just have to run.
To help position more women to run, American University School of Public Affairs' Women & Politics Institute runs WeLead, a training program dedicated to closing the gender gap in politics. This week, WPI held its annual WeLead program graduation at the D.C. Office of MacAndrews & Forbes.
Now in its 15th year, this nonpartisan training program successfully positions young professional women to run for office or manage a political campaign. This year, the WeLead program saw 29 graduates, including women working in federal agencies, Congress, non-profits, and advocacy groups. For a full academic year, the cohort spent six all-day Saturday training sessions learning from and engaging with leading experts in campaign management, communications, fundraising, grassroots mobilization, polling, advertising, and digital media.
"There are now more than 500 WeLead graduates in the halls of Congress, on the campaign trail, in K Street offices, city councils, boardrooms, and in state legislatures around the country," said WPI Executive Director Betsy Fisher Martin. "WeLead is not just a training program, it's a powerful national network of women helping each other succeed in politics."
 
WeLead 2012 graduate Rep. Lauren Underwood (D-Illinois), spoke during the graduation event. In an historic 2018 win, Rep. Underwood was able to flip her hometown district, unseating a four-term Republican incumbent. She is the first woman and first person of color to represent the district, and the youngest black woman to serve in U.S. Congress.
"As women, no matter what party, we're all on the same team," Rep. Underwood said to the WeLead graduates.
Underwood stressed that it wasn't 'easy' or 'convenient' to run for office, but that it was important. She shared with the young women that some of the first calls she made when she decided to run were to her WeLead classmates. Several of them came out to campaign for her in Illinois, even though it wasn't convenient, because it was important.
As part of the event, Rep. Underwood received WPI's Alice Paul Award, which is given each year to an American University faculty member, staff member, student, and alumni who demonstrate a commitment to continuing Alice Paul's vision for women's full equality.
Also, in attendance during the WeLead graduation was Rep. Joyce Beatty (D-OH); Elise Aronson, SIS/BA, the vice president of Government Relations for MacAndrews & Forbes and host of the event; as well as SPA Dean Vicky Wilkins.
"We know that when you invest in women, you see broader community benefits," said Dean Wilkins. "Our WeLead training is one of SPA's investments in women, and the collective mark our graduates have made demonstrates an impressive return."
To learn more about WeLead and to apply for the 2019-2020 program, visit the WeLead website.