Alumni
Meet New Alumni Association President Jonathan Mathis, PhD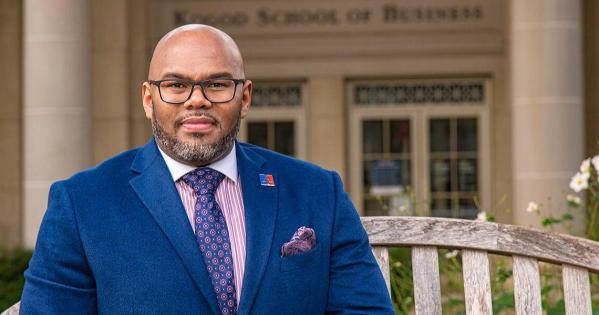 Jonathan Mathis, PhD, Kogod/BSBA '04, is an educator at heart. As the newly installed president of the American University Alumni Association, Jonathan brings philosophies that guide his professional work to his role in leading 135,000 alumni. "My work and my purpose is around cultivating transformational experiences for learners and leaders at all levels," he says, citing his professional mantra. Jonathan's work on behalf of AU connects directly to his professional life as an executive leader in education. 
Excited by what he sees in the AU's future, Jonathan believes the Alumni Association is primed to play a significant role in the university's continued success. His goal is to align the work of alumni with the goals of AU's strategic plan, Changemakers for a Changing World. And he believes the keys to doing so will be celebrating the work of AU faculty, promoting the presence of alumni in classrooms, and supporting the university's commitment to diversity, equity, and inclusion through programming and philanthropy. 
For his part, Jonathan focuses his giving on student support. "My [most recent] gift is around students who are almost finished but experience new and unforeseen obstacles," he says. Not unlike his professional mindset, in his financial support of the university, Jonathan wants to "remove the obstacles that keep students from being their very best in the classroom."
That mindset reflects Jonathan's own experience as a student, which clearly still has great influence on his career and his volunteerism. Growing up on a college campus (his mom worked at a school in upstate New York), Jonathan says he never really left. He flew to DC the morning after his high school graduation to begin in AU's STEP program. That experience gave him an immediate sense of connection to the community alongside fellow alumni leader and friend Kathy Russell, SOC/BA '04, who began her term as BAA chair this month.
He also was a beneficiary of the McNair Scholars program, which he says helped him go straight from AU to graduate school. Without it, Jonathan says, "I certainly would not have found myself at USC in a fully funded PhD program…Knowing how to get to and through grad school came from my experiences – and my faculty – at AU." Recalling mentors who pushed him to reach his great potential at AU, Jonathan says, "They always say 'but it was you who did the work.' The selflessness I saw in them makes me want to give back even more."
Those experiences are also what make his role as Alumni Association president meaningful to him. "Anytime I can connect students to alumni," he says, "it's a chance to create platforms, to elevate stories…I hear about students' aspirations, hear them share their dreams, and I think part of our duty as alumni is to run through our mental rolodexes." Jonathan sees the chance to do things like making opportune introductions for students to alumni as central to his role as an educator. "I automatically think of how we might make students' aspirations reality even faster," he says.
While he has his own specific goals for his term as president, Jonathan is quick to acknowledge the value of fellow alumni volunteers, including affinity leaders and fellow Alumni Board members. "Because of my professional work, I see the value of many hands and minds coming together to do the work, to look for solutions," he says. "I think of service as being a connector, an ambassador, an influencer."