Dr. Maria del Carmen Caballero
The first Director of the AU Center in Madrid was Dr. Maria del Carmen Caballero. MariCarmen was a distinguished academic who earned her doctorate in 18th Century Spanish Literature from the City University of New York. She published numerous articles and was the holder of several important grants and awards, including a Fulbright Scholarship which she won in 1992. In addition to the academic appointments she held before coming to work for AU, she had also worked in Spanish radio and television, serving for a time as anchor for the Spanish International News Network.
These varied experiences served her well once she joined AU to direct our first study abroad program in Madrid in 1996. During her creative and indefatigable 18-year tenure, AU's program offerings in Madrid expanded to include several specialized academic tracks as well as partnerships with a number of prestigious Spanish universities. In 2007 AU Abroad established our own AU Center in Madrid of which MariCarmen became the proud inaugural director, overseeing all our academic and internship program offerings as well as continuing to teach the program's core courses.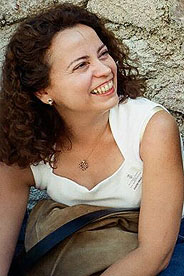 Over 1,250 AU students have had the good fortune during these last 18 years between 1996-2014 to participate in our Madrid programs and see their lives changed forever as a result. Sadly, MariCarmen passed away in April 2014. Due to her leadership, MariCarmen leaves behind her an AU Center and a set of programs that are stronger than ever. But it is the uncommon generosity and warmth of her spirit that permeated everything and everyone she encountered that will be missed most of all. The staff of AU Abroad and the extraordinarily dedicated and talented faculty and staff of our Madrid Center will ensure that AU's Spain programs continue her legacy for many years to come.
AU Abroad has established a scholarship in MariCarmen's name to benefit AU students who choose to study in one of our programs in Madrid. Read more about it on the Madrid scholarship page and make a gift in Mari Carmen's name.