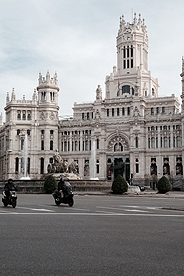 While in Madrid, you will find that living with a local family, taking classes focused on Spain, and the Mediterranean, and partaking in various day, weekend, and week-long study tours will mean that there is no "normal" week. Your life in Madrid will be shaped by these forces, the friends you make, the sightseeing you choose to engage in, and the lifestyle you choose to lead. We strongly encourage you to think about what your goals are for study abroad, as your life in Madrid will truly be shaped by these goals. You will come to understand what it means to live life as a Spaniard, and we hope that you too will make efforts to live like a Spaniard yourself.
Only in Madrid can you stroll through the lovely Retiro Park and enjoy the jugglers and mimes, treat yourself to "tapas" while taking in the exquisite design of the old Plaza Mayor, or view the paintings of Goya, Velasquez, and El Greco at the Prado Museum. Also Madrid's fabulous public transportation system makes exploring this exciting city easy!
Madrid truly lives up to its title as the city that never sleeps. Night-owls delight in Madrid as you are expected to eat and dance the night away, whether you're twenty years old or fifty years old. There is always something to do in Madrid no matter what time it is.