J. Michael Dunn (1941–2021)
A Tribute to Mike: From the Opening of the Info-Metrics Workshop, April 8, 2021
Amos Golan (American University)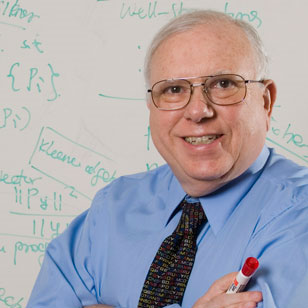 I must start with very sad news, that many of you already know. Our colleague and friend J. Michael (Mike) Dunn passed away earlier this week. Mike was planning on being here today. In fact, he was very excited to be part of this. He was planning to discuss some of the logical (and philosophical) foundations of info-metrics. I just couldn't bring myself to take his name off the program. It is too new. Too fresh. Too sad. We will make a special event to honor him, but I would like to start the day with some reflections (and to dedicate this meeting to him – on behalf of the Institute).
Mike was a true scientist. A real academic. He was searching for the 'truth.' He was searching for answers to some of the most fundamental questions in philosophy, philosophy of science and logic. Why? Because he was curious. He wanted to understand. Science, and the act of searching for answers to fundamental questions, made him happy.  Even if the solution demanded a few years of hard work and novel innovations.
Mike was a perfect family man. He and Sally (his wife) were inseparable. He was a proud father and grandfather. I feel like I know each one of his kids and grandkids personally. It was a joy to hear and feel his love to his family.
I met Mike for the first time about 10 years ago when we invited him to our first Philosophy of Information workshop. This was pretty much the early stages of this new branch of philosophy. But Mike had already established himself as one of the authorities in this area. Mike is a logician and a philosopher. Mike also knew how to connect logic and information. One of his celebrated contribution is to the informational interpretation of logic. A relatively recent book in his honor (Information Based Logic) summarizes his work wonderfully. "… In his dissertation (1966) he introduced a semantics for first-degree entailments utilizing the idea that a sentence can provide positive or negative information about a topic, possibly supplying both or neither…." The notion of negative information is a tough one, but it didn't stop Mike. Those of you who heard one of his talks here recall his discussion about conflicting information: the firefighters' story. Imagine you are in a burning room in a hotel, but like everyone else you did not read the emergency instructions in your room. You go out of your room and you see two firefighters. One says there is exactly one safe route and it is to your left. The other says there is exactly one safe route and it is to your right. Contradictory information! What do you do? you can't just 'average.' That simple example stirred up quite a discussion and ended up a while later with a nice new paper Mike completed with one of our colleagues – Nick Kiefer. It happens that information theory together with Bayes rule can find the safe way with a high probability… (You probably didn't expect me to talk about firefighters today…)
But maybe this example explains Mike's approach to science in a clear way. In his search for answers related to semantic and logic and a more complete investigation into the interpretation of negations (and other problems) he realized that he ran out of 'words' and 'tools' that will allow him to complete his search. (He needed an improved alphabet.) Think for example, how would you explain a black hole if you don't know how to find it and you don't have the tools to indirectly observe it? Well – you may try to find a black hole, go in and search, or develop new and better tools – like those that scientists developed lately… That is exactly what Mike did in his work on logic. He invented (or derived, or developed) a new and more general logic. This new 'language' was a generalization of what existed before. It is richer. It has an improved alphabet. It allowed him to complete the task and prove what he was searching for.  (So, in my reflections on Mike, I could not escape talking about firefighters, and Black Holes… I wish he can hear this.)
Since his first visit to the Institute, Mike became a 'constant' – as Robin wrote me yesterday – in all of our activities. In fact, very soon after his first visit with us, and following many conversations on all facets of information and info-metrics, we invited Mike to be on our Advisory Board, and in the last few years he was generous enough and agreed to be the Co-Chair of the Advisory Board (together with Robin). Mike was a major force in the Institute. His enthusiasm in conjunction with his knowledge and curiosity resulted in our many successful workshops, events, and research.
I had the pleasure of working jointly with him on a number of projects/papers. Most recent one is about the meaning and value of information. What a joy it was to work with him. Mike was also a co-editor (together with Min, Aman and me) of our new book 'Advances of Info-Metrics' book that just came out about three months ago.
On a more personal note, we tried to meet often, and we talked as often as we could. We discussed information and the way it is the connecting theme among practically all the sciences. We tried to solve different paradoxes (say, how do you handle conflicting, or even, complementary, pieces of information). We tried to understand the real meaning and value of information. My students are familiar with questions like 'If a tree falls in a forest with no one around, would there be information?' Or 'If no tree falls in a forest and you are there to observe it, or no one is around, would there be information?' Such ideas came from years of discussions and reflections with Mike. I will miss these conversations. I will miss seeing him a few times a year. I will miss our quite frequent phone conversations (he did not like Skype…).
I feel lucky to have known Mike. I feel lucky to have worked with him. I feel lucky to have had all of these wonderful discussions with him. It was a joy, a pleasure, and an honor.
Thank you Mike.
Tributes to Mike from Info-Metrics Colleagues
Robin Lumsdaine (American University)
I am so very shocked and saddened by this news. Mike was a dear and wonderful Co-Chair of the Info-Metrics Institute Advisory Board and it was a joy to work with him. He brought tremendous enthusiasm and insight to our many activities and generously shared his vast experience in starting and building the School of Informatics at Indiana University. He has been a constant, kind presence in the life of our Institute and it is especially heartbreaking that this news comes just two days before our spring workshop where Mike was to chair the final session of the day. I trust we will find a way to honor him going forward but in the short-term I propose that we dedicate the workshop to his memory. May he rest in peace.
Nicholas Kiefer (Cornell University)
I am sad to hear this. Mike was a fine scholar and a great person. I met him at an Info-Metrics meeting and our discussions led to a collaboration, a paper and a publication. It was a great pleasure to work with Mike. What a mind! His scholarship, his personal charm, and his administrative accomplishments will be remembered fondly.
Jeff Racine (McMaster University)
Thanks for passing along this extremely sad news. What a loss. Mike was truly a treasure, and his insights and acumen will be sorely missed.
Aman Ullah (University of California, Riverside)
This is truly very sad news. Mike was a dedicated Info-Metrician who contributed so much to the philosophy of information, and to the working and establishment of Info-Metrics Institute. Above all he was one of the kindest human beings I have come across. It was always such a pleasure to work with him.
Duncan Foley (New School for Social Research)
We will miss Mike both personally as lively and positive presence, and for the major contribution he made to the info-metrics group effort.
Min Chen (University of Oxford)
Mike was a wonderful scientist and a truly gentleman. It is a great loss to Info-Metrics.
Essie Maasoumi (Emory University)
So sorry to hear this sad news. We lost a comrade in arms, a fine human being.
Teddy Seidenfeld (Carnegie Mellon University)
This is absolutely awful news.
I have numerous fond memories of Mike, and a great appreciation for his significant contributions to logic, as do you.
Those, now, will have to suffice, alas.
Hwan-sik Choi (Binghamton)
I also want to express my deep and sincere sadness. I met him for the first time at the Info-metrics conference a few years ago. It was such a pleasure to talk with him about his deep appreciation of informatics and philosophy (and life). His love of knowledge and kind personality has left a long-lasting impression on me. I wish I could have had more time listening to him.
Nataly Kravchenko-Balasha (Hebrew University)
Extremely sad news! Such a great person and scientist!
Luciano Floridi (University of Oxford)
Really sad news, Mike was a great colleague and human being, he will be missed very much.
Rosa Bernardini Papalia (University of Bologna)
Sad about it. I remember Mike and his kindness.
Alastair Hall (Manchester University)
This is very sad news. Mike will be greatly missed.
Pieter Adriaans (Universiteit van Amsterdam) and Rini Adriaans
What a sad news. We exchanged emails only a couple of weeks ago and cherish good memories of the time we spent with him and Sally.