Economics
4400 Massachusetts Avenue NW
Washington
,
DC
20016-8029
United States
The American University Department of Economics supports a pluralist approach to economics that embraces mainstream and heterodox perspectives and emphasizes policy applications. We believe that theoretical understanding, empirical investigation, and policy analysis are enriched by study of the evolution of economic ideas and economic institutions.
Our mission is to provide undergraduate and graduate education, and faculty research, that enrich economic analysis and policy by implementing pluralist analytical approaches grounded in historical and empirical context. Offering graduate and undergraduate degrees, minors, and certificates in a heterodox atmosphere in addition to the Program on Gender Analysis and Info-Metrics Institute. 
Recent Award Winners
Stephan Lefebvre
James H. Weaver Prize for Teaching Excellence 
Hanqing Ye
Professor Jose D. and Ursula Epstein Award
Dingqian Liu
Frank M. Tamagna Education Endowment Fund
Catherine Hensley
Fred and Barbara Bergmann Fellowship Fund
Austin Jang
Ruth Dewey Meade Prize
Tejesh Pradhan
Econometrics Paper Award
Economists in the US earn an average salary of $104,000, according to the Bureau of Labor Statistics (2018). The DC area has the highest concentation of economists in the country, with an average salary of $133,000, as reported by the BLS.
Graduates of the Economics Department make up an impressive contingency of Alumni, having gone on to work at places such as
Deloitte
IBM
International Monetary Fund
PricewaterhouseCoopers
US Department of Commerce
The World Bank Group

For more information on where AU Economics graduates land visit the We Know Success page or visit the PhD Job Market Candidate page. 
Bulletins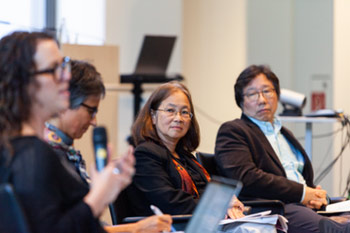 The AU Economics Department has launched the $2.1 million Hewlett Foundation and Open Society Foundations-funded Care Work and the Economy (CWE-GAM) Project. 
Events
Research Seminar Series, Wednesdays at 11:45 in Kreeger 100 unless otherwise noted:
September 25: John Jones, Federal Reserve Bank of Richmond, (Public Economics/ Labor Economics)"Social Security Reform with Heterogeneous Mortality".
October 2: Ramon Lopez, University of Chile, (Public Economics)
A Career in Economics: It's Much More than You Think
8:39
Much more than finance, banking, business and government, a degree in economics is useful to all individuals and can lead to many interesting career choices. These four diverse individuals offer their insights on how a background in economics can be a tool for solving very human problems.