Event & Space Rentals at the Katzen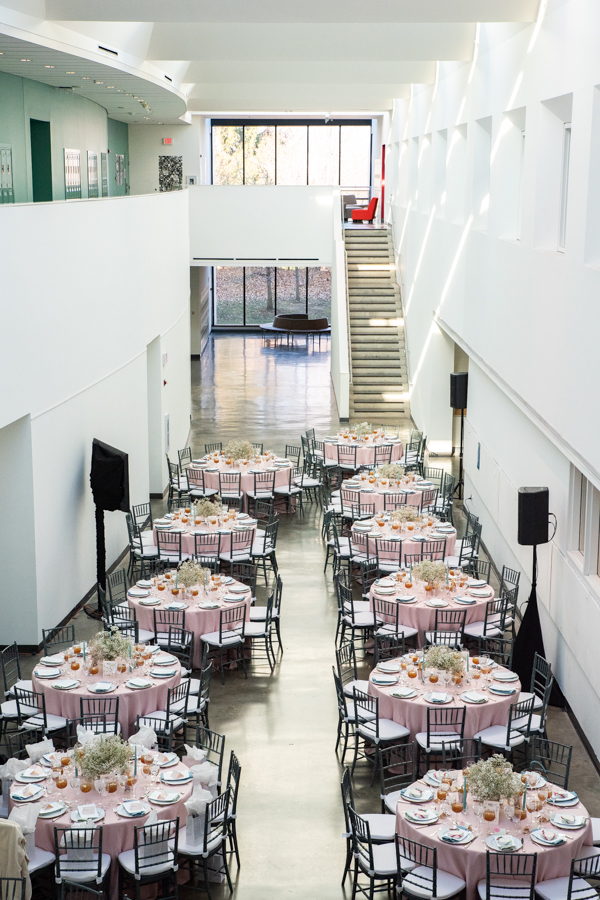 The Katzen Arts Center's modern facilities offer a unique Washington locale for conventions, trainings, workshops, film screenings, weddings and live performances. Beyond a gorgeous setting, Katzen offers:
Variety of event spaces: from a 400-person seated dinner to a private lecture and book signing, Katzen Arts Center likely has a space that will fit your needs. See below for a list of spaces.
Convenient location: near several local hotels with the ease of on-site parking in the Katzen Garage.
Abundant capabilities and services: offering state-of-the-art audio/visual technology, front-of-house coordination, online ticketing, etc.
All rental inquiries should read through the Rental Rates & Regulations below and fill out the Katzen Facilities Request Form to inquire about availability. Please send your request form and questions to:
Lisa Ager
Katzen Facilities & Operations Manager
202-885-3884
AUarts@american.edu
Rental Rates & Regulations
Must have a 501(c)3 IRS letter in order to qualify for non-profit pricing.
Prices below do not include event staff and equipment costs.
All prices below reflect the Full Day rate. Rentals of less than 4 hours (including load-in and load out) will qualify for the half-day rental rate, a 50% reduced space rate.
Performance & Reception Spaces
Katzen Arts Center Rental Spaces
Name
Capacity
Features & Notes
Rates
Abramson Family Recital Hall
207-211 seated
Offers tailored lighting settings during your event, A/V support, a stunning space for orchestra and choral concerts, lectures, etc.
$2,250 (for profit);
$1,913 (non-profit)
Kreeger Lobby
40 seated reception;
200 standing reception
Adjoins the museum and Recital Hall to provide a great location for pre- or post- event gatherings.
$1,500 (for profit);
$1,275 (non-profit)
Studio Theatre
50-90
Multi-purpose black box theater perfect for intimate performances, workshops, rehearsals, etc. Can only be rented during the non-academic summer months (late May to mid-August).
$1,500 (for profit); $1,275 (non-profit)
Classroom/Ensemble Room 112
45 with tables & chairs;
75 with chairs only;
105 standing
Includes a custom lighting panel to meet a variety of event needs, floor to ceiling windows that can be shaded and moveable desks to create the space your own.
$1,125 (for profit); $956 (non-profit)
Classroom/Ensemble Room 151
70
Includes risers wide enough for an orchestra or a standing chorus; also, perfect as prep space to support events happening in other parts of the building.
$1,125 (for profit); $956 (non-profit)
Rotunda, 1st Floor
400 seated reception;
400+ standing (depending on set up)
Architecturally stunning space for cocktails, catered dinners, weddings receptions and ceremonies, music performances, etc.
$1,200 (for profit); $1,020 (non-profit)
Rotunda, 2nd Floor
150+
Typically acts as an extension of the Rotunda 1st Floor, for larger events. This space is also ideal for a breakout cocktail hour, VIP space, etc.
$1,125 (for profit); $956 (non-profit)
Other classrooms, studios, and labs are available: please inquire.
Services
All Katzen facilities rentals offer the option to take advantage of the following:
Building access from 8:00 a.m. to midnight
Access to corridors, dressing rooms, performance and lobby space, as well as audience registration and seating areas, etc.
HVAC, basic custodial service, open/close of facilities
House audio system and A/V personnel support
Professional online ticketing system and ticket office support
Standard orchestra chairs, music stands, stand lights, conductor's podium, etc.
Front-of-house coordination
Other staff and equipment (when/if available) as needed
Please note:
For alcohol to be served at events a formal request process must be followed as specified in the AU Alcohol Policy form.
All rentals require insurance. Please reference your event's specific "Rental Agreement" contract, listed under Section 10, for more details.
Additional services can be arranged through your event consultation with Katzen staff. Please contact 202-885-3884 or AUarts@american.edu for more information, or see our Facilities Usage Policy.
Please also consider our sister facility, the Greenberg Theatre on Wisconsin Avenue, featuring a larger space, better equipped for musical and traditional theater productions.
Additional Rental Information