Science
AU Launches New Biochemistry and Applied Chemistry Grad Programs New graduate programs will prepare students for career opportunities and advancement.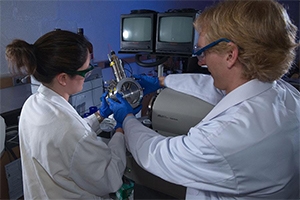 The DC area is a center of scientific research, where government laboratories and private employers in the healthcare, biotechnology, food, pharmaceutical, and biodefense industries are creating outstanding opportunities for scientists with the right education. To meet this demand, American University's Department of Chemistry will launch three new graduate programs in the fall of 2018. It will split the MS in Chemistry into two tracks-Clinical Biochemistry and Applied Chemistry-and offer a new Graduate Certificate in Clinical Biochemistry. Created in consultation with the region's most prominent clinical research institutions, these new programs are designed to train students for successful careers.
Applied Chemistry and Clinical Biochemistry Tracks
Students starting the MS in Chemistry program this fall will choose either the Applied Chemistry or the Clinical Biochemistry track. Both will provide the same solid foundation in chemistry with a 12-credit core of rigorous skills courses and a 6-credit capstone experience with a research-based master's thesis. In the 12 remaining credits, the two tracks diverge sharply, as the Clinical Biochemistry track guides students into a specialization, and the Applied Chemistry track provides broader options.
"The difference between the two is that the Clinical Biochemistry track is very focused on a specific sector, which includes careers in medical biochemistry, clinical chemistry analysis, and biological chemistry," explains Stefano Costanzi, director of graduate programs for the Department of Chemistry. "In the Applied Chemistry track, the focus can be designed by the student. It is a very flexible track."
The Applied Chemistry track will offer a wide variety of courses, allowing students to design a course of study that fits their academic interests and career goals. This flexibility is crucial for training students with non-clinical goals, such as further graduate study in PhD programs or careers in other chemical specializations, such as materials, organic, inorganic, analytical, and environmental chemistry. Applied Chemistry students are not subject to the prerequisite biochemistry requirements necessary for admission into the Clinical Biochemistry track, but they still benefit from access to the courses created for that track and the practical skills imparted in that program.
The Clinical Biochemistry track offers students a focused selection of courses designed to provide specialized training and a specific set of skills. "The key difference here is that with the Clinical Biochemistry track, or the certificate, our students will learn how to work with human samples and biological samples in general, and they will learn best practices for clinical chemistry laboratories," says Costanzi. Students will graduate with expertise that can lead directly to a career or to medical school. "I would recommend the Clinical Biochemistry track for someone who is interested in medicine." This track and the graduate certificate are unique in being the only graduate programs providing this type of training in the DC area.
Graduate Certificate in Clinical Biochemistry
The Graduate Certificate in Clinical Biochemistry will also offer training in clinical laboratory practice. Costanzi says laboratory technicians will use the program to upgrade their skills and advance their careers. "The graduate certificate is based largely on the Clinical Biochemistry track. It is intended more for those who are already working in a laboratory, and provides further tools and skills to make them more advanced lab technicians, possibly supervisors or managers." The 15-credit program does not have the prerequisites for admission to the Clinical Biochemistry track of the MS program. However, most credits from the certificate can be applied toward the MS, should a student decide to pursue the higher credential.
Faculty Expertise and Employer Buy-In
In designing the programs, the Chemistry Department received valuable feedback from AU faculty, as well as public- and private-sector employers in the area. Many faculty members have extensive experience in biological chemistry and are recognized for their research and publications in the field. "You can certainly say that we have a good number of faculty members who are experts in biological chemistry," Costanzi says. The Chemistry Department also presented the plans to a number of prominent local employers and implemented their feedback in the final design. "They all encouraged us to pursue these new programs and informed us of the types of classes that were needed."
With three different routes to choose from, an impressive faculty of expert mentors, and credentials that have been vetted with the DC area's major employers, graduate study at AU is an excellent choice for someone considering a career in chemistry or already in the field seeking to upgrade skills and accelerate career growth.