Achievements
Denise Saunders Thompson Awarded $500,000 Mellon Grant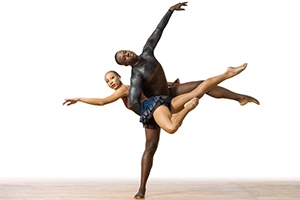 Denise Saunders Thompson has dedicated her life's work to supporting Black dancers and companies-and now, with the help of a $500,000 Andrew W. Mellon Foundation grant, she's ready to create change on a grand scale.
Thompson balances her work as an AU arts management professorial lecturer with her role as president and CEO of the International Association of Blacks in Dance (IABD), which received a grant this year from the Mellon Foundation's recently established Comprehensive Organizational Health Initiative. This highly selective initiative seeks to help arts institutions flourish by enhancing their financial sustainability and capacity building.
Thompson hopes that the Mellon Foundation grant will help IABD address the financial inequities that have historically challenged the Black dance community. "For decades, Black dance companies have been marginalized by an arts funding paradigm that was not accessible," Thompson says. "The financial challenges these organizations have faced to keep their doors open continue to be significant, and now IABD is uniquely positioned to change the course of the tide."
Established in 1991, the IABD operates with the goal of preserving and promoting dance by people of African descent. Over the past 26 years, IABD has hosted annual conferences for Black dance professionals, created an emergency fund for IABD artists and companies, and launched a coalition for scholars of the African Diaspora. In addition to directly supporting the community, IABD establishes archives of Black dance history in museums across the country.
After serving as chairperson and executive director of IABD for seven years, Thompson was appointed as its president and CEO in January 2017. During her time at IABD, Thompson has spearheaded several initiatives designed to promote Black dancers, including a multi-company audition for ballerinas of color. The audition provided an opportunity to "diversify the landscape of the ballet world" and foster a collaborative relationship between dancers and artistic directors, Thompson told the New York Times in a 2016 interview.
"As an African American woman in the field of arts administration/management with a robust career in the performing arts and at an institution of higher education, I remain committed to promoting systemic change in post-secondary institutions and nonprofit arts organizations," Thompson said.