Science
Environmental Science Adventures Afield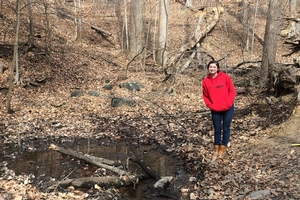 On any given Wednesday morning, students from Dr. Karen Knee's lab can be seen gathering outside of Beeghly with packed backpacks, a mini piezometer, flow meter, and of course giant cups of coffee.
It's 8:00 a.m. and two or three of the undergraduate lab members are off to Lorton, VA to complete weekly sampling of three streams located within Meadowood Special Recreation Management Park, an 800-acre park owned and managed by the Bureau of Land Management. This is part of a two-year study of the impacts of urbanization on these streams' chemistry and hydrology.
The ecohydrology lab run by Dr. Knee has six undergraduate students, majoring primarily in environmental science or environmental studies, as well as three graduate students and one post-doctoral student. The lab researches projects ranging from the impacts of development and hydraulic fracturing on stream systems to the use of geospatial and remote sensing data as a tool for environmental monitoring and management.
Veteran undergraduate and graduate students help teach the younger members important lab and field work skills including how to use the lab equipment, analyze data, and even develop their own projects.
"Though a little intimidating at first, all of the lab members have been really willing to take the time to explain and show me how to use the equipment and are so understanding of mistakes" says Melanie Friedel, a sophomore and one of the newest members of the lab.
The undergraduates also help the older lab members complete important field and lab work. They provide the man-power necessary to get a lot of the larger projects done that may involve 20-30 sampling sites.
"Honestly, the lab group has become one of my favorite places to just hang out on campus. There's usually at least one or two other people in there and it's far less stressful to run samples on the EasyChem than finish my CHEM-210 homework" says Harrison (Mac) Hyde, a junior, and another new member of the lab.
Dr. Knee also finds it extremely important that all members of the lab have their own projects to work on that they can feel responsible for as opposed to just doing the grunt lab work like getting D.I. water or emptying the acid bath, though everyone does take their turns doing that as well.
"Since joining the environmental science department in 2012, I've worked with many different undergraduate and graduate students. I try to help each of them identify their own interests, strengths, and goals. Not only do my students get to have exciting field experience and gain proficiency using lab equipment, they have also presented their findings independently at local, national and international research conferences," Knee says.
Though STEM is not the first program students typically think of when they come to American University (AU), it's certainly developing, and Dr. Knee's lab is just one example of how AU can help mentor those interested in STEM programs.
Colin Casey, one of the graduate students in the lab, mentioned his experience upon coming to AU and joining an environmental science lab. "Being a scientist at AU often got me odd looks on dates, as if I forgot the prefix 'political.' In reality STEM, especially environmental science, is a tight-knit developing program that allows much more independence than other universities."
Getting involved in research opportunities at AU can be as easy as asking a professor whose class you found particularly interesting if they have any space in their lab, as was the case with me. From there, the College of Arts and Science offers summer and year-long research grants such as the Buell Academic Year Undergraduate Research Scholarship and the Summer Scholars Awards as well as an annual research conference for students to apply and present at.
Joining the lab was the best decision I made at American University and it is because of Dr. Knee's mentorship that I have found my passion in freshwater ecology and get to continue conducting research in a graduate program next fall.
Other member's in the lab feel the same way. Jesse Weinstein, a junior says, "under Dr. Knee's instruction and guidance, I've not only found an even more powerful love for science but have grown as a person. I'm more responsible, I can form ideas from start to finish, and I can pick up on the things that matter and drop the things that don't."
Colin Casey adds, "working in Dr. Knee's lab has provided me with an outstanding opportunity to impact the world around me. The group that has helped me reach my thesis goals is an excellent example of the diversity of backgrounds at AU coming together to solve problems."

Learn more about Dr. Knee's Ecohydrology lab.

Jessica Balerna is a senior in the environmental science department. She has been working in Dr. Karen Knee's lab for over three years and just completed her senior thesis studying the impacts of urbanization on groundwater-surface water interactions in Meadowood Special Recreation Management Park. Next fall, she will be attending graduate school at the University of South Florida.