In the Community
Giving Thanks: AU Health Studies Volunteering in DC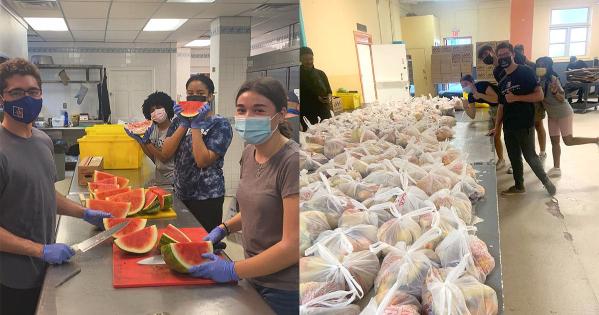 As we head into Thanksgiving, a time for gathering together and spreading hope for the future, millions of Americans are thinking about how they can show their gratitude and give back to their communities. 
In this spirit, we would like to share just a few stories about some important work being done across Washington, DC, — all year round — by American University's Department of Health Studies.
Thrive DC 
Every Wednesday, first-year American University Public Health Scholars volunteer for Thrive DC, which works to prevent and end homelessness in Washington, DC, by providing vulnerable people with a wide range of services to help stabilize their lives. This year so far, Thrive DC has distributed more than 40,500 grocery boxes and assisted 4,000 women, men, and children.
The AU public health scholars put together grocery bags of food, make snack bags to be given out on the streets, and organize hygiene donations, filling bags with travel-sized toiletries. They sort clothing donations and coats for the annual coat drive. And they even sort the mail: Thrive DC is an "address" for people suffering from homelessness and allows their mail to be delivered to their facility.
Martinique Free, director of AU's Public Health Program, says this work gives students an opportunity to participate directly in improving the health of DC residents. "Students can apply theories learned in their Introduction to Public Health course to actual field situations," she explains. "Students are forever changed by this transformative learning experience, as it allows them to see their community in new ways through a solution-oriented lens."
First-year Public Health Scholar Lauren "Noonie" Baisley loves going to Thrive DC because she can see the impact of her work. "Thrive DC really works to get people suffering from homelessness back on their feet and provide them with resources that will give them opportunities and options for the future," she says. "As someone who grew up with these opportunities laid out for me, being able to provide these options for others is very impactful and has changed my outlook on life in DC."
Conner Gil, also a first-year Public Health Scholar, believes that Thrive DC serves as a crucial community pillar in helping those who are homeless to build back stronger. "This service-learning opportunity has allowed me to grow my connections with the homeless community and understand what it means on a hands-on level," he says. "I appreciate the chance to help others and make an impact through volunteering. It has helped me — through my own experience, work, and self-reflection — to grow as an individual."
Healthy Schoolhouse 2.0
For nearly five years now, American University's Department of Health Studies has worked to improve health literacy and prevent obesity in DC elementary school students. Led by Department of Health Studies Chair Stacey Snelling, the AU team designed a professional development program for teachers to integrate nutrition concepts into their curriculum in four Ward 7 and 8 elementary schools.
In these schools, 100 percent of students are economically disadvantaged and eligible for free and reduced school meals. The students' food options at home may be limited, which puts them at increased risk for obesity and other health problems. Providing healthy school meals and nutrition education is critical for their health and well-being, says Snelling.
The work is made possible through a five-year US Department of Agriculture - National Institute of Food and Agriculture grant, called Healthy Schoolhouse 2.0. The ultimate goal is to engage teachers as agents of change by creating a culture of health within their classrooms. Snelling also emphasizes the need to support the teachers themselves, particularly during the challenges of COVID. "We truly believe teachers are the heart of the school, and their health and wellness needs to be prioritized," she says.
Healthy Schoolhouse partnerships sometimes extend beyond classroom walls. "A mother of six children from one of our partner schools recently passed away at the age of 36," says Robin McClave, Healthy Schools, Healthy communities program director. "Her children are going to live with their grandma, and we connected her with several of our faith-based partners to help her get clothing, food, beds, and other essentials during this time of crisis."
Faithfully Fit
For behavior and healthy lifestyle change to be meaningful and long-lasting, there need to be reinforcements in all areas of our life – where we live, learn, work, play and pray. So, four years ago, American University joined forces with six churches and other faith-based organizations in DC's Wards seven and eight to build a culture of health and wellness and prevent obesity in adults. They are doing this through the Faithfully Fit program, funded by the DC Department of Health. The program trains church volunteers to become "health ministers," who then promote health and wellness within their congregations.
Wesley Theological Seminary, located adjacent to AU's campus, offers a Heal the Sick online health minister certificate program for the volunteers. Graduates of the program then implement programming and policy changes at their churches to improve health literacy and behaviors of parishioners. The health ministers lead evidence-based behavior change programs such Walk With Ease, a six week walking program developed by the Arthritis Foundation. They also implemented a six-part virtual health series, using the American Heart Association's Healthy for Life evidence-based community nutrition and well-being program. This series allowed health ministers to lead their own presentations around health and wellness topics like pantry makeovers, reading food labels, and mindful eating. Health ministers also coordinated live cooking demonstrations for participants.
The ultimate goal is to help improve the health of congregations and broader communities. Over the duration of the grant, AU has continued to support the health ministers and guide them through program planning and evaluation, as well as things like Zoom and other outreach strategies during the pandemic. Health ministers also participated in live presentations, helped apply for grants, and testified at a DC Public Health hearing.
"The health ministers have welcomed all new experiences with open arms," says Ayanna Wells, the program coordinator for Faithfully Fit. "Seeing their individual growth inside and outside of the church setting has been a true testament to the power of community and our continued support."