Arts
The Katzen Arts Center: A Legacy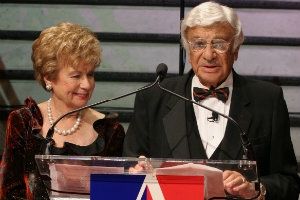 Ten years ago, the Katzen Arts Center at American University first opened its doors to the public. Its dramatic architecture and soaring exhibition spaces immediately made it a Washington landmark.
But even more important to the art world is what has happened within the building's walls over the past ten years—the Katzen Arts Center now houses a rich and diverse community of visual and performing artists whose influence stretches far beyond AU's campus.
All of this was made possible by a generous gift from DC philanthropists Myrtle Katzen and her late husband Cyrus.
The story of the Katzen Arts Center began with a vision to create a world-class space for the arts in DC. At the same time, the Katzens hoped to build an arts community, an idea that took hold while Myrtle, a painter, took art classes at AU and developed a strong connection with the university's Department of Art and its community of artists.
Today, the Katzen Arts Center fosters interdisciplinary collaboration in the arts, and it is a place where the arts are honored as an essential part of higher education. A 130,000 square-foot space, the center provides state-of-the-art instructional, exhibition, and performance space for all of the arts disciplines. It is also home to the AU Museum, which showcases local, international, political, and contemporary art in dozens of exhibitions annually. The museum's permanent collection, the Watkins Collection, features many pieces from the Katzens' personal art collection.
Since its opening, the Katzen Arts Center has lived up to the Katzens' vision. Not only does it gather the arts together, but it serves as a creative incubator and provides a community for students who are passionate about the arts.
"The Katzen greatly contributed to my time at American," says Andrew Welch (BA music '11). "All of the different performing spaces, all of the different rehearsal spaces, all of the different classrooms gave me the ability to do a wide variety of things. It's hard to imagine another building where such a diversity of spaces is made so readily available to students."