Achievements
Ibram X. Kendi Awarded Guggenheim Fellowship Recognized for extraordinary achievements and exceptional promise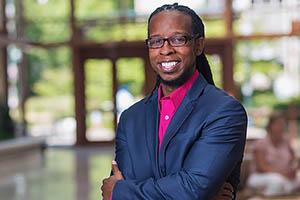 Ibram X. Kendi, Professor of History and International Relations and Founding Director of the Antiracist Research and Policy Center at American University, has been awarded a prestigious 2019 Guggenheim Fellowship from the John Simon Guggenheim Memorial Foundation. Kendi, an award-winning author and historian on issues of racism, has a joint appointment with AU's College of Arts and Sciences and School of International Service.
Kendi was one of 168 individuals chosen this year from nearly 3,000 Guggenheim Fellowship applicants. "These artists and writers, scholars and scientists, represent the best of the best," wrote Edward Hirsch, president of the Guggenheim Foundation. "Each year since 1925, the Guggenheim Foundation has bet everything on the individual, and we're thrilled to continue to do so with this wonderfully talented and diverse group."
As a Fellow, Kendi joins a distinguished group that has included scores of Nobel laureates, Fields Medalists, poets laureate, members of the various national academies, and winners of the Pulitzer Prize, National Book Award, and other internationally recognized honors.
"This fellowship is so richly deserved," said College of Arts and Sciences Dean Peter Starr. "Professor Kendi's work to understand and fight discriminatory policies and racial inequities is groundbreaking. We are proud to be the home of the Antiracist Research and Policy Center."
During his Fellowship, Kendi will be working on his next book, tentatively titled, Bones of Inequity: A Narrative History of Racist Policies in America. The book is under contract with One World, an Imprint of Random House. Kendi describes Bones of Inequity as a prodigiously researched sweeping narrative of anti-Black racist policies from their origins in colonial America to the present. 
Kendi says he is thrilled to be a 2019 Guggenheim Fellow in a class with so many incredible scholars and scientists and artists. "As a historian, I know the unparalleled literary and scholarly and creative output of Guggenheim Fellows and I hope to follow in their footsteps. I am excited I will now be able to set aside some time to work on this book project."
Bones of Inequity
Kendi is one of the nation's leading scholars on racism. He is also an award-winning historian, a New York Times bestselling author, and an Ideas Columnist at The Atlantic. At 34, he won the 2016 National Book Award for Nonfiction for his book Stamped from the Beginning: The Definitive History of Racist Ideas in America, making him the youngest-ever winner of the NBA for Nonfiction. His third book, How to Be an Antiracist, will be published this August.
"My last book, Stamped from the Beginning, which was a history of racist ideas, opened my eyes to the essential need for Bones of Inequity. Stamped from the Beginning shows powerful and brilliant Americans producing racist ideas to justify the racist policies of their era, to redirect the blame for their era's racial inequities away from those policies and onto Black people. In short, Stamped from the Beginning demonstrates that racist policies lead to racist ideas, not the other way around as is commonly thought. And behind racist policies have been economic, political, and cultural self-interests. Bones of Inequity will detail this causal relationship over American time and space." 
Kendi says that Bones of Inequity will redefine and broaden our conception of racist policies, thus opening the door of history to unknown and unacknowledged policies that have formed racial inequities.
"In Bones of Inequity, a racist policy will be defined as any policy that yields a racial inequity, no matter the intention the policymaker, no matter whether the policy contains or does not contain racial language," he explains. "Bones of Inequity will also narrate how Americans have successfully and unsuccessful challenged racist policies and institute antiracist policies, which are policies that reduce a racial inequity or yield racial equity."
American University's Antiracist Research and Policy Center
As the founding director of American University's Antiracist Research and Policy Center, Kendi is fulfilling his vision of producing research that can support the enactment of antiracist public policies at the local, state, and national level. The Center was established in 2017, and it has already accomplished multiple high-profile initiatives.
In December 2018, the Center launched The Guardian's Antiracism and America project, a weekly web series that examines the policies and ideas that sustain a racist society and how we dismantle them. Contributors have included Eve Ewing, Robin DiAngelo, Anand Giridharadas, Imani Perry, and more.
The Center also partnered with the Frederick Douglass Family Initiatives and The Guardian to honor the life and legacy of 200 living individuals who embody the work and spirit of Frederick Douglass. The initiative culminated in February with a black-tie awards gala at the Library of Congress. Attendees included Alicia Garza, Amy Goodman, Naomi Klein, Mayor Chokwe Lumumba, Sandra Cisneros, Min Jin Lee, Carmen Perez, Wesley Lowery, Helen Zia, and many more.
The Center's next event, on April 27, 2019, is the 1st Annual National Antiracist Book Festival at American University's Washington College of Law. In partnership with First Book, the #AntiracistBookfest is the first and only book festival that brings together, showcases, and celebrates the nation's leading antiracist writers and helps to prepare the writers of tomorrow. Limited tickets are still available.