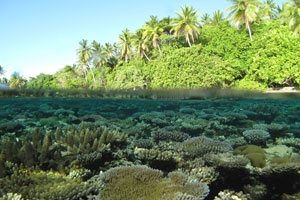 For 16 years, Environmental Science Professor and Department Chair Kiho Kim has inspired award-winning environmental science students at AU. In the classroom, in his lab, and on summer research trips to Guam, Kim brings the concepts of marine ecology research to life, imbuing his students with passion and giving them first-hand experience in the field.
As a marine ecologist, Kim specializes in tropical coral reefs and the effects of nutrient pollution and climate change in their degradation. Each summer, he takes undergrad and graduate students on a two-week trip to Guam, where they work with his colleagues at the University of Guam to collect coral samples, conduct surveys, and deploy research equipment on the coral reefs and along the coastline. The goal, Kim says, is to learn about the health of the seagrasses, the coral, the mangrove trees-all to get a better sense of what is out there in order to guide future conservation efforts.
Kim's dedication to this research has inspired his students. "Professor Kim is more than just a great professor and world class coral researcher," says Kathryn Meyer (BS environmental science '14), who just completed a MS in natural resources and environment at the University of Michigan's School of Natural Resources, focusing on aquatic conservation. "Professor Kim is passionate about what he does, which inspires those around him to share in that passion and work toward improving the health of aquatic environments. He will be my mentor and friend for life."

Environmental Service and Scientific Literacy
Dan Pasquale (BS environmental science '15) took Kim's Sustainable Earth course during his freshman year at AU. It included a lecture, lab component, and large group-project component. "Professor Kim's course was more than just a basic overview of environmental science-he emphasized environmental service and the importance of scientific literacy," said Pasquale. "As a class, we had the opportunity to participate in several service projects, including tree plantings and a green-roof rehabilitation project. We also visited the State Department, the Environmental Protection Agency (EPA), and the National Geographic Society. Professor Kim's lectures were clear and engaging, and I looked forward to his class. After taking Professor Kim's course, I switched my major to environmental science."
Since graduating a year ago, Pasquale completed a post-baccalaureate program in civil and environmental engineering at Tufts University. This September, he starts working towards a Master of Engineering degree in the Department of Civil and Environmental Engineering at the Massachusetts Institute of Technology (MIT).

Fellowships and Awards
Pasquale credits Kim and AU's Office of Merit Awards for helping him win a 2013 EPA Greater Research Opportunities (GRO) Fellowship. "Through the fellowship, I had the opportunity to intern at an EPA facility in Narragansett, Rhode Island," he says. "It allowed me to experience what it was like to work with a team of scientists on a long-term research project (monitoring the health of a saltwater estuary with a manmade oyster reef). I also carried out an independent research project, characterizing the fluctuations of water quality in Rock Creek during rainstorms. With Professor Kim's advice, I improved my laboratory skills while working on this project. Throughout my career at AU, he has been an excellent resource and mentor to me."
Pasquale is among many of Kim's students who have been awarded fellowships and other honors while studying at American University. Meyer says that Kim introduced her to the world of aquatic research when she first began working in his lab, and he later encouraged her to apply for National Science Foundation research experience for undergraduates (REU) and the NOAA Hollings fellowship, both of which led to experiences that helped her discover her passion for aquatic science.
"The lab environment fostered by Professor Kim enhanced my time at AU," says Meyer. "I am so thankful for his support and mentorship. He is always willing to provide advice and recommendation letters-he even sent one in for me while he was abroad doing field work in Guam!"

Five Years of Awards
Over the past five years, the following students from Kim's lab have been awarded fellowships and scholarships:
Carly Laroche (BS environmental science '19): NOAA Hollings Scholarship; Killam (Mount Allison University, Canada)
Benjamin Goldstein (BS environmental science '19): Fulbright Summer Program (Exeter University)
Caroline Vill (BS biology '18): NOAA Hollings Scholarship; Killam (University of Ottawa, Canada)
Susie Vulpas (MS environmental science '15): Critical Languages Scholarship; currently in Indonesia completing her Fulbright project
Daniel Pasquale (BS environmental science '15): EPA Greater Research Opportunity Scholarship; in MS program in Engineering at MIT
Meaghan Cuddy (BS environmental science '15): Fulbright Finalist (to South Africa); currently in MS program at University of Texas, Austin
Tasia Poinsatte (BA environmental science '13): NOAA Hollings Scholarship; Carnegie Endowment Junior Fellowship Program Finalist; currently co-director Project FE
Kathryn Meyer (BS environmental science '14): NOAA Hollings Scholarship; completed MS at University of Michigan; EPA-ORISE Fellow, IL
Alyssa Frederick (BS biology '12): Fulbright to New Zealand; NSF Graduate Research Fellowship; currently in PhD program at University of California, Irvine.

For More Information
Environmental Science Program at the College of Arts and Sciences