Achievements
AU Student Maria Rose Belding Named CNN Hero Honored for her work to get food to hungry Americans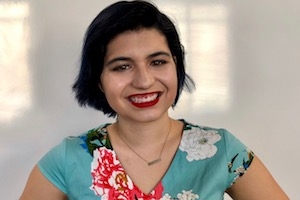 American University student Maria Rose Belding (BS public health '19) has been named a CNN Hero – joining the ranks of more than 300 "everyday people changing the world" who have been honored by CNN for their efforts to make the world a better place. Belding was recognized for her work to get excess food to hungry Americans.
Belding, who grew up working in her church's food pantry in rural Iowa, believes it should be easy for those with excess food to share it with people who are hungry. But at the pantry, she regularly saw overstocks of food that went to waste, while other types of foods were desperately needed. There was no way to coordinate with other food pantries, or with organizations that had excess food.
Belding was in high school when she first brainstormed the idea of building an online food database to connect food donors with organizations that needed food. But it wasn't until her first year at American University that she launched the Matching Excess and Need for Stability MEANS DATABASE, a free online network that connects thousands of food pantries, soup kitchens, and other non-profits with donors of surplus food. The donors include grocery stores, caterers, food retailers, and even other food pantries. In all, approximately 3,000 groups are involved in the MEANS database.
Belding is both a co-founder and the CEO of the organization, which is now working in 48 states and the District of Columbia. She is also a full-time public health major in the College of Arts and Sciences, and she works in American University's Entrepreneurship Incubator. "Maria Rose and her team are in the Incubator nearly every day, working on programs, improving technology, fundraising, and doing outreach to identify food donor organizations and food distribution groups around the country," says Bill Bellows, executive in residence at the Kogod School of Business and co-director of AU's Entrepreneurship Incubator. "She has never taken a summer off since high school and is in the incubator every day. Her commitment is inspiring to all of us who work with Maria Rose and the team."
Since 2015, MEANS has helped redistribute more than 1.8 million pounds of food. Its work has been recognized by the Washington Post, National Review, Starbucks and The Daily Show with Trevor Noah. Belding's work has been recognized by the Sodexo Foundation, Prudential Spirit of Community Awards, and the Obama White House (President's Volunteer Service awards in 2014 and 2016), along with the international Clinton Hunger Leadership Prize and L'Oreal Women of Worth award in 2015.
Belding also has been chosen to participate in the Clinton Global Initiative University (CGI U) this fall at the University of Chicago. President Bill Clinton launched the CGI U in 2007 to engage the next generation of leaders on college campuses around the world. The organization hosts an annual meeting where students, topic experts, and celebrities come together to develop innovative solutions to pressing global challenges. This year's meeting will bring together more than 1,000 student leaders, including Belding.
Like all CNN Heroes, Belding will be considered for the network's annual CNN Heroes All-Star Tribute, a live, global telecast that will air on December 9 from the American Museum of Natural History in New York City. Belding is the second College of Arts and Sciences student to become a CNN Hero. Mark Bergel, the founder and CEO of A Wider Circle, received a MS in health promotion management and a PhD in sociology from AU and was recognized as a CNN Hero in 2014.