Arts
"Miss You Like Hell" a Virtual Hit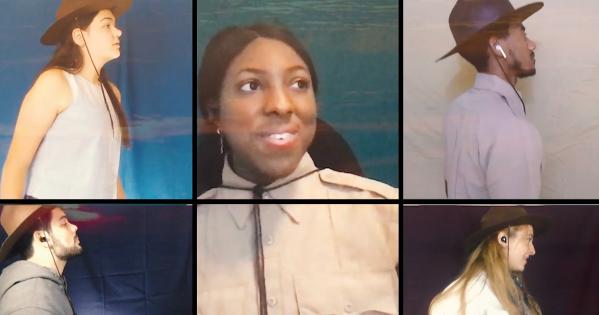 When universities across the United States shut down last spring, many schools cancelled their theatre productions. But American University's Department of Performing Arts made the decision to move forward — and let the shows go on.
Miss You Like Hell was AU's third theatre production this fall—all of them virtual productions. It was a huge effort. More than 50 students, faculty, staff, alumni and professional artists contributed to the October 29th and 30th performances—including student actors in Peru, Miami, New Orleans, Philadelphia, and Washington, DC.
"To meet the demands of producing an ensemble musical in isolation for an online platform — pre-recorded, assembled and livestreamed — required inspiring levels of innovation, patience and collaboration from our intrepid team," says Tara Giordano, a Helen Hayes Award nominee who directed Miss You Like Hell, along with Nathan Beary Blustein who directed the musical aspects of the production. "While all of us bring unique skills and experience to the table, none of us had worked in this format before, and we built from the ground under us as we went. The collective brainstorming was invigorating!"
Rehearsing and filming virtually presented unique challenges. Actors rehearsed and performed live together on Zoom, simultaneously capturing isolated video and audio content to be assembled in post-production. "While wading through auditions this past spring, I could not have envisioned the investment at every level that our program to mount this remote production, complete with ensemble vocals and full orchestration," said Beary Blustein. "What I will most treasure moving forward is the students' unwavering commitment to put on this timely musical — one that sings of the promise of a more just and equitable world off- and onstage."
Miss You Like Hell Trailer
The musical, written by Pulitzer Prize-winning playwright Quiara Alegría Hudes, focuses on a troubled teenager and her free-spirited mother, an undocumented immigrant from Mexico, who embark on a road trip across the country.  
The all-student cast included:
Beatriz: Bekah Umansky-Zornosa
Olivia: Olivia Luzquinos
Pearl: Ngakiya Camara
Manuel: Jorge Goyco Diaz
Higgins: Kyle Bardell
Mo: Bret O'Brien
Lawyer: Rose Hutchison
Officer: Caleigh Riordan Davis
Legal Clerk: Cate Ginsberg
Motel Clerk: Patrick Donoughe
Ramona: Alejandra Vallejo
Giordano says that the production also required teamwork and inter-departmental collaborations between AU's theatre, film, music, immigration law, world languages and cultures, and audio technology departments:
Students in William Brent's Telematic Music Production class became live sound engineers during synchronous recording sessions, while graduate student Dani Pérez, with AU faculty members Mike Harvey and Matt Twiford, supervised editing and mixing.
Film students assisted with animations and assembly of video footage.
Student musicians in the music program provided live orchestration for the piece, and alumna Graciela Rey created innovative choreography that utilized both wide shots and extreme close-ups to specific effect in this virtual presentation.
Immigration Law professor Cori Alonso-Yoder provided dramaturgical support and content consultation throughout the process.
Music Director Nathan Blustein and Assistant Music Director Daniella Ignacio explored various digital platforms to find the best fit for ensemble music rehearsals.
Senior Audio Visual Technician Tyler Cooper oversaw all technical aspects of the process and production.
Finally, Giordano enlisted the talents of her longtime colleague and collaborator, Joseph Varca, for multimedia design and video editing, to help bring her vision for the show to life. "Joe's uniquely qualified for such an endeavor, possessing a hybrid of skills—at one and the same time a gifted filmmaker, theatre artist and graphic artist. I think our audience found his extraordinary work to be a one-of-a-kind departure from the typical Zoom frames we're accustomed to seeing," she explains.
Giordano, a professorial lecturer in AU's Department of Performing Arts, has performed at Off-Broadway venues, Arena Stage, Shakespeare Theatre, Folger Theatre, Studio Theater, Kennedy Center, Two River Theater, Olney Theatre, and others. Her directorial credits include plays and musicals at The Academy for Classical Acting, Boston University, Middlebury College, Juniata College, Dutchkills Theatre and more. She has collaborated on feature films (AMC's The Witch in the Window), new musicals (The Village of Vale at Lincoln Center), and she is the Founding Artistic Director of MIDDSummer Play Lab, an eight-year summer artist residency in Middlebury, Vermont.
Giordano has taught nine different courses in her three years' tenure at American University. She also teaches ongoing Scene Study classes to professional actors at The Freeman Studio in NYC. She holds a BA in theatre and English from Middlebury College and an MFA in acting from the Academy for Classical Acting at George Washington University.
Beary Blustein is a professorial lecturer and music director for American University Theatre/Musical Theatre Program in the Department of Performing Arts at American University. He recently defended his PhD dissertation in the Department of Music Theory at Indiana University's Jacobs School of Music: "Through Arrangements of Shadows: Experiences of Reprise in Stephen Sondheim's Leitmotivic Musicals." He has directed the music for recent productions at AU including The Boy Detective Fails, How to Succeed in Business Without Really Trying, Carrie, Pippin, Assassins, and Little Women.
For a full event calendar, visit AUArts.