New CAS Associate Dean for Research Announced Professor Kim Blankenship appointed to College of Arts and Sciences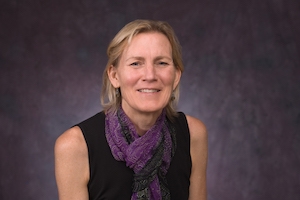 Following a national search, Professor of Sociology Kim Blankenship has been appointed to the position of Associate Dean for Research in the College of Arts and Sciences, effective June 15, 2018. Her appointment is the latest in a string of milestones in science and research at American University — including the cutting-edge Don Myers Technology and Innovation Building, which opened last September, and the Hall of Science Building, which will break ground this month.
"As Associate Dean for Research, Blankenship will work with College faculty to further expand AU's scientific research and teaching capabilities to make best use of this new infrastructure and to provide the highest level of research experience to AU faculty and students alike," said Peter Starr, dean of the College of Arts and Sciences.
Blankenship is an internationally-respected sociologist who studies the social determinants of health — including race, class, and gender inequality — with an eye to formulating new policies and other structural interventions to address chronic health disparities. She is best known for her work on HIV/AIDS, for which she has earned consistently strong levels of funding from the National Institute of Mental Health, the National Institute on Drug Abuse, the Bill and Melinda Gates Foundation, and the Centers for Disease Control and Prevention, among other organizations.
Blankenship joined American University as professor of sociology in 2010. From 2010 to 2016, she served both as chair of the Department of Sociology and as the founding director of AU's Center on Health, Risk and Society. Since 2013, Blankenship has served as the director or co-director of the social and behavioral sciences core of the District of Columbia Center for AIDS Research—the first multi-university center of its kind.
Before coming to AU in 2010, she served on the faculties of Duke and Yale Universities, including a ten-year stint as Associate Director of Yale's Center for Interdisciplinary Research on AIDS. Blankenship holds the doctorate and master's in sociology from Duke and a bachelor's in that same field from William and Mary.