Research
Professor Alex Zestos Unraveling Mysteries of Human Brain Research extends from the lab to the marketplace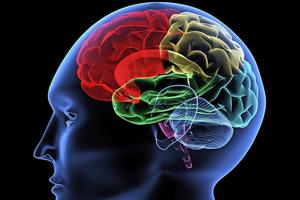 The human brain controls our thoughts, actions, memories, movements, and so much more. It is also incredibly complex: there are as many neurons in the brain as there are stars in the Milky Way galaxy. How exactly they all work together is still a bit of a mystery.
Over the past decade, however, breakthroughs in the rapidly growing field of neuroscience are giving researchers exciting new insights. One of these researchers is Alexander Zestos, bioanalytic chemist and American University assistant professor of chemistry. His groundbreaking work, most recently funded by the National Science Foundation and the National Institutes of Health's BRAIN Initiative, has far-ranging implications that extend into treating diseases of the brain.
Cutting-edge tools
Zestos constructs carbon fiber-microelectrode sensors (arrays), which are used to measure key neurotransmitter levels in the brain, such as serotonin, norepinephrine, and dopamine. Measuring these neurotransmitters helps researchers understand more about how the brain functions and regulates.
"For example, the depletion of dopamine and dyskinesia is caused by Parkinson's Disease," Zestos explains. "Drugs of abuse (such as cocaine or amphetamines) may increase dopamine to cause tachycardia or further abuse and cravings. They can also lead as a gateway to other drugs. Therefore, the regulation of dopamine in vivo is vital to understanding a wide myriad of behavioral and pharmacological effects. Dopamine can help us understand why someone chooses one reward over the other, and what type of long-term implications that has."
Zestos is currently using his arrays in vitro, testing them in known solutions of various neurotransmitters, including dopamine. He is also engineering the probes to make them suitable for in vivo measurements. This includes engineering considerations of size, rigidity, and flexibility for the penetration through brain tissue.
At the same time, Zestos is working to take his arrays beyond the lab and into the open marketplace, where they have the potential to be marketed to scientists, physicians, and other researchers studying the brain to help understand complex brain heterogeneity by measuring changing levels of neurochemicals in disparate brain regions.
I-Corps: Where Science Meets Business
In 2019, Zestos received a National Science Foundation I-Corps Program grant for $50,000 to develop a multi-electrode array for neurotransmitter detection. This array is groundbreaking because it can be implanted into a model to measure multiple neurotransmitters in multiple brain areas simultaneously. Up to this point, researchers have only been able to measure neurotransmitters in one part of the brain at a time.
Zestos was first introduced to I-Corps the previous semester when he participated in AU's National Science Foundation Site Program, run by Kathryn Walters-Conte, AU principal investigator and Site Program director. It's all part of the university's $250,000 National Science Foundation grant to give researchers a first exposure to NSF and guide them towards successful applications to its national program. 
The I-Corps Program grants are designed to help scientists extend their focus beyond university labs and move their work towards the development of real-world products to solve real-world problems. Zestos' grant gave him the training and resources to build a team to conduct research, customer discovery, and business development. He teamed up with Microprobes for Life Science, a medical equipment manufacturer in Maryland, to create the multi-electrode arrays. Two students served as entrepreneurial leads: Mark Ware (BS biology '22), one of the youngest AU students to ever participate in the I-Corps program, and Alexander Mendoza (BS neuroscience '19) who is currently pursuing his PhD in neuroscience at Pennsylvania State University.
The team's business mentor was Carl Winfree, a Kogod alumnus and advisory board member for the College of Arts and Sciences' Masters in Biotechnology Program. Winfree previously worked at Merck, one of the largest pharmaceutical companies in the world. "Carl provided a lot of business aspects that we, as laboratory scientists, don't ordinarily take into account," says Zestos, who added that he learned quite a bit about the business world through this process. "Your science can be legitimate, but if you don't have a good business model, it won't go anywhere."
The team conducted customer discovery at the National Institutes of Health, where Zestos is a guest researcher. To their delight, the researchers there were enthusiastic about the arrays and said they would purchase them if available.
Reaching the Potential for Commercialization
As Zestos and his team move forward on the I-Corps grant, they are conducting more research and development, in vitro and in vivo testing, customer discovery, market research, and profit analysis.
Bill Bellows, co-director of American University's Entrepreneurship Incubator, says that the work done by Zestos and his team is not only important to science, but it's also a testament to the quality of research being done at AU.
"Acceptance into the national I-Corps program is rare. The program sets a high bar, and the challenge is to identify whether a technology has the potential for commercialization so it can become widely available to those who need it," he explains. "Dr. Zestos' team excelled because it was carefully selected with the right combination of faculty, students, and alumni from the College of Arts and Sciences and Kogod to master the process of customer discovery that I-Corps is built on."
Ongoing Grants: BRAIN Initiative
Last September, in cooperation with Microprobes for Life Science, Zestos received another prestigious grant, a $150,000 Phase I Small Business Technology Transfer (STTR) grant award from the National Institutes of Health for his multi-electrode arrays. Zestos' work will be split between the National Institutes of Mental Health and the National Institute of Neurological Disorders and Stroke, and Zestos is the very first American University faculty member to receive this grant. The funding opportunity announcement came out of the BRAIN Initiative, a $100 million initiative spearheaded by President Obama in 2013, and this summer, Zestos is invited to share his latest research at the prestigious annual BRAIN Initiative Conference.
When Zestos' phase-one grant is complete, he will apply for a phase-two proposal for more than $1 million. The goal is for the end product—the multi-electrode array—to be ready to sell in the open market to professors, scientists, physicians, and other researchers.
Interdisciplinary Collaboration
One reoccurring theme in Zestos' work is the collaborative nature of American University scientific research. He is currently working with other faculty members across the sciences to further their research with his arrays.
Zestos partners with Victoria Connaughton, associate professor of biology, to use his carbon fiber-microelectrodes to measure the stimulated release of neurotransmitters from zebrafish brain and retina. "We hope to correlate the measurements of neurotransmitters, such as dopamine, in retina to diabetic retinopathy to help further understand diabetes and hyperglycemia," he says.
With Anthony Riley, professor of psychology, and David Kearns, professor of psychology, Zestos is developing assays to measure the neurochemical effects of drugs of abuse such as bath salts and cocaine. "We are specifically using protein kinase C inhibitors to reverse the effects of drugs of abuse, and will measure this through dopamine measurements and behavioral assays," he says. "This will help us potentially develop novel therapeutics for drugs of abuse."
Zestos also has a collaboration with John Bracht, assistant biology professor, where they use carbon electrodes with fast scan cyclic voltammetry (FSCV) to detect DNA and RNA through the measurement of nucleobases such as adenosine, guanosine, and cytosine.
Zestos is particularly excited about testing his multielectrode arrays in vivo in rats, in collaboration with Mark Laubach, professor of biology and director of AU's PhD in Behavior, Cognition, and Neuroscience (BCaN). They will develop multielectrode arrays to measure neurochemical changes (such as dopamine) in multiple brain regions simultaneously. "This will help correlate neurochemical changes to different drug and behavioral states to help understand complex brain heterogeneity," he explains.
High-Impact Research
High-impact research was one of the first things that drew Zestos to American University. "AU really stood out to me as one of the of few research institutions that cares a lot about both research and teaching," he says. "The university really stands alone for advocating for the teacher-scholar ideal where we can do original research with undergraduates and translate that into the classroom for more high-impact work."
Zestos first came to AU in 2017. He completed his bachelor's and master's degrees at the College of William and Mary, earned his PhD from the University of Virginia, and spent the three years as a postdoctoral research fellow at the University of Michigan, where he had a joint appointment in the chemistry and pharmacology departments. Since arriving at AU, Zestos has won numerous award including being selected as an emerging investigator by the Royal Society of Chemistry for work on a recent publication.
What's Next?
When asked about the future of brain science, Zestos points out that the measurements made by neuroscientists are only as good as the existing technology available to measure them. Just fifty years ago, carbon fiber microelectrodes with fast scan cyclic voltammetry and PET imaging were not readily available, and scientists knew very little about the brain. Great advances have been made, but there is much more work to be done.
"To really understand the brain, to make fundamental discoveries, we must create new assays and identify new methods of detection for these neurochemicals that will allow us to make new, complex discoveries in the neurosciences," he says. "We are just scratching the surface, but it's a very exciting time in a very exciting field. We are working to find answers at the interface of analytical chemistry, neuroscience, biology, material science, and other fields."