Science
AU Welcomes "Being Really Awesome in Neuroscience"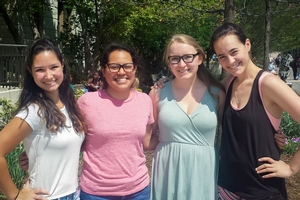 The mind-boggling complexities of the brain are what make us human. The ability to understand and navigate such information is the study of neuroscience. Neuroscience is an interdisciplinary branch of science that predominantly studies the brain and nervous system, but involves the fields of biology, chemistry, psychology, and anatomy and physiology, among quite a few others. Although American University has been known for being especially politically active and is heavily populated by economics majors, AU is also home to a new neuroscience program through the College of Arts and Sciences. The new neuroscience club, BRAIN ("Being Really Awesome in Neuroscience") is making great strides to begin encouraging student involvement in the program and the field in general.
The neuroscience program was designed by Dr. Catherine Stoodley and Dr. Arthur Shapiro from AU's Department of Psychology as well as Dr. Colin Saldanha, Biology Department Chair, who is also currently the director of the program. "The program itself has been streamlined to maximize flexibility, particularly in the upper electives," Dr. Saldanha said. This way, students that wish to combine degrees or pursue other graduate or doctorate programs can take upper electives related to their interests. Since its development, the major has been increasingly popular and now enrolls over 50 intended and declared majors.
The Neuroscience program is unique for its one-on-one research opportunities with faculty members, the Center for Behavioral Neuroscience, the undergraduate National Honors Society in Neuroscience-Nu Rho Psi-as well as its graduate programs in Behavior, Cognition, and Neuroscience. The Center for Behavioral Neuroscience provides a unique research and training environment for students given that its members have a diverse range of research interests. One sophomore said she is often asked by her classmates why she chose to attend American University to major in neuroscience. To this, she answers that she was able to dive into research that she was personally interested in during her first year in college, which is unlike what many other universities offer. Opportunities like these that are offered by the neuroscience program are being advertised and expanded by student-led initiatives, like the new neuroscience club, BRAIN.
The neuroscience club was created when Dr. Mark Laubach, Director of the Behavior, Cognition, and Neuroscience Ph.D. program, saw the need for an additional support group for neuroscience students. While the Nu Rho Psi Honors Society was available to students, there was a clear need to have neuroscience resources available to students on campus. Thus, with the support of alumni, students, and professors, the neuroscience club was created last fall under the leadership of Hannah Goldbach '18 and Samantha White '18, two neuroscience students doing research in Dr. Laubach's lab, as well as Brianne Drury '18 and Stephanie Martin '18, students working in the laboratory of Dr. Catherine Stoodley.
The primary goals of the club are to bring neuroscience majors together, to provide them with resources, and to expand the program to involve more of the AU community. To accomplish this, BRAIN plans to host club meetings and social nights such as brain game marathons. BRAIN will also reach out to alumni working in postgraduate research positions at the National Institute of Health (NIH) and organize trips to NIH labs. Furthermore, BRAIN plans to create a forum for both undergraduates and graduates to make research guidance and opportunities more attainable. Finally, BRAIN aims to connect non-science and science majors in Washington, D.C. through their shared interest in policy. "We want to create a dialogue between policy students and biomedical students," White said. "We want to stress how important they are to each other to keep science moving forward. The relationship between healthcare and infrastructure are what drive organizations like the NIH and National Science Foundation." To create such a dialogue BRAIN envisions having policy briefings to discuss ways in which the broader community can further advocate for the advancement of science. Although the neuroscience club is currently in its early stages, the BRAIN team's excitement and plethora of ideas are making opportunities for neuroscience students come alive.