Science
Rising Senior Anthony LoPrete Wins Goldwater Scholarship Aspiring Vision Science Researcher Recognized for Academic Excellence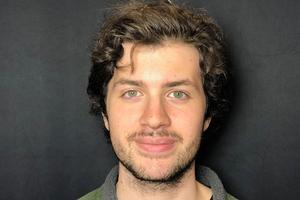 Anthony LoPrete (BS physics and computational science '21) has made the most of his first three years at American University, pursuing a rigorous curriculum that includes courses in physics, computer science, and mathematics, as well as independent research with three professors on scientific work ranging from optical illusions to quantum physics to LIGO (Laser Interferometer Gravitational-wave Observatory).
In recognition of his academic excellence, LoPrete has been awarded a prestigious Goldwater Scholarship. Established in 1986, the scholarship is the living memorial to Senator Barry Goldwater and designed to nurture the scientific talent that the country needs in order to ensure its competitiveness and security. Scholars like LoPrete are selected for their potential to become leading researchers in the natural sciences, mathematics, and engineering.
One of 396 Goldwater Scholars nationwide, LoPrete was selected from a pool of 1,343 university-nominated candidates forwarded by 461 institutions. He says he's thrilled to receive this honor. "I didn't take any physics courses before college, so being awarded the scholarship is fantastic encouragement to keep moving forward," he explains. "I'm naturally indebted to my mentors, especially Arthur Shapiro, for the opportunities and assistance they've provided me."
Future Vision Science Researcher
LoPrete is preparing to become a vision science researcher. He's especially interested in retinal imaging, the optics of the eye, and color vision. For his Goldwater Scholarship, he wrote about work he conducted with Professor of Psychology and Computer Science Art Shapiro under the auspices of a NASA DC Space Consortium Summer Research Fellowship.
As part of the consortium fellowship, LoPrete investigated an optical illusion known as the Pulfrich Effect. It occurs when a subject perceives that an object is traveling along an elliptical (three-dimensional) path, when it merely is moving back and forth across a two-dimensional plane. LoPrete explored how variations in color and contrast affect the magnitude of this illusion in a virtual reality environment. LoPrete's research on the Helix rotation was published in the Journal of the Optical Society of America earlier this year.  
LoPrete has also been working with Professor of Physics Gregg Harry in American University's LIGO lab and has assisted Associate Professor of Physics and Department Chair Nathan Harshman with a project on quantum mechanics.  
Well-Rounded and Involved
In his free time, LoPrete serves as the treasurer (event planner and organizer) of American University's Audio Engineering Society. He also tutors through the DC Math Circle, which helps pre-high school students to see how engaging mathematics can be.
A talented percussionist, LoPrete turned down a scholarship to a music conservatory in order to attend AU. When he arrived, he planned on studying audio technology, but switched majors after discovering how much he enjoyed his physics and computer science courses. He still retains his interest in music, composing for a Boston-based company. He's also released a full-length album of his work.
LoPrete also received a nationally competitive summer fellowship to conduct research at the University of Rochester's well-known Center for Visual Science.