Arts
Virtual "Overture" a Poignant, Soaring Success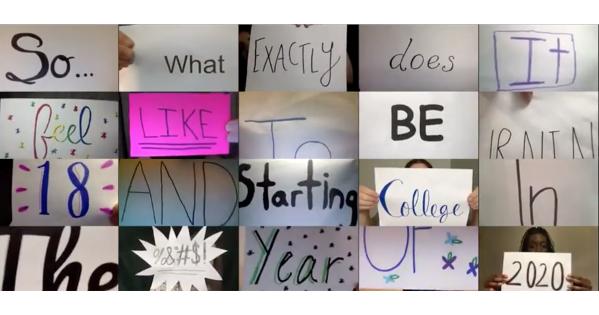 Every day the same…they all seem to blend. We want to make a difference, we all want to make a change, but how are we to do that when we're all so freaking drained and afraid? But we'll try again tomorrow, see what kind of world we can create. Today we're going to work for a better tomorrow…
These lyrics, written and sung by Jillian Skara opened this year's virtual Overture performance and set the tone for the annual show, which is written and performed entirely by American University first-year theatre students. The production was directed by award-winning playwright and director Aaron Posner, who has been an artist-in-residence at AU for three years and just joined the faculty this fall as a fulltime associate professor.  
As always, Overture provided a glimpse into the personalities of each performer, as they described the hopes, dreams, and events that have shaped their lives. But this year was a bit different. These twenty students all came of age during the COVID-19 pandemic, and their performances reflected their angst over the pandemic and the overall state of the world, making this year's Overture especially poignant.
Jacob Gee described how he anxiously watched his mother hoard food and supplies last spring until the day the country shut down. In another piece, five performers compared all the things they have in common: high-school senior year cut short, graduation and vacations cancelled, and some unfortunate Zoom classes. And Sara Wiser watched her strong and stoic mother weep for the very first time after the death of Ruth Bader Ginsburg.
"Our students' resilience, intrepid spirit, and deep desire to create change was not only reflected throughout Overture, but these qualities have only intensified as a mainstay of all of our work in the Department of Performing Arts this semester," says Dan Abraham, professor and department chair. "As artists we are changemakers, and through our creative enterprises we provide commentary and magnification of the world around us. The cast members of Overture put forward not only a personal and heartfelt understanding of themselves, but also a meaningful record of this moment through contemplating the struggles of the individual and of our society at this time. It was great theater at a time when we all deeply need and deserve a moment to reflect on who we are and what we can be."
Hopes and Hardships
Posner points out that the students wrote all the material in the production, and many of them performed pieces written by other members of the ensemble. He was impressed by this year's freshman class. "They were thoughtful, engaged and very insightful about their own struggles as well as the struggles of their friends, family, and classmates," he says. "They were incredibly supportive of each other at every moment. Many of them were writing for performance for the very first time, and they were both brave and generous in sharing their hopes and hardships with the world."
Those hope and hardships included imperfect relationships with parents and ambivalence over the transition from child to adult. Julia White shared what it's like being eighteen, a beautifully imperfect year. "I love being young!" she said. Rosalie Jung compared this phase of life to a caterpillar nestled in the cocoon. As all her peers around her spread their wings and take flight, she wonders when she will be ready to burst out and shine—and where her journey will take her.
The show was filled with bursts of humor too. Abagail Altemose and Maegan Seaman performed a skit about explaining a boyfriend with "four moms" to a confused listener. Bryn Underwood performed as a mother doling out advice and waxing poetic about her own college experience. Ruby Osborne reenacted a passionate debate with her parents when she was just ten, over why she should be allowed to start her Pokemon journey. And in a beautifully triumphant piece about role models, Sirra Faal described what it's like to grow up with the precious gift of being young, gifted, and Black.
The show ended with an all-ensemble piece, If You Could Really See Me, with each student describing their inner truths—what people would know if they could really see inside them. Each said, "see me" as they faded off the screen.
Abraham says that the production was an auspicious start to the season. "Over the course of the semester, our remote audiences will have a chance to experience the impressive strength of our students as well as the astounding creativity of our faculty," he explains. "Each of our productions, concerts, and performance will explore innovative new modalities demanded by the current realities faced by the arts. Each of our performances will approach production in ways as equally varied as they are daring."