Arts
Why We Love Graphic Design AU Design Club officers share why they chose graphic design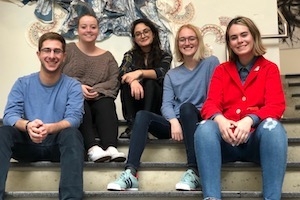 How do you define your passion?
We asked the leaders of the AU Design Club to share how they discovered their passion for graphic design and what they hope to do with their degree.
You can join these designers at the 2018 AU Design Show, an exhibition showcasing the dynamic work AU designers create in the classroom, at the Katzen Art Center on April 4.
Graphic Design is Limitless
"My favorite aspect of design is the fact that bad design is truly noticeable, but great design is invisible. I hope to work at a creative agency in the digital/UI space with the ability to work on a variety of different projects."
—Zachary Porter, AU Design Club president (BA graphic design '18)

"Graphic design is limitless in its possibilities. It's a career that allows you to be fluid, to explore different solutions through typographic choices, layouts, and colors. I hope to work for a publisher as a book jacket designer, so I can combine my love of literature and design. Graphic design has taught me to never be content with comfortable, so I look forward to whatever may come."
—Elspeth Reilly, AU Design Club vice president (BA graphic design '18)
Solving Design Problems
"I resisted for a long time. I have always loved art and visual communication but for whatever reason, I felt like I couldn't do it professionally and started out in public relations instead. I slowly realized the only classes I liked were the ones that focused on design. I finally conceded to do design, and I fell for it hard, probably because it has always been my passion."
—Carly Thaw, AU Design Club secretary (BA graphic design '18)
Design is Everything
"I started off as a studio art major because I had a strong background in painting and drawing. During a painting class were I was working as a teaching assistant, I had a student who was a graphic design major who told me about it. I took the introductory graphic design class and I was set. I love that design is everything, and everything you see is design."
—Sofia Elian, AU Design Club treasurer and art director (BA graphic design '18)
Design Matters
"I started out majoring in Law & Society, and I decided to take design classes as a fun break from my strenuous courses. My professor told me I should consider it as a major, and when I figured out I could do what I really enjoyed as a career, switching was a no brainer. I love design because every project is an opportunity to solve a new and interesting problem. I want to work for a non-profit or a company where my design helps make a difference in the world."
—Alex Law, AU Design Club marketing coordinator and web developer (BA graphic design '18)