James J. Gray Psychotherapy Training Clinic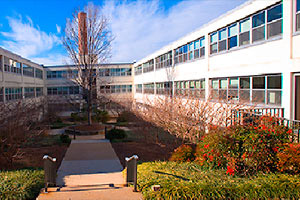 Welcome to the Gray Psychotherapy Training Clinic! We currently offer teletherapy services to residents of DC, and in-person therapy to all community members. The exact methods used by your therapist in the James J. Gray Psychotherapy Training Clinic will depend on your symptoms, strengths, preferences, and goals for treatment. In general, though, our staff therapists practice Cognitive Behavior Therapy (CBT) and Dialectical Behavior Therapy (DBT). These are active approaches in which your therapist will help you build new skills for coping with the difficult situations in your life and will ask you to practice these skills between treatment sessions. For more detail on Cognitive Behavior Therapy, please visit the link below, from the major professional organization in the field, the Association for Behavioral and Cognitive Therapies. Read more information about Dialectical Behavior Therapy.
If you are interested in receiving treatment in our clinic, please complete the request form. You will receive an email back our Clinic Director, Dr. Hart, within 24-48 hours to determine whether or not our clinic would be a good fit for your concerns, and to inform you of our current availability. Please note that we are a small clinic and are often on a wait list.If we are on a wait list, or we are otherwise not a good fit for your needs, Dr. Hart may provide you with other resources in the area that might be a better fit.
To contact current therapist:
202-885-1744, then press number for therapist's voicemail
 
Problems Treated
Our clinic is not a specialty clinic, and we work with adults (individuals or couples) with a wide range of disorders or problem behaviors. Examples include:
Trichotillomania
Depression
Social Anxiety Disorder
Panic Disorder
Obsessive Compulsive Disorder

Generalized Anxiety Disorder

Specific Phobias
Bulimia
Binge Eating Disorder
Compulsive Hoarding
Trichotillomania
Alcohol Abuse
Cigarette smoking
Stress Management
Procrastination
Couples Distress
Borderline Personality Disorder
Suicidal Behavior
Self-Injury
Children under age 18 are not treated in our clinic. Also, people who have been diagnosed with schizophrenia or with bipolar disorder we usually advise to seek treatment at other clinics that have medical staff in addition to psychotherapy services.
Location & Directions
Please see Locations/Directions for details on public transportation, parking, and our building, which is fully accessible:
Asbury Building, North Wing, Rm 228
American University
4400 Massachusetts Ave.
Washington, DC 20016
Resources
Emergencies
Therapists in our clinic are not available on an emergency basis. If you are in crisis, please call:
1-888-793-4357 DC Crisis Helpline
1-800-SUICIDE (1-800-784-2433)
USA National Suicide Hotline
911 (for immediate escort to hospital)
Cost-Effective Therapy
The James J. Gray Psychotherapy Training Clinic partners with Theravive to offer low-cost therapy to those in need.