Facilities & Directions
In support of the interdisciplinary work that we do at the Game Center, Game Design students have access to a variety of labs and resources across campus, outlined below.

Panorama of the Game Center space in DMTI.
The Game Center at DMTI 113
The Game Center blends 2,758 square feet of space for gaming, reception, teaching, and informal meeting across a game studio and adjoining classroom. Built-in equipment includes a 98" Planar touchscreen display in 4K Ultra High Definition, three 85" Sony displays, three 43" Sony LED displays, and two 49" Sony LED displays.
We encourage students to play by offering access to modern and classic game platforms including XBOX, Wii, and PlayStation, along with Chess, Go, and more board games.
Students can also check out equipment such as Alienware Gaming Laptops, Wacom Drawing Tablets, and Oculus Quests.
Nearby in DMTI
Design and Build Lab (DaBL) in DMTI 101 with a wide selection of digital and analog fabrication equipment including a workbench, 3D printer, laser cutter, vinyl cutter, sewing machine, and heat press.
AU Center for Innovation (AUCI) in DMTI 221 brings together prospective student entrepreneurs, educators, and experienced entrepreneurs to develop entrepreneurial mindsets, identify opportunities, refine business models, and launch new ventures
Classrooms and colleagues in the computer science, math & stats, physics, the Visual Illusions Lab, and more.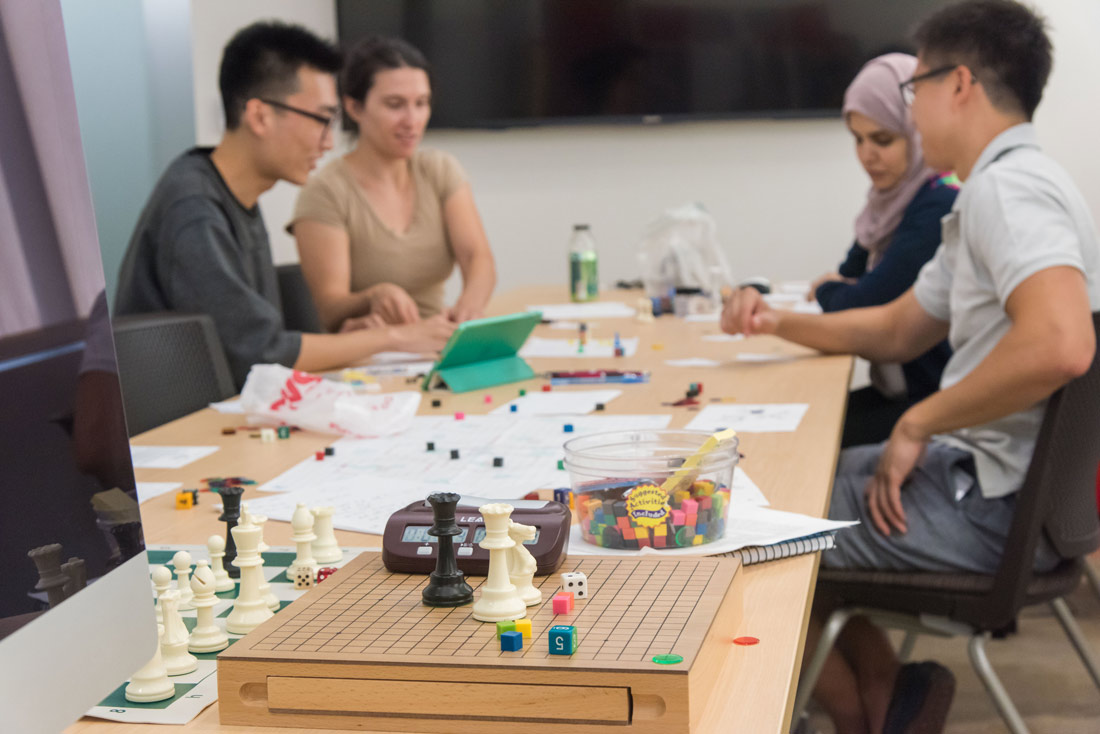 Students and faculty in the Game Center.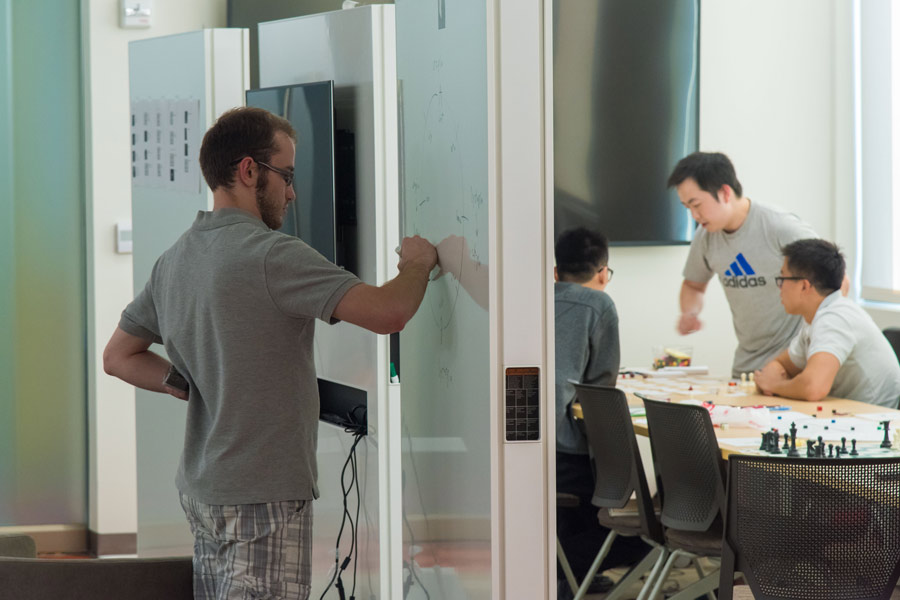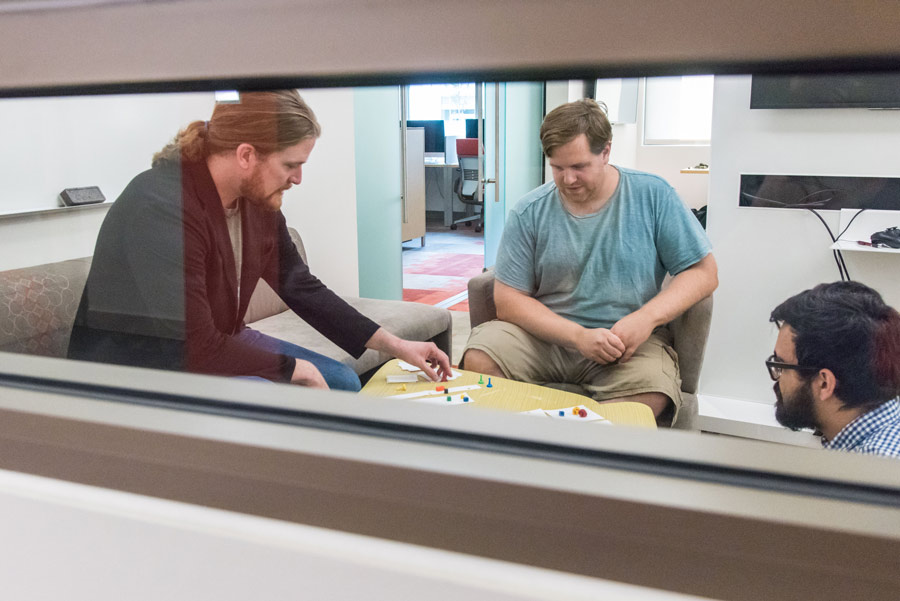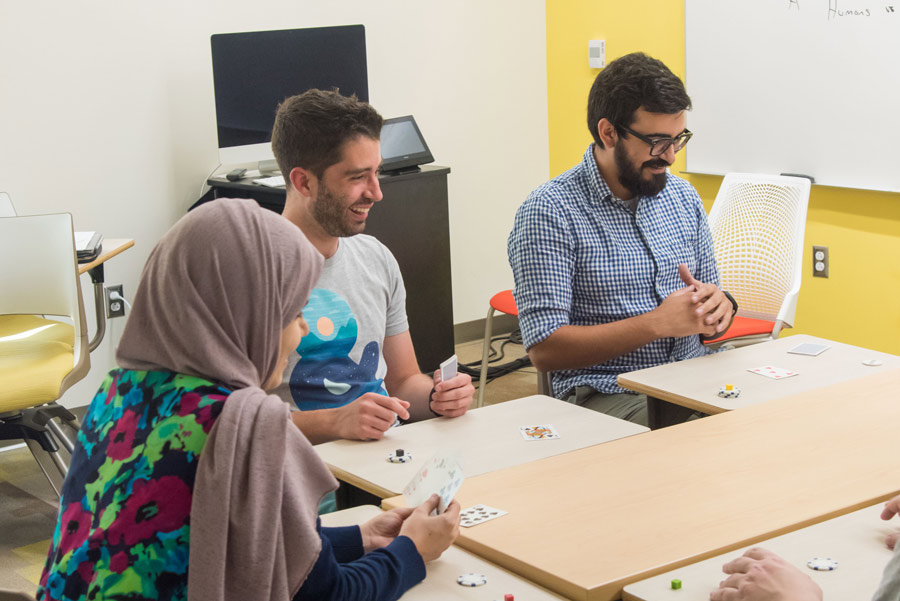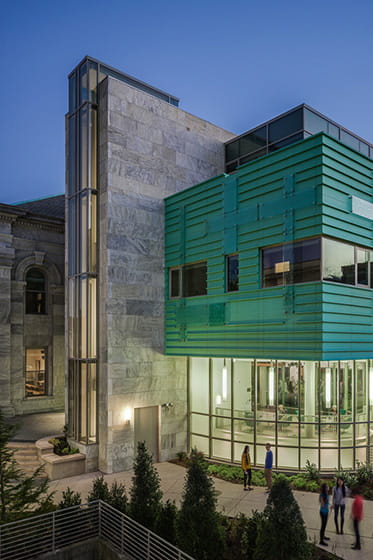 McKinley Building.
Facilities across Campus 
SOC Media Labs & Studios
The McKinley Building houses classrooms, faculty offices, media production facilities, and seven computer labs, including the Open Editing Lab, available 24/7 with latest versions of software such as Final Cut Pro and Adobe Creative Cloud. 
The Institute for Immersive Designs, Experiences, Applications, and Stories (Institute for IDEAS) and 360 VR Film in Spring Valley 601 offer expertise and equipment for interdisciplinary projects focused on immersive technologies, including virtual, augmented, mixed, and extended reality.
Library Makerspace
AU Library's Makerspace is a place where people with similar interests can come together to work on projects while sharing ideas, knowledge, and expertise — patrons can work independently or in groups with the space organized into three workbenches for
3D Creation: 3D Printer, Carvey
Digital Production: poster printing (large format printer) and circuits (Raspberry Pi and e-textiles)
Craft Fabrication: manual/power tools (hammer, screwdriver, wrench, plier, power drill, dremel kit, sander), sewing (sewing machine, dress form), and handcrafting (soldering iron, hot glue gun, embroidery, paper crafts, carving tools)