December 2019

Community Relations
4400 Massachusetts Avenue NW
Washington
,
DC
20016-8033
United States
American University Joins Tenleytown for Annual WinterFest

Get in the holiday mood with American University's a cappella groups Treble in Paradise and On a Sensual Note when they perform on December 3 and 4 at the Tenley Metro Plaza at 5 p.m. Their concert is a part of the 8th annual Tenley Winterfest.
WinterFest runs now through December 7 and celebrates the holiday season by showcasing local businesses, community groups, and the Tenleytown neighborhood. Events include the Yeti Hunt, storefront window decorating contests, historic neighborhood tours, live music and caroling, and Restaurant Week when more than a dozen local restaurants offer specials menus and pricing.  
The celebration culminates on December 7 with the Winter Market at Janney Elementary School. Shop for everyone on your holiday list, as more than 100 vendors take part in the Winter Market. Find unique gifts ranging from jewelry and accessories, ornaments and holiday decor, greeting cards, international crafts, skincare, home decor, pet accessories, specialty foods, sweets and treats of every kind, and more. Free gift wrapping also will be available on site at the Market.
"American University is proud to once again join Tenleytown Main Street and a host of community partners to support this great local event," said Maria Barry, AU Director of Community Relations. "I hope to see all of our Tenley neighbors at this year's WinterFest."
Tenley WinterFest is presented by Tenleytown Main Street, in partnership with local businesses and community groups. Find Tenley WinterFest events and special promotions through the Tenleytown Main Street app, available for download in the App Store or on Google Play. For all Tenley WinterFest events and more details, visit www.tenleywinterfest.org.
Meeting of Community Liaison Committee Slated for December 10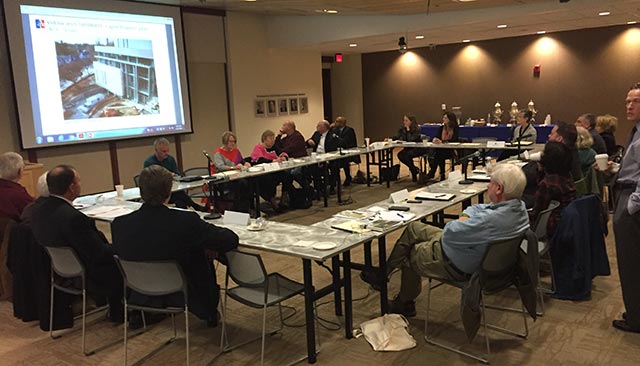 American University's Community Liaison Committee (CLC) will hold a quarterly meeting on Tuesday, December 10. 
The meeting will begin at 7 p.m. in rooms 1 and 2 of Constitution Hall on AU's East Campus. Neighbors are invited to join AU staff at 6:30 p.m. for pre-meeting refreshments and conversation. Parking for the meeting is available on the East Campus surface parking lot. 
The CLC was established to foster positive relations and to maintain regular communication between the university and its neighbors. As specified in the D.C. Zoning Commission Order for AU's 10-year Campus Plan, the CLC comprises individuals from neighboring community organizations and representatives from the university. 
Additional information on the CLC, including meeting agendas and minutes can be found at www.american.edu/communityrelations/clc. 
Fall Commencement Slated for December 15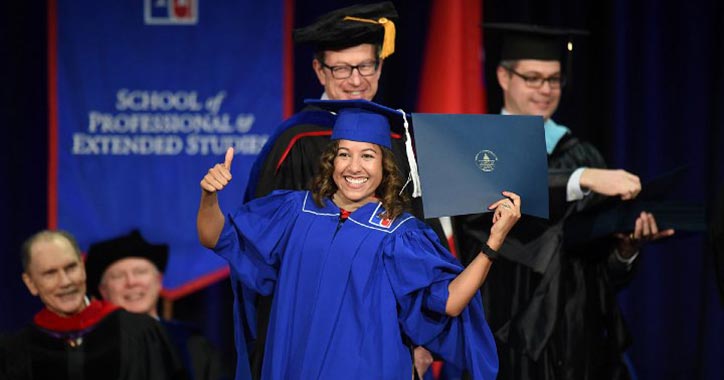 American University's fall commencement ceremony will take place on Sunday, December 15 at 10 a.m. in Bender Arena on main AU's campus. The university anticipates increased activity around campus, as families and friends visit for the occasion.  
All parking areas on campus will be open for commencement and participants have been encouraged strongly to use public transportation and reminded of AU's Good Neighbor parking policy. 
American University awarded its first degrees (two doctorates and one master's degree) in 1916 at a commencement ceremony held in the university's amphitheater. AU commencements have grown over the years as the university has become larger and more diverse. More than two thousand students from AU's six schools and colleges participate in commencement ceremonies each year.  
For additional information on AU's fall commencement, please visit www.american.edu/events/commencement.
Men's Basketball "Holiday 3-Pack" Ticket Mini-Plan On Sale Now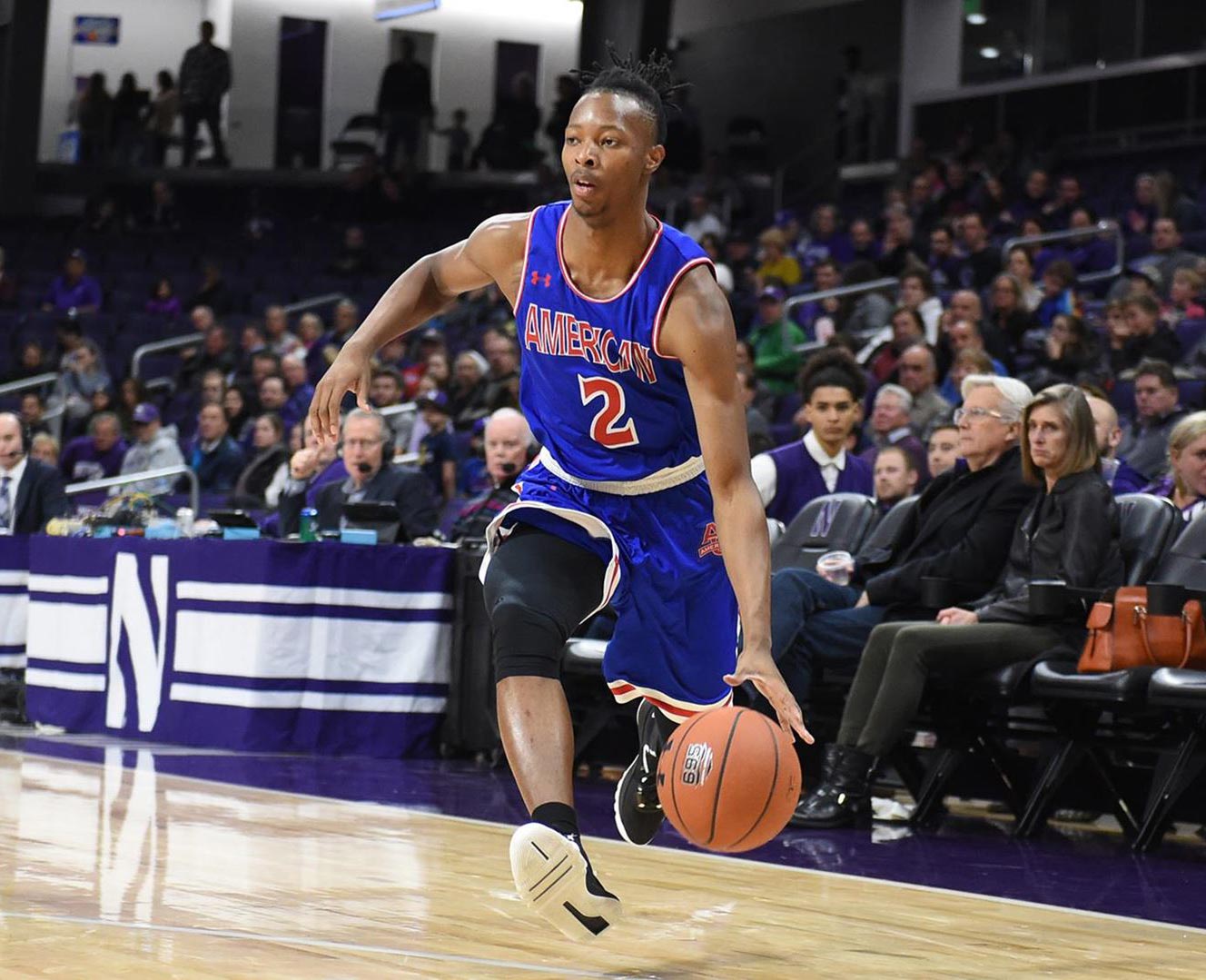 This holiday season treat yourself or give the gift of AU Hoops by purchasing the AU Men's Basketball's Holiday 3-Pack Ticket Mini-Plan. For just $50, you get a sideline ticket to three great match-ups of your choice from all remaining home games. Shopping for Eagle fans on your holiday list has never been easier.  Purchase this special limited-time offer at AUeagles.com/Tickets or call (202) 885-T-I-X-X by Friday, December 20 to reserve your tickets.
AU to Close for Winter Break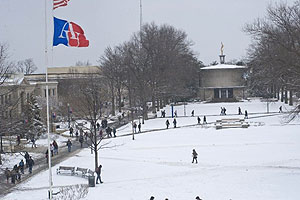 American University will be closed for eleven days during the winter holiday season. Offices and buildings, including Bender Library, will be closed from December 21 through January 1. The university will reopen on January 2, 2020.  
During the break, AU Police will provide emergency services and continue routine patrol of the campus. As a reminder, the AU Shuttle also will not operate during the break. 
Neighbors Invited to Town Hall with President Burwell & New Year's Reception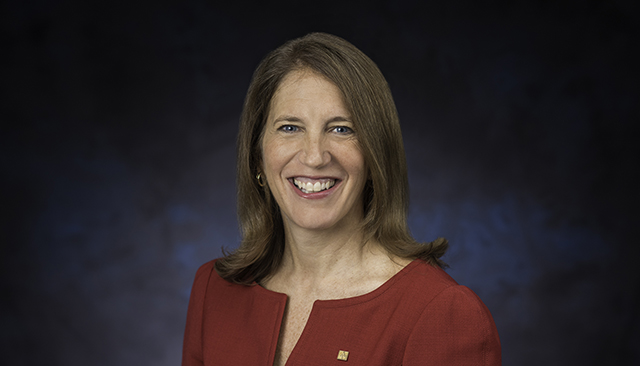 American University cordially invites its neighbors to the annual Town Hall meeting with President Sylvia Burwell, to be followed by a New Year's reception, on January 7, 2020. 
The Town Hall will begin at 7 p.m. in Rooms 1-3 of Constitution Hall on AU's East Campus. Parking for the event will be available on the East Campus surface parking lot. Both events are open to the entire community. 
Attendees are asked to RSVP to communityrelations@american.edu by January 3. If you have questions, please contact Maria Barry at 202-885-2146. 
Friends of Turtle Park Clean Up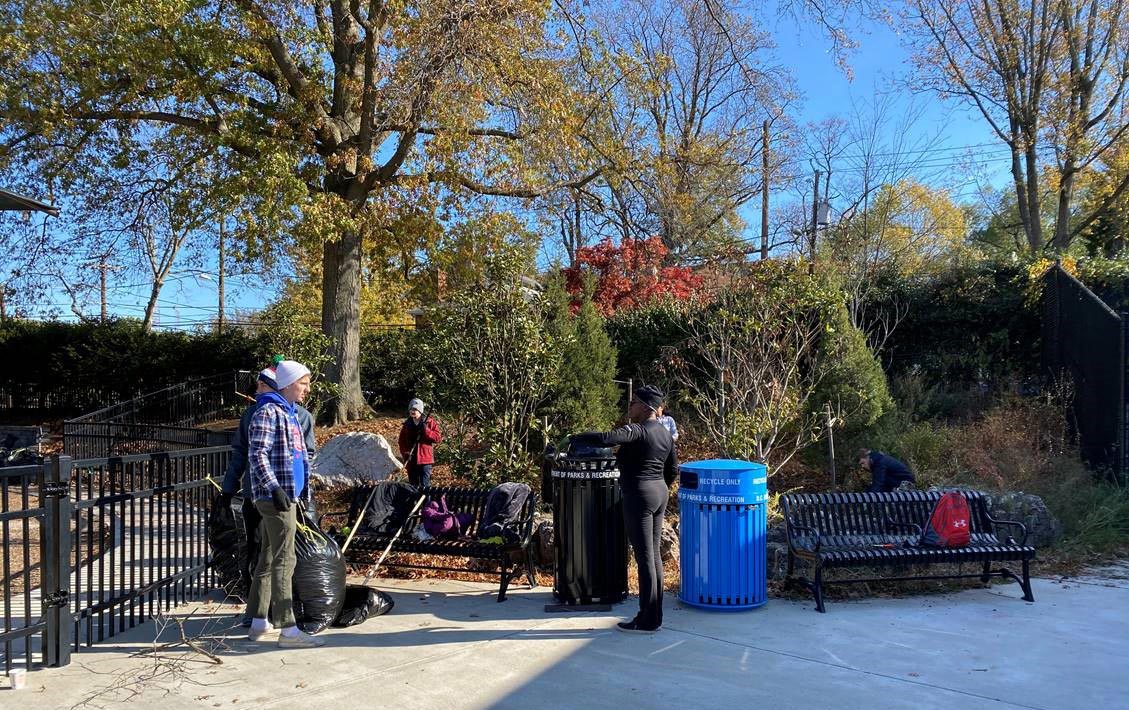 Last month, more than two dozen members of AU's soccer and cross-country teams, along with their coaches Zach Samol and Sean Graham, volunteered their time and energy to join a neighborhood clean-up effort at a Friendship Park.  The AU volunteers helped the community pick up litter, reclaim weed-choked flower beds, and discard broken toys.  
"I can't tell you how much we appreciate the help we received from these student athletes," said Katherine Buckley, president of Friends of Friendship Park, a volunteer organization that supports the park.  
"Our neighborhood will definitely be rooting for AU's soccer and cross-country teams!" 
The park is located on the corner of 45th St. NW and Van Ness St. NW. Turtle Park, officially known as Friendship Park, got its moniker for the concrete turtles that decorate its playground area. 
For more information about Friends of Turtle Park or to get involved, visit: http://turtlepark.org/about/
Cultural Events and Performances
Grace Hartigan and Helene Herzbrun: Reframing Abstract Expressionism
Now – December 15
Katzen Museum
Grace Hartigan and Helene Herzbrun were both remarkable painters of the second Abstract-Expressionist generation who lived and worked as influential artists and teachers in the Baltimore/Washington region for many decades. Although they began their careers as gestural abstractionists in the mold of Pollock and de Kooning, both went on to reinvent and revitalize the signature styles of the Ab-Ex movement in powerful and personal ways. They were enabled to do so in large part by their self-selected, "outside-of-New York" locale, which permitted each of these very different artists to develop her own dialogue with painting, away from the shifting fashions and pressures of the commercial mainstream. This show brings together more than two dozen large-scale and rarely seen works by Hartigan and Herzbrun from private and public collections, many in the Baltimore/Washington area. It redirects attention to the local contexts and communities in which these works were produced and deepens understanding of the relationship between mainstream modernist movements such as Ab-Ex and their rich regional transformations.
Topographies of Life: Pam Rogers, Lynn Sures, Mel Watkin
Now – December 15
Katzen Museum
Using the medium of drawing to varied and distinctive effect, Rogers, Sures, and Watkin trace human connections to the natural world – across time and varied landscapes. From depictions of the deserts of Kenya, forests of the Midwest, and the Potomac watershed, these artists are deeply attuned to the mutually affecting relationship between the anthropological and natural worlds.
Moves Like Walter: New Curators Open the Corcoran Legacy Collection
Now – December 15
Katzen Museum
This collection is a product of director and curator Jack Rasmussen's spring course on curatorial practice. Graduate students in art history, arts management, and studio art curated a playful and provocative interpretation of the 9,000-piece gift from the Corcoran. The exhibition is inspired by Walter Hopps, briefly the Director of the Corcoran and an erratic but seminal American curator of contemporary art. The curators have divided their responses into five sub-groups, Boundless: Existing Within Ambiguous Space, The Road Home, The Selfless Spirit: Nature vs. Nurture and the Effects of Motherhood in the Corcoran Collection, American Legacy: Reconsidering Non-Western Subjects in the Corcoran Collection, and Redefining the Gaze: Shifting the Power.
Radical Link: A New Community of Women, 1855-2020
Now – December 15
Katzen Museum
Radical Link is the latest project by Tel Aviv-based multi-media artist Michal Heiman. Traversing time, space, gender, race, and institutional practices of asylum, Heiman offers a new way to extend solidarity to those who engage in acts of resistance by creating a new community. It includes women who have been subjugated by the Surrey County Asylum in London and the San Servolo Asylum in Venice, asylum seekers, artists, activists, prosecutors, gatekeepers, and those who have suffered under the violence of racism and misogyny. Through the strategies of intervention and the use of archival materials, photographs, films, sound work, and her presence in the gallery, she generates the political, cultural, gendered, and psychic conditions of a potential "radical link."
Christine Neill: Observations from the Valley Floor
Now – December 15
Katzen Museum
Christine Neill is a nationally celebrated American artist whose work blends motifs of biological examination with visual processes and techniques. She has exhibited widely while influencing thousands of students during her long tenure as professor at the Maryland Institute College of Art. The effects of environmental changes on human life and the reaction of the earth's habitats to these threats underlie her investigations and images.
fair is foul & foul is fair
Now – December 15
Katzen Museum
"Fair is foul and foul is fair" as claimed by the witches in Macbeth describes a world where nothing – no message, no deed – is ethically clear. In Shakespeare's fair/foul world, evil walks abroad in the guise of good, and all expectations are confounded and confused. In this double exhibition by Alice Maher and Aideen Barry, tropes of what could be considered fair and foul morph into unrecognizable, interchangeable and, above all, challenging artworks. Both artists engage at the fault lines of artmaking where sociocultural movements, media, imagery, and language overlap and collapse to animate new, personal ways of communicating this semiotic conundrum.
ARCADIA: The Clyde's Murals by William Woodward
Now – December 15
Katzen Museum
William Woodward's vibrant, 72-foot mural, Arcadia (1980), evokes a landscape of pure painterly invention, a lost world that has inspired poets, artists, and musicians since antiquity. These 11 impressive panels – with scenes influenced by artists from Poussin to N.C. Wyeth and Howard Pyle – of magical forests, naked nymphs and frolicking fauns, satyrs, centaurs, and mystical seashores with mermaids, pirates, and treasure ships – became a success de scandale when they were first unveiled at the now legendary Clyde's Restaurant of Tyson's Corner, Virginia.
Dark World: Photographs by Frank Hallam Day
Now – December 15
Katzen Museum
This exhibition, as its name implies, examines the distinctive quality of settings in various corners of the world as seen at night, and combines multiple bodies of the artist's work spanning more than 12 years. The DC-based fine art photographer Frank Hallam Day has worked all over the world, often at night, looking for and in some cases creating a nocturnal mise-en-scène. The images are mysterious, unsettling, and examine the uncertainties, ambiguities, and possibilities of photographs shot at night and with unusual and sometimes unexpected light sources. The exhibition features work from Bangkok, Berlin, New York, Florida, Myanmar, Cambodia, and elsewhere.
Docent-led Museum Tour
December 1, 8, 15, 2 – 3 p.m.
AU Katzen Museum
A docent-led tour of one or more of our current exhibitions. No RSVP required. Please meet at the front desk.
Yoga in the Galleries
December 4, 11, 18, 10 – 11 a.m.
American University Museum at the Katzen Arts Center
Led by certified Kripalu Yoga teacher Eva Blutinger, this yoga class provides mental clarity and relaxation in the peaceful surroundings of our art galleries. Please bring a mat. Cost is $10 for non-members, $5 for museum members, and free for members at the Associates level and above. www.tinyurl.com/aumtickets.
Free Parking: Christine Neill
December 5, 5:30 – 7 p.m.
AU Museum, Katzen Arts Center
Join artist Christine Neill and curator Mollie Berger Salah in a discussion of Neill's botanical mixed media works that hold salient commentary on interactions between humans and nature. Free and open to all. RSVP:  tinyurl.com/AlperTickets
Theatre Capstone Performances
December 5 – 6, 8 – 9:30 p.m.; December 7, 2 – 3:30 p.m., 8 – 9:30 p.m.
Katzen Studio Theatre
Graduating seniors cap off four years of theatrical study with an evening of performances in the Katzen Studio Theatre. RSVP:
https://auartstix.universitytickets.com/w/event.aspx?id=1406&r=165f348e72a54326bf27b3170b9df6d1
AU Improv Show
December 6, 6 – 8:30 p.m.
The Wechsler Theater (MGC 315)
Final show of the semester. Like the two previous shows, AU theater students will improvise sketches based on the suggestions given by the audience. For more information: http://aumissionimprov.com.
On A Sensual Note Fall 2019 Final Concert
December 6, 8:30 – 10:30 p.m.
Kay Main Chapel
AU a cappella group, On A Sensual Note, continues its annual tradition, as they perform eight to ten songs for the members of the AU community. Free and open to public.
"Citizen Lane" Film Screening
December 11, 6:30 – 8:30 p.m.
AU Museum, Katzen Arts Center
In conjunction with fair is foul & foul is fair, the Irish film Citizen Lane will be shown in the AU Museum. In Dublin in the early 20th century, Hugh Lane fights to establish a public modern art gallery to show the work of living artists until his untimely death aboard the Lusitania. Presented in partnership with Culture Ireland, the Irish Film Institute, and Solas Nua. Free and open to the public. RSVP: https://www.eventbrite.com/e/citizen-lane-film-screening-tickets-73977806611
ARCADIA Closing Party
December 14, 6 – 7:30 p.m.
AU Museum, Katzen Arts Center
Bid farewell to William Woodward's fantastical Arcadia murals with a reception and remarks from the artist. Free and open to all, no RSVP required.
Men's Basketball vs. UMBC
December 3, 7 – 9 p.m.
Bender Arena
Women's Basketball vs. University of Minnesota
December 8, 2 – 4 p.m.
Bender Arena
Men's Basketball vs. Stony Brook University
December 21, 2 – 4 p.m.
Bender Arena
Women's Basketball vs. The George Washington University
December 22, 2 – 4 p.m.
Bender Arena