December 2021

Community Relations
4400 Massachusetts Avenue NW
Washington
,
DC
20016-8033
United States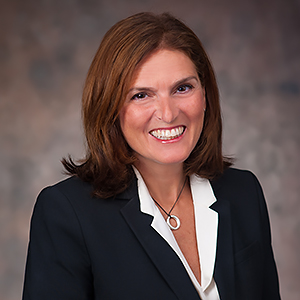 Dear Neighbors,  
In the spirit of the holiday season, on behalf of American University and myself, I extend my well wishes to each member of our community. We can draw comfort in knowing that while there may still be a few tough months ahead, the new year also brings with it a sense of optimism that better days surely lie ahead.  
As always if you have any questions or concerns, please contact me at 202-885-2146 or email me at communityrelations@american.edu. 
I hope you have a healthy and happy holidays. See you in 2022!

Maria Barry
Director of Community Relations
American University
AU to Close for Winter Break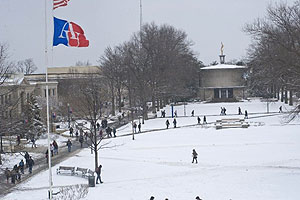 American University will be closed for eleven days during the winter holiday season. Offices and buildings, including Bender Library, will be closed from December 24 through January 2, 2022. The university will reopen on January 3.  During the break, AU Police will provide emergency services and continue routine patrol of the campus. As a reminder, the AU Shuttle also will not operate during the break. 
Join the 10th Annual Tenley WinterFest Festivities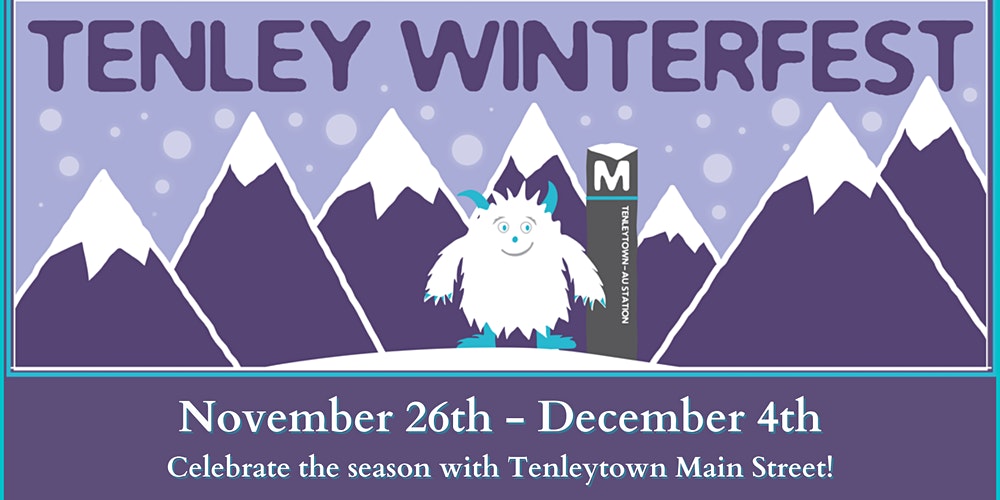 The 10th annual Tenley WinterFest continues through Saturday, December 4 with fun, free seasonal events for everyone in the community.
Throughout the week, neighbors can take part in Tenleytown's restaurant week with a "winter feast" of dining specials and discounts at a dozen local restaurants. There also will be an all-ages Yeti Scavenger Hunt and the opportunity to compete in trivia and tasks along Wisconsin Avenue and win prizes from local businesses.
On Saturday, December 4, shop for everyone on your holiday list at the Winter Pop-Up Market. Find unique gifts from two dozen local artisans, including jewelry and accessories, ornaments and holiday decor, greeting cards, international crafts, skincare, home decor, and specialty foods. Limited-edition Tenley WinterFest 2021 t-shirt also will be available.Other highlights of the final days of Tenley WinterFest include guided tours of historic St. Ann's church, holiday greenery sales, festive storefront displays at area shops, musical performances, and more. Find all Tenley WinterFest events at www.tenleywinterfest.org.
Tenley WinterFest is produced by Tenleytown Main Street. American University is a proud supporter of both Tenleytown Main Street and Tenley WinterFest 2021.
Register Now for Spring Classes Through Community Audit Program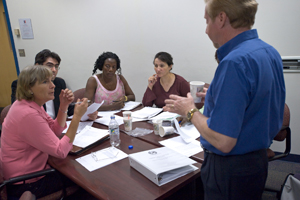 Now is the perfect time to enroll in a class for the spring semester as part of AU's Community Audit program.
Modeled after the Alumni Audit Program, the Community Audit Program offers adults ages 55 and older, who live in the 20016, 20015, 20008, and 20007 Zip Codes, the opportunity to attend university courses on a non-credit basis for a modest fee. Auditors may listen to the same lectures and work from the same texts as enrolled students.
For just $150, neighbors have the opportunity to enhance their professional skills, take classes with popular professors, or delve into a new hobby and pursue a commitment to lifelong learning. A portion of the fee serves as a donation to the Alumni Association Scholarship Fund which benefits one first-year student with demonstrated financial need whose parent or grandparent also attended American University.
"The community audit program is another great benefit for those who live close to the AU campus," said Maria Barry, AU's Director of Community Relations. "Our neighbors have interesting experiences and life stories to share, and students and professors can learn just as much from the neighbors as our neighbors will learn from the classes."
To enroll, complete the AU Audit Program application before January 9, 2022. Space is limited and applications will be processed in the order in which they are received. 
All participants auditing a course on campus are required to submit proof of COVID vaccination.
For additional information, please visit the Community Audit website or contact their offices at 202-885-5960.
The Community Audit Program is coordinated by the Office of Alumni Relations in conjunction with the Office of Community Relations.
New Sustainability Initiatives Engage Hundreds of AU Students
As part of American University's continued efforts to promote a culture of sustainability, this fall the Office of Sustainability launched the EcoRep and EcoPledge programs.   
About 40 students participated in the EcoRep Program and volunteered about two hours of their time weekly to promote sustainability and inspire personal behavior change among students, faculty, and staff.  Their efforts also included: 
promoting recycling and compost on campus and assisting with monitoring bins for contamination; 
distributing sustainability information through social media and other channels;  
assisting with sorting waste in the Terrace Dining Room and at large campus events such as Celebrate AU and Fall Festival; and 
staffing in-person outreach events to educate students about sustainability and promote the EcoPledge Program.  
Reflecting on her experience as an EcoRep Leader, Office of Sustainability intern, sophomore Cassie Rodrique said, "It has been so exciting helping run the EcoRep Program. It's amazing to see progress being made on campus by watching students engage with sustainability issues at our events." 
Coinciding with the EcoRep Program, the EcoPledge certification program was launched to encourage students to take action for sustainability on campus.  To become certified, students complete an online form and pledge to take at least ten sustainable actions on the AU campus and beyond during the year.  The actions help reduce waste and consume mindfully, conserve energy, save water, commute smarter, and build community.  At latest count, 250 students have become certified through the program.
"There is no 'right way' to take action on climate change. We need everyone to do something, whether that's reducing their personal use of disposable plastics or getting involved with a student organization to advocate for change on the local or federal level," said Tacy Lambiase, Sustainability Manager.  
"The EcoPledge Program provides students with ideas, prompts, and tools to help them make more sustainable choices on our campus and wherever else they live, work, and learn."   
Additionally, EcoRep volunteers also helped to launch the Campus Cup initiative at AU.  The initiative is part of a nationwide project to make menstruation and menstrual products more sustainable and accessible on college campuses.  The Office of Sustainability and the Health Promotion and Advocacy Center (HPAC) partnered with AllMatters, a sustainably-focused menstrual cup company, to offer free menstrual cups to interested students.  The campaign and the efforts of the EcoRep volunteers and HPAC's Peer Health Educators resulted in 452 students signing up to receive AllMatters menstrual cups.   
"Menstrual cups are reusable for two to ten years. So if all of the students who signed up make the switch to a cup, 238,656 disposable menstrual products could be avoided on campus over the next two years. This would help eliminate a significant amount of menstrual product waste from the landfill. It is really encouraging to see the impact that this campaign has on waste diversion at AU," said Rodrique.  
"Our primary goal with these new outreach programs is to engage as many AU students as possible in learning about and engaging with sustainability on our campus," Lambiase said. "We will only make progress on our campus sustainability goals if our entire campus community takes ownership of them. We want to empower students with the resources and opportunities to take action in ways that make sense for them, their lifestyles, and their interests."  
December Home Athletics Events Schedule; Basketball & Wrestling Tickets On Sale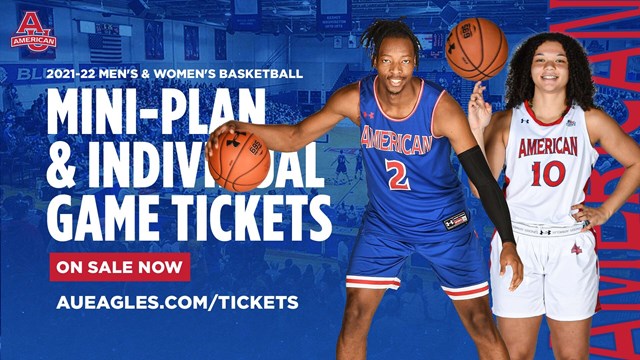 This month, American University invites you to show your support and cheer on our teams as the winter season action heats up inside Bender Arena with men's and women's basketball and wrestling teams in competition.
Secure your tickets for all events via AUeagles.com/tickets. Season tickets and mini-plans for basketball are still available and on sale now, as are single event tickets to all 23 remaining basketball games and eight wrestling events. Lock in and secure the best seats today. All ticket purchasers are encouraged to purchase contactless e-tickets in advance online through AUeagles.com/Tickets to help reduce contact at entry and with venue personnel.
Please note that in adherence to AU policy, masks and proof of full COVID-19 vaccination are required to attend all events inside Bender Arena. Thank you for your understanding and cooperation.
December Home Events:
December 1 at 7 p.m. – Women's Basketball vs. UMBC
Friday, December 3 at 7:30 p.m. – Wrestling vs. Rutgers
Sunday, December 5 at 11:30 a.m. and 1 p.m. – Wrestling vs. Duke & Hofstra
Sunday, December 5 at 6 p.m. – Women's Basketball vs. Radford
Wednesday, December 8 at 7 p.m. – Men's Basketball vs. Saint Francis (PA)
Saturday, December 11 at 2 p.m. – Women's Basketball vs. Towson
Tuesday, December 28 at 2 p.m. – Men's Basketball vs. Siena
Interference Concert
December 2, 7:30 – 9 p.m.
Livestream
 INTERFERENCE new music collective, an ensemble in residence at the American University Museum at the Katzen Arts Center, returns with a livestreamed concert featuring an eclectic selection of contemporary works exploring a wide range of sound environments.
Composers Antonio Forte, the INTERFERENCE emerging composer artist, Jeffrey Mumford, and Steve Antosca will be joined by ensemble performers for a post-concert discussion. Featured  performers include Antonio Forte, Noah Getz, Nobue Matsuoka, and Nancy Jo Snider.
Watch the livestream: https://youtu.be/nbCyr_2_Qiw.
Gallery 2021 Senior Dance Capstone
December 4 & 5
Every 40 minutes between 1 p.m. and 3:40 p.m.
AU Dance Program's graduating Dance Majors present an installation of three creative research projects within the galleries of the American University Museum at the Katzen Arts Center.
Simultaneous performances of the three projects will occur every 40 minutes. Audiences are invited to choose their own progression through the afternoon to experience all three, as well as exploring the museum, speaking with docents and artists, and considering how the performances are in conversation with the exhibitions.
There will be a 15-person seating capacity at each site, and a 45-person seating capacity per performance.
To ensure our patrons' health and security, as well as the safety of our performers and staff, all guests, regardless of age, attending events inside the venue must show proof of full vaccination against COVID-19, or a negative PCR test taken within 72 hours of the start of the performance, and a photo ID.
"Full vaccination" means that either 14 days have passed since receiving the second dose of an FDA- or WHO-authorized double-dose vaccine, or an FDA- or WHO authorized single-dose vaccines.
Gallery Talk: Inside Out
December 7, 6 – 7 p.m.
Zoom Event
Curator Sarah Leary presents her exhibition Inside Out: Artists in the Studio, featuring paintings, prints, and photographs by women artists drawn from the American University Museum's permanent collection. Please register in advance to receive a Zoom link to the event. Register at  Eventbrite.  
Bridging Ties: Like Lavender is to Purple
December 9, 6 – 7 p.m.
Zoom Event
This virtual discussion featuring AU Professorial Lecturer Andrew Wasserman, PhD, and visual artist Amber-Robles-Gordon will explore the Womanist/Feminist nature and symbolic threads featured throughout Robles-Gordon's current exhibition Successions: Traversing US Colonialism. 
Robles-Gordon and Wasserman will discuss the exhibition's concern for all forms of oppression found throughout the United States and its territories. They intend to contribute to the critical global conversation regarding empowering marginalized people while challenging the current political framework.
Please register in advance to receive a Zoom link to the event. Register at   Eventbrite.