Town Hall with President Burwell & New Year's Reception – January 7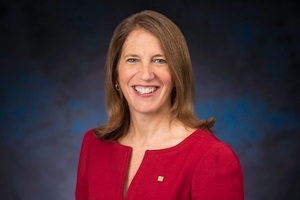 American University invites neighbors to the annual Town Hall meeting with President Sylvia Burwell, to be followed by a New Year's reception, on January 7, 2020. 
The Town Hall will begin at 7 p.m. in Rooms 1-3 of Constitution Hall on AU's East Campus.
Parking for the event will be available on the East Campus surface parking lot. Both events are open to the entire community. 
Attendees are asked to RSVP to communityrelations@american.edu. If you have questions, please contact Maria Barry at 202-885-2146. 
Community Audit Program Registration Deadline for Spring Semester – January 17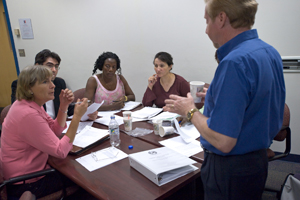 Now is the perfect time to enroll in a class for the spring semester as part of AU's Community Audit program.
Modeled after the Alumni Audit Program, the Community Audit Program offers adults ages 60 and older, who live in the 20016, 20015, 20008, and 20007 Zip Codes, the opportunity to attend university courses on a non-credit basis for a modest fee. Auditors may listen to the same lectures and work from the same texts as enrolled students.
For just $100, neighbors have the opportunity to enhance their professional skills, take classes with popular professors, or delve into a new hobby and pursue a commitment to lifelong learning. Seventy-five dollars of the fee serves as a donation to the Alumni Association Scholarship Fund which benefits an AU freshman legacy student biennially.
"The community audit program is another great benefit for those who live close to the AU campus," said Maria Barry, AU's Director of Community Relations. "Our neighbors have interesting experiences and life stories to share, and students and professors can learn just as much from the neighbors as our neighbors will learn from the classes."
Deadline to register for the spring semester is January 17, so be sure to enroll now.  
For additional information, please visit the Community Audit website or contact their offices at 202-885-5960.
The Community Audit Program is coordinated by the Office of Alumni Relations in conjunction with the Office of Community Relations.
Neighbors Invited to Attend Martin Luther King, Jr. Day Commemoration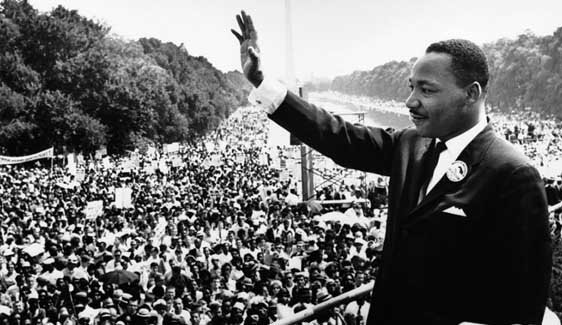 To celebrate the life of Dr. Martin Luther King, Jr. and his commitment to service, the Center for Community Engagement & Service (CCES) invites neighbors and the rest of the AU community to an event titled "Injustice Anywhere Is a Threat to Justice Everywhere" on Thursday, January 23 from 4 – 7:30 p.m. at Mary Graydon Center 1 – 5. The event will include:
A service project from 4 – 5 p.m where attendees will have the opportunity to make toiletry packages to benefit the nonprofit organization, My Sister's Place.
A program and reception from 5 – 7:30 p.m., including guest speaker LaTanya Sothern, an AU alum and assistant principal for Prince George's County Public Schools. 
Cultural performance by Les Coeurs D'Afrique
A presentation ceremony of several awards, including the MLK Visionary Award which will be given to AU alum Donald Curtis for his work with the youth development organization, SOUL; the Newman Civic Fellow; and MLK Eagle Endowment Grants.
Neighbors and other members of the AU community also are encouraged to participate in the One-Day Service Events program (ODSE) that was designed to provide myriad opportunities to connect with the diverse communities of Washington, DC. Although this program focuses primarily on the facilitation of short-term community service projects, they also allow participants to experience deeper levels of community engagement.
For more information about volunteer opportunities, visit: http://www.american.edu/ocl/volunteer/OneDayServiceEvents.cfm.
The Center for Community Engagement & Service (CCES) leads the AU community into the world to serve. From projects around D.C. to trips abroad, CCES stands with a university dedicated to improving lives in our global community.
American University to offer full scholarships to 10 D.C. students
As part of its efforts to enroll students who represent more diversity from Washington, DC, American University announced recently that it will offer a new scholarship program. Beginning in the next academic year, AU will offer 10 full scholarships to DC residents.
"We are proud to provide this opportunity to DC students who have so much to offer our community and this city," said Sharon Alston, AU's provost for undergraduate enrollment.
"American University strives to offer new avenues for learning, and I hope that local students who may not have seen AU as an option before will apply and compete to be an AU District Scholar awardee."
The school has reserved $3 million to cover tuition and housing for students who demonstrate high academic achievement and significant financial need. 
Education data shows that more than 80 percent of public school students in the District are black and Hispanic. However, they represent a far smaller share of the student body at most of the city's private universities. Currently, at AU, seven percent of students on campus are black, and 12 percent are Hispanic.
Students from DC's public and charter schools must apply for the scholarship by January 15 to be considered for the AU District Scholar award. The inaugural cohort of scholarship recipients will be notified in the spring.
The 10 scholarships also reflect AU's imperative to foster partnerships with the DC community.
"These scholarships will help local students pursue their educational goals close to home and join fellow Eagles in shaping the future of their neighborhood and the world," said AU President Sylvia M. Burwell.
Bring the Family To Support AU's Men's and Women's Basketball Teams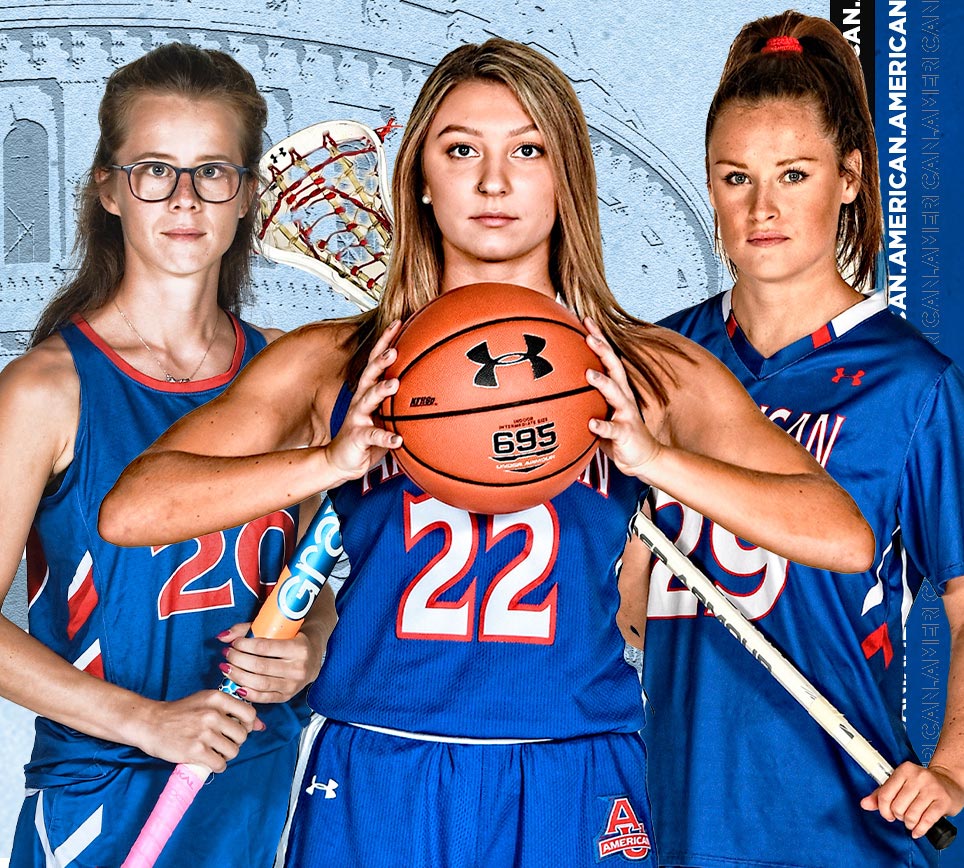 American University's men's and women's basketball teams' season is in full effect as we enter the new year. Throughout the season, AU Athletics also hosts various events to invite children in the DC community to become fans of the men's and women's AU Eagles and show support for the teams.  
Recently, the men's basketball team welcomed students and families from 10 local schools (Bethesda, Eaton, Hearst, Janney, Key, Mann, Murch, Norwood, Stoddert, & Westbrook) to Bender Arena as part of their 13th Annual Elementary School Game. Students in attendance received a free ticket to the game and parents were able to purchase discounted tickets. Prior to tip-off, members of the Janney Elementary School Chorus performed the national anthem at center court.
If your family missed the Annual elementary School Game, you have more opportunities this season to join in on the fun. On Saturday, January 11, the AU Department of Athletics and Recreation invites families to celebrate National Girls and Women in Sports Day during the women's basketball game versus Lehigh University. Tipoff is scheduled for 1 p.m.
Following the game, five of American's seven varsity women's teams – basketball, field hockey, lacrosse, soccer, and volleyball – along with the wrestling team, and cheer and dance squads will lead skills clinics and sign autographs for children of all ages in attendance on the floor of Bender Arena. The clinic is free for all with game ticket and children are asked to wear athletic shoes.
Purchase tickets in advance online for just $4 by using the code "NGWSD20" at checkout by clicking here. Call (202) 885-TIXX for more information.
Click here to watch a video recap from past National Girls and Women in Sports Day celebrations at AU.
National Girls and Women in Sports Day is celebrated in all states with community-based events, award ceremonies, and activities honoring the achievements and encouraging participation of girls and women in sports. It began in 1987 as a day to remember Olympian volleyball player Flo Hyman for her athletic achievements and her work to assure equality for women's sports.
Ring in the new year by purchasing AU Women's Basketball's "New Year Starting 5" Ticket Mini-Plan. For just $30 you get a ticket to all five Saturday Patriot League home match-ups this January and February.  Purchase this special limited time offer at AUeagles.com/Tickets or call (202) 885-T-I-X-X by January 10 to reserve your tickets.
You also may purchase AU Men's Basketball's "Bender Weekender" Ticket Mini-Plan for just $50. The plan offers a sideline ticket to three exciting Saturday home match-ups versus Holy Cross (January 18), Colgate (January 25), and Army (February 8). Purchase this special limited time offer at AUeagles.com/Tickets or call (202) 885-T-I-X-X by January 17 to reserve your tickets.
Cultural Events and Performances
Members' Preview: Lorenzana
January 24, 5:30 – 7:30 p.m.
AU Katzen Museum
Museum members are invited to preview six new exhibitions and join a gallery talk centered on Filipino artist Luis Lorenzana's searing political paintings. Open to museum members. No RSVP required. For more information: https://www.american.edu/museum
Heroes & Losers: The Edification of Luis Lorenzana
January 25 – March 15
AU Katzen Museum
Luis Lorenzana is a self-taught Filipino artist whose background in politics has infused his work with a cynicism that belies his longing for a kinder, more equitable world. The exhibition touches on the themes of a desperate kind of selfless heroism – and the all-too familiar failure of a democratic political system. These works will have relevance to the current American landscape and, indeed, to anywhere in the world.
Communicating Vessels: Ed Bisese, Elyse Harrison, Wayne Paige
January 25 – March 15
AU Katzen Museum
The title of this exhibition is borrowed from a book written in 1932 by Surrealist poet André Breton, who in turn borrowed it from a scientific experiment of the same name. The experiment shows that in two vessels joined by a tube, a gas or liquid passing from one to the other rises to the same level, whatever the shape of the vessel. For Breton, the phrase refers to the artist, whether literary or visual, whose work results from communication between the inner life of the mind, emotions, and dreams, and the waking perception of the exterior world. The three artists in this exhibition all work from this premise, although with individual styles and imagery. While their work shows continuity with Surrealist ideas of the 1930s and '40s, it also relates to the Chicago Imagists of the 1960s and '70s, reflecting the prevalence of surrealist imagery in contemporary visual art. 
Landscape in an Eroded Field
January 25 – March 15
AU Katzen Museum
This exhibit brings together three women artists whose work reflects the evolution of the pictorial landscape tradition in the Anthropocene Era. Carol Barsha's closely-observed nature studies and flowery landscapes are paired with Artemis Herber's mythically-themed architectonic reliefs. These immersive paintings surround a site-specific installation and soundscape designed by Heather Theresa Clark, utilizing her environmental planning background. Depicting nature and the environment is one of the most ancient and elemental expressions of art. From cave painting to Dutch still lifes to social practice incorporating life forms, artists always have been attentive and responsive to the world around them. This exhibition spans landscape painting that takes no social or political stance to multi-media painting and sculpture that puts climate change at the center of its meaning.
Vokmar Wentz
January 25 – March 15
AU Katzen Museum
This exhibit shows the works of Volkmar Kurt Wentzel who arrived in Washington, DC, in the early 1930s. When the Great Depression led to prohibitive housing costs in DC, he moved to Aurora, West Virginia to join a community with Robert Gates and several other artists who had become close friends. In 1937, back in Washington, architect Erik Menke introduced Volkmar to a book titled Paris De Nuit (1933) by Brassaï, a French photographer. Volkmar was enchanted. He purchased a new camera and began photographing the series Washington by Night.  First Lady Eleanor Roosevelt, out for a stroll one evening, encountered Volkmar and purchased several of his Washington pictures. Volkmar completed his Washington photographs and brought them to National Geographic. He was hired immediately. The event led to his 48-year photographic career as a National Geographic photographer.
Robert Franklin Gates: Paint What You See
January 25 – March 15
AU Katzen Museum
This exhibit showcases an adventurous artist who influenced greatly the course of Washington art from his arrival from Detroit in 1930, at the age of 24, until his death in 1982 as an AU Professor Emeritus. He was a muralist, painter, printmaker, draftsman, and professor at the Phillips Gallery School and then American University for more than forty years. His watercolors earned him early acclaim, signaled by their inclusion in the first very exhibition held at the National Gallery of Art when it opened in 1941. Gates' paintings can be found in The Phillips Collection, the Baltimore Museum of Art, Dumbarton Oaks, the Smithsonian American Art Museum, the Corcoran Legacy Collection, and the Watkins Memorial Collection at the American University Museum.
Good Form, Decorum, and in the Manner
January 25 – March 15
AU Katzen Museum
Portraits are usually understood in one of two ways: as the depiction of the face of a person, or a representation of someone's impression of a person. This exhibition comprises many works that could be thought of as conventional portraits of individuals in a wide range of media, including woodblock and wood engravings, intaglio prints, mezzotints, monoprints, photography, collage, and an assemblage made with found objects. The show also pushes the boundaries of portraiture by including works that capture the likenesses of animals, places, memories, and events. 
Good Form, Decorum, and in the Manner can also be considered a snapshot of the Washington Print Club today by celebrating the prized pieces its members have chosen to highlight. My curatorial interest also lies in the resulting overlaps, intersections, gaps, and dialogues between collectors' collections.
Gallery Talk: Robert Franklin Gates
January 25, 5 – 6 p.m.
AU Katzen Museum
AU Museum Director & Curator Jack Rasmussen will present a lecture on the Paint What You See exhibit, featuring paintings and watercolors by longtime AU Art Department Professor Robert Franklin Gates. Free and open to all. RSVP: https://www.eventbrite.com/e/gallery-talk-robert-franklin-gates-tickets-82238687127
Winter Opening Reception
January 25, 6 – 9 p.m.
AU Katzen Musuem
Mix and mingle with artists, curators, and fellow patrons and view the six new exhibitions at the winter opening reception. Free and open to all, no RSVP required.
Yoga in the Galleries
January 29, 10 – 11 a.m.
AU Katzen Museum
Led by certified Kripalu Yoga teacher Eva Blutinger, this yoga class provides mental clarity and relaxation in the peaceful surroundings of our art galleries. Please bring a mat. Cost is $10 for non-members, $5 for museum members, and free for members at the Associates level and above. www.tinyurl.com/aumtickets.
Women's Basketball vs. Colgate University
January 2, 7 – 9 p.m.
Bender Arena
Men's Basketball vs. Boston University
January 5, 3 – 5 p.m.
Bender Arena
Women's Basketball vs. Army West Point
January 8, 7 – 9 p.m.
Bender Arena
Wrestling vs. Brown University
January 10, 7 – 9 p.m.
Bender Arena
Women's Basketball vs. Lehigh University
January 11, 1 – 3 p.m.
Bender Arena
Wrestling vs. Drexel University
January 11, 7 – 9 p.m.
Bender Arena
Men's Basketball vs. Bucknell University
January 15, 7 – 9 p.m.
Bender Arena
Men's Basketball vs. College of the Holy Cross
January 18, 4 – 6 p.m.
Bender Arena
Women's Basketball vs. Loyola University
January 22, 11:30 a.m. – 1:30 p.m.
Bender Arena
Men's Basketball vs. Colgate University
January 25, 2 – 4 p.m.
Bender Arena
Men's Basketball vs Lehigh University
January 27, 7 – 9 p.m.
Bender Arena
Wrestling vs U.S. Naval Academy
January 31, 7 – 9 p.m.
Bender Arena