July 2019
Community Relations
4400 Massachusetts Avenue NW
Washington
,
DC
20016-8033
United States
Osher Lifelong Learning Institute's Fall Study Groups Enrollment Begins July 23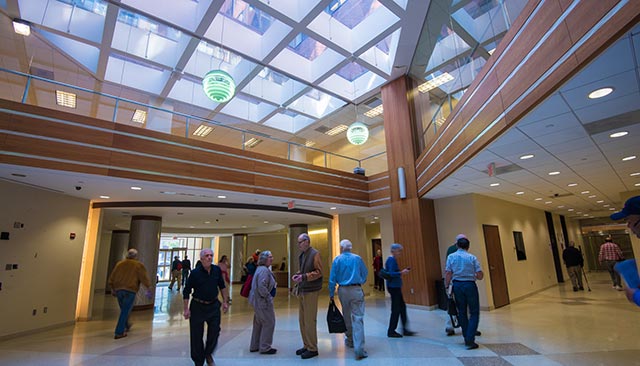 Beginning July 23, neighbors may enroll for the Osher Lifelong Learning Institute's fall study groups. 
The 90-minute-long study groups, which meet weekly for eight to ten weeks between September and November, are based on the concept of peer learning and teaching. Members come from varied backgrounds with a shared common interest in continuing their learning experiences and intellectual stimulation in an organization of like-minded people. 
For a membership fee, participants may enroll in up to three study groups, either by leading them or attending them. There are no tests and no grades, as members participate purely for the joy of learning.  In addition to study groups, OLLI  offers a Friday Lecture Series during each semester.
To become a member of OLLI, simply create an account, pay a membership fee, and register for the study groups of your choice during open registration. Membership costs $300 per semester or $550 if you choose to pay for fall and spring. Benefits to becoming an OLLI member include: 
Eligibility to enroll in up to three study groups in a semester.
Opportunity for increased social interaction and new friendships based on a shared interest in learning; and informal lunchtime discussions and special events such as open houses or the holiday party.
Invitation to attend Special Events featuring day trips, museum tours, discussions, and other activities.
Invitation to attend a holiday party held in December and a springtime social event.
Access to AU's Bender Library during the academic programs for which you are registered.
Eligibility for an annual membership at the Jacobs Fitness Center at a discounted rate.
Eligibility to enroll in February and July "Shorts," three- to five-day immersion study groups; and June "Minis," study groups which are one session per week for four weeks.
If you have been a member of OLLI in the past, you may login to renew your membership.
The Osher Lifelong Learning Institute (OLLI) at American University is an association of, by, and for the people in the Washington, DC area who wish to continue to study and learn. OLLI at AU is dedicated to the proposition that learning is a lifelong process and that curiosity never retires.
Community Audit Program Gears Up for Fall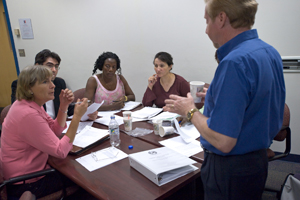 Although summer just began officially, it is not too early for our neighbors to start thinking about enrolling in a class this fall as part of AU's Community Audit program. Registration for the fall semester begins July 15.
The program offers adults ages 55 and older, who live in the 20016, 20007, 20008, and 20015 zip codes, the opportunity to attend university courses on a noncredit basis for a modest charge. Auditors may listen to the same lectures and work from the same texts as enrolled students.
For just $100, $75 of which serves as a donation to the Alumni Association Scholarship Fund, neighbors are provided with a rewarding way to enhance professional skills, take classes with popular professors, or delve into a new hobby, and pursue a commitment to lifelong learning. The Alumni Association Scholarship is awarded every other year to an AU freshman legacy student.
"The community audit program is another benefit offered by AU to our neighbors who live in the immediate vicinity of campus," said Maria Barry, AU's Director of Community Relations. "The program gives them the opportunity to further their knowledge as well as interact with our students and professors in a collegial environment."
Modeled after the Alumni Audit Program, the Community Audit program is coordinated by the Office of Alumni Relations in conjunction with the Office of Community Relations.
To register, visit goo.gl/eEcYYc.  For additional information, contact Haley Hinton at 202-885-5960.
Neighborhood Movie Night Slated for August 23
Mark your calendars now for Friday, August 23 (rain date: Aug. 30) and plan to bring a picnic and the whole family to campus for an outdoor screening of the animated hit movie, The LEGO® Movie 2: The Second Part. 
The sequel to the critically acclaimed, global box office phenomenon that started it all, LEGO Movie 2 reunites the heroes of Bricksburg in an all-new, action-packed adventure to save their beloved city.
The movie will be screened at the Woods-Brown Amphitheatre at 7:30 p.m.  Free popcorn will be provided and all are welcome to attend.
For additional information, contact Maria Barry, Director of Community Relations at 885-2146 or mariab@american.edu.
AU Students Win "Hoagies for Heroes" to Benefit USO and Tenleytown Main Street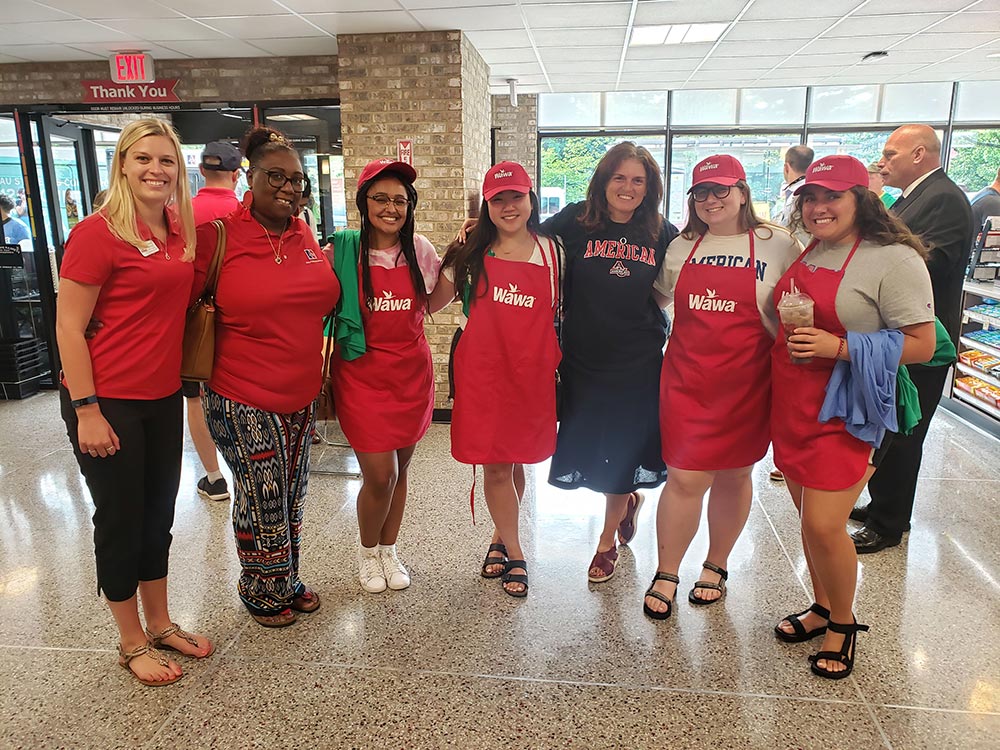 When convenience store chain, Wawa, opened its newest location in Tenleytown recently, American University students participated in the grand opening festivities and competitions, resulting in their dedication of $1,000 in winnings to the Tenleytown Main Street.    
The students took part in Wawa's Hoagies for Heroes, a hoagie building competition, where they vied for cash prizes alongside students from Woodrow Wilson High School and members of the USO.  Teams competed to build the most hoagies in three minutes in the "traditional Wawa way." 
The Wawa-sponsored competition supports and recognizes the USO, as well as some of the local, everyday heroes who are committed to volunteering, service, and building stronger communities throughout the country.
Since the in-store Hoagies for Heroes campaign began in 2012, Wawa and The Wawa Foundation have raised more than $5 million. In 2018 alone, the campaign raised more than $852,000.
The USO is a non-profit organization whose mission is to strengthen America's military service members by keeping them connected to family, home, and country.
Tenleytown Main Street is a community-based nonprofit organization that works with residents and local businesses to strengthen the economic vitality of Tenleytown.
Being Here as ME - New Media Art Exhibition of Women Artists from Taiwan
Now through August 11, 11 a.m. – 4 p.m.
Katzen Museum 2nd Floor Exhibition
This exhibit presents six women artists striving towards constructions of female subjectivity. Pey-Chwen Lin, Tzu-Ning Wu, Yung-Chieh Wu, I-Chun Chen, Pei-Shih Tu, and Hui-Chan Kuo create new media artworks through diverse media and methods. Their work transcends gender discussions and through social strategies, action, and engagement, they express their concerns and create artworks revealing their anxiety and opinions about the ecology of society, science, technology, and the environment. Curated by Yu-Chuan Tseng.
Crossing Boundaries & Breaking Borders: DMV Printmaking
Now through August 11, 11 a.m. – 4 p.m.
Katzen Museum 1st Floor Exhibition
The District of Columbia, Maryland, and Virginia (DMV) region is full of boundaries and borders, both physical – like the state lines that divide the artists in this exhibit – and imagined political ideology, economic class, gender identity, and religious belief. These boundaries delineate spaces, groups, ideas, and more, but they are walked over easily, pushed through, and broken down. Furthermore, the artists featured in the exhibit also question, push, and break down the traditional notions of what printmaking is as a technique, how it can be used, and how printmaking can be defined. Curated by Matthew McLaughlin.
Maia Cruz Palileo
Now through August 11, 11 a.m. – 4 p.m.
Katzen Museum 3rd Floor Exhibition
There is a mystery in the act of burying and even more so in uncovering. Maia Cruz Palileo's paintings and drawings are the metaphorical teeth in this body of work spanning from 2013 to 2019.  These works, including a small painting titled Burying Teeth, depict historical narratives from the colonial past of the Philippines, Palileo's country of origin, as well as stories and moments about her own life as a Filipina American growing up in the United States. Her paintings and drawings replicate figures from old family photographs, as well as photos from the American government's archives depicting anthropological documentation of Filipinos during the American colonization. While her work evokes nostalgia and romanticism, it is imbued with a critical undertone of America's colonization of the Philippines. Palileo's work is an examination of the Filipino diasporic psyche through a personal and political lens. Curated by Isabel Manalo.
Passages: Keith Morrison, 1999-2019
Now through August 11, 11 a.m. – 4 p.m.
Katzen Museum 3rd Floor Exhibition
This exhibit surveys thirty paintings and watercolors by the Jamaican-born Keith Morrison. A magician of color and space and a teller of tales, fanciful and real, Morrison focuses on the tangible and spiritual components of culture. His subjects encompass Afro-Caribbean and Meso-American art and architecture, as well as the somber history of the Middle Passage. By turns mystical, meditative, and joyous, Morrison's work invites our entry into the rich visual world of his making. Curated by Judith Stein.
Plans to Prosper You: Reflections of Black Resistance and Resilience in Montgomery County's Potomac River Valley
Now through August 11, 11 a.m. – 4 p.m.
Katzen Museum 2nd Floor Exhibition
The exhibition's title takes its name from bible verse Jeremiah 29:11 to echo the central role of the Black church in bringing communities together, inspiring hope, and acting as a vector for social change. The goal of this exhibition is to offer a space for learning and meditation that highlights the Black history of Montgomery County and western Washington, DC and pay homage to the communities that championed fights against racial discrimination through faith, family, and fellowship. While this exhibition highlights the communities of Scotland, Tobytown, and Macedonia-Moses, MD, it is intended to inspire similar exhibitions and continue to prompt in-depth collaboration within and beyond these communities.
Forward Press: 21st Century Printmaking
Now through August 11, 11 a.m. – 4 p.m.
Katzen Museum
Printmaking Legacy Project's® first national print exhibition features ten innovative print artists from across the country who employ the finest examples of hand printed and digital techniques. They explore themes of culture, identity, religion, environment, memory, and art history. Some work in traditional forms, like lithography, intaglio, relief, and screen printing, while others explore these methods as the basis for large-scale sculpture, collage, and integrating technology into printmaking. These ten artists are changing the way American printmaking is seen and understood.
Squire Broel
Now through August 11, 11 a.m. – 4 p.m.
Katzen Museum
A selection of Broel's life-sized to monumentally-sized totemic bronze sculptures creates space for reflection and contemplation about what it means to be human and be engaged as an individual within community and interact intentionally with the natural world. In his series of vertically-oriented structures, Broel references tangible and intangible notions that resonate universally: botanical and architectural structures, environmental rhythms, physical and emotional solitude. Intentional abstraction creates a generous context for engaging with the sculptures. Allusions to historical references create a sense of timelessness and familiarity, yet the pieces exist outside the rapidly shifting visual language of stylized contemporary aesthetics.
Yoga in the Galleries
July 3, 10, 17, 24, 31, 10 a.m. 
American University Museum at the Katzen Arts Center
Led by certified Kripalu Yoga teacher Eva Blutinger, this yoga class provides mental clarity and relaxation in the peaceful surroundings of our art galleries. Please bring a mat. Cost is $10 for non-members, $5 for museum members, and free for members at the Associates level and above. www.tinyurl.com/aumtickets.
AU Museum Docent-led Tour
July 6, 13, 14, 20, 27, 28, 2 – 3 p.m. 
Katzen AU Museum
A docent-led tour of one or more of our current exhibitions. No RSVP required. Please meet at the front desk.
Gallery Talk: Keith Morrison
July 11, 7 p.m. – 8 p.m.
Katzen AU Museum
Join this evening discussion with artist Keith Morrison and curator Judith Stein. Dive into Morrison's world through works that explore Afro-Caribbean and Meso-American art forms with themes of spirituality and resilience. Free and open to all, no RSVP required.
Gallery Talk: Plans to Prosper You
July 20, 3 p.m. – 4:30 p.m.
Katzen AU Museum
Anthropologist Delande Justinvil, who served as one of the curators on this exhibition, will be joined by historians and activists from historic black communities of Montgomery County and Dr. Adrienne Pine for a talk on Plans to Prosper You. Free and open to all, RSVP requested, click here.
Data + Narrative Workshop
July 22 – 24
McKinley Building
This workshop is for the individual who is new to working with data and needs help integrating data into their narratives. The curriculum is both dynamic and interactive and is designed to propel your skill set and position you as a 21st century data storyteller. Attendees will learn from Pulitzer Prize-winning journalists, a CNN data analyst, and other experts about how to engage audiences through powerful data-driven stories. Cost to attend ranges from $350 to $1,325. For more information and to register, visit: 
https://www.american.edu/soc/calendar/events.cfm?id=8339422.
Careers in PRogress
July 26, 9 a.m. – 5 p.m.
McKinley Building
Part of the Public Relations Society of America's New Professional Summit Series, this specialized conference offers attendees the opportunity to learn practical tactics and industry insight through sessions designed specifically for new public relations professionals. Attendees will be able to learn from, and network with, fellow new PR professionals who also are determined to become the industry's next leaders. Cost to attend ranges from $25 to $105. For more information and to register, visit:
https://www.american.edu/soc/calendar/events.cfm?id=8339530.
African Twilight: A Forty Year Odyssey Meets the Return of a Legend (Film Screening)
August 1, 6:30 p.m.
Katzen AU Museum
Angela Fisher and Carol Beckwith have spent more than 40 years traversing the African continent photographing the vanishing rituals, ceremonies, and cultures of Africa. The film documents the launch of their double-volume book and features a carnival of African music, dance, fashion, cuisine, costumes, and hand-woven and hand-printed textiles and fashions from the African Heritage House, Nairobi. Free to the public. RSVP to museum@american.edu.