June 2019
Community Relations
4400 Massachusetts Avenue NW
Washington
,
DC
20016-8033
United States
Community Liaison Committee Meets June 10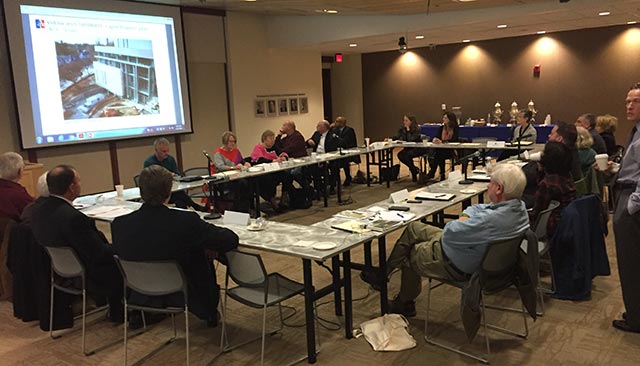 American University's Community Liaison Committee (CLC) will hold a quarterly meeting on Monday, June 10.
The meeting will begin at 7 p.m. in Constitution Hall, Rooms 1 – 3 on the university's East Campus. Neighbors are invited to join AU staff at 6:30 p.m. for pre-meeting coffee and conversation. Free parking is available in the East Campus surface parking lot, accessible from Nebraska Avenue.
The CLC was established to foster positive relations and to maintain regular communication between the university and its neighbors. As specified in the D.C. Zoning Commission Order for AU's 10-year Campus Plan, the CLC comprises individuals from neighboring community organizations and representatives from the university.
Additional information on the CLC, including meeting agendas and minutes can be found at the CLC website.
American University Names Maria Barry Director of Community Relations
American University is pleased to announce that Maria Barry has been hired as the new Director of Community Relations.
Barry, who joined AU in May, will help lead the university's engagement and outreach efforts with the immediate neighboring communities, our non-profit partners, and the greater District of Columbia. She will play an important role in implementing AU's new strategic plan and its imperative to enhance the university's engagement with the region.
A non-profit and campaign professional with experience in development and external relations, Barry most recently served as the Vice President of External Affairs at the Potomac Riverkeeper Network where she worked to secure financial support from members, individuals, corporations, and foundations to grow the organization's fiscal and membership base. Previously, she served as the Chief Development Officer at Green Door Behavioral Health where she administered a comprehensive strategic development, outreach, and communications program and raised more than $1.2 million in philanthropic giving.
"Maria brings a breadth of community relations experience to this vital role," said AU's AVP of Community & Government Relations, Ed Fisher. "We are excited to bring in someone like Maria who has so many connections to various communities and organizations across the city."
"I am thrilled to join the team to help create lasting partnerships and to highlight AU as a city-wide resource. AU is a great neighbor and is in a unique position as an urban university, in the nation's capital, to be a leader in the community. I am excited to build and strengthen relationships with neighbors, partners, and other stakeholders," said Barry.
Barry earned her bachelor's degree in political science from the University of Wisconsin-Madison. She also co-founded the Friends of 16th Street Heights Parks and the Uptown Main Street, in addition to serving as the 4C02 Advisory Neighborhood Commissioner.
Highlights from American University's Commencement Ceremonies Available For View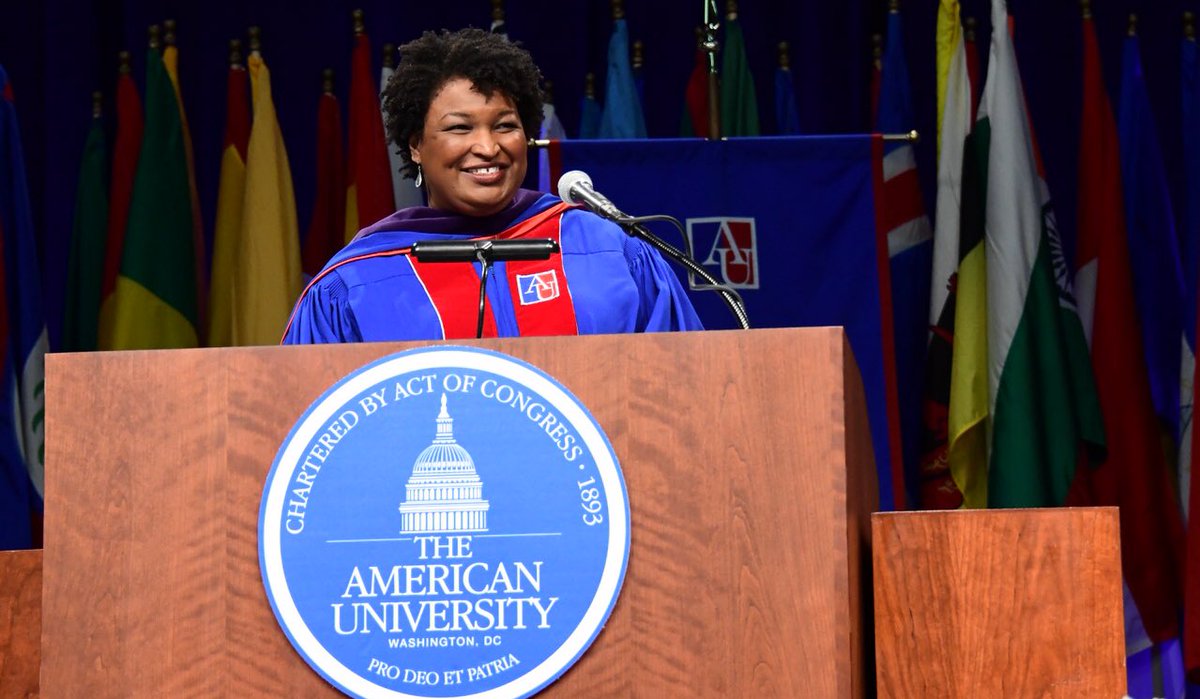 American University's spring commencement ceremonies were held May 11 and 12 in Bender Arena. A diverse array of luminaries addressed the graduating students and delivered commencement speeches, including Stacy Abrams, the first African-American woman to be nominated for Governor by a major party; Chimamanda Ngozi Adichie, author and winner of both a MacArthur Genius Grant and National Book Critics Circle Award; General James Jones, the former National Security Advisor and Supreme Allied Commander Europe – a post first held by Dwight Eisenhower, who spoke at the groundbreaking of SIS; and Roger W. Ferguson Jr., former member of the Federal Reserve Board of Governors, President and CEO of TIAA, and an AU neighbor.
To view highlights from the various commencement speeches, be sure to visit the 2019 Commencement site.
Human Rights Series of Programs
Throughout June (see link below for list of dates)
Washington College of Law
As part of the Academy on Human Rights and Humanitarian Law Summer Program, Washington College of Law presents a series of programs on human rights. All programs are free and open to the public. For more information and a list of programs, dates, and details, visit: https://www.wcl.american.edu/impact/initiatives-programs/hracademy/human-rights-month/panels/.  
SOC Graduate Open House
June 8, 9:30 a.m. – 1:30 p.m.
McKinley Building, Media Innovation Lab (MCK 100)
Meet with faculty as they describe SOC's graduate programs. Learn skills to help you budget for graduate school and how to build a strong graduate application. For more information and to register: 
https://american.elluciancrmrecruit.com/ApplySOC/Events/EventDetails?eventId=7953526f-6a6b-e911-80da-0a42d3ae32b8
National Resource Center for Supported Decision-Making "Taking Stock and Forging Ahead" Symposium
June 10 – 11
Washington College of Law
The National Resource Center for Supported Decision-Making (NRC-SDM) is dedicated to advancing the "Right to Make Choices" of people with disabilities and older adults, through training, information-sharing, technical assistance, research, and promotion of promising practices in Supported DecisionMaking (SDM). The symposium's presentations and facilitated discussions will address a wide range of SDM topics and reflect work done at the local, state, and national levels. Participants will include national and local leaders, innovators, and practitioners, including people who use SDM and their families.  Registration is open and required for attendance, given space limitations. RSVP: Morgan Whitlatch at mwhitlatch@dcqualitytrust.org.
Members' Preview: Squire Broel
June 14, 5:30 – 7:30 p.m.
Katzen AU Museum
Museum members are invited to preview five new exhibitions and join artist Squire Broel to discuss the totemic sculptures featured in his ongoing exhibition. Open to all museum members, no RSVP required.
Being Here as ME - New Media Art Exhibition of Women Artists from Taiwan
June 15, 11 a.m. – 4 p.m.
Katzen Museum 2nd Floor Exhibition
This exhibit presents six women artists striving towards constructions of female subjectivity. Pey-Chwen Lin, Tzu-Ning Wu, Yung-Chieh Wu, I-Chun Chen, Pei-Shih Tu, and Hui-Chan Kuo create new media artworks through diverse media and methods. Their work transcends gender discussions and through social strategies, action, and engagement, they express their concerns and create artworks revealing their anxiety and opinions about the ecology of society, science, technology, and the environment. Curated by Yu-Chuan Tseng.
Crossing Boundaries & Breaking Borders: DMV Printmaking
June 15, 11 a.m. – 4 p.m.
Katzen Museum 1st Floor Exhibition
The District of Columbia, Maryland, and Virginia (DMV) region is full of boundaries and borders, both physical – like the state lines that divide the artists in this exhibit – and imagined political ideology, economic class, gender identity, and religious belief. These boundaries delineate spaces, groups, ideas, and more, but they are walked over easily, pushed through, and broken down. Furthermore, the artists featured in the exhibit also question, push, and break down the traditional notions of what printmaking is as a technique, how it can be used, and how printmaking can be defined. Curated by Matthew McLaughlin.
Maia Cruz Palileo
June 15, 11 a.m. – 4 p.m.
Katzen Museum 3rd Floor Exhibition
There is a mystery in the act of burying and even more so in uncovering. Maia Cruz Palileo's paintings and drawings are the metaphorical teeth in this body of work spanning from 2013 to 2019.  These works, including a small painting titled Burying Teeth, depict historical narratives from the colonial past of the Philippines, Palileo's country of origin, as well as stories and moments about her own life as a Filipina American growing up in the United States. Her paintings and drawings replicate figures from old family photographs, as well as photos from the American government's archives depicting anthropological documentation of Filipinos during the American colonization. While her work evokes nostalgia and romanticism, it is imbued with a critical undertone of America's colonization of the Philippines. Palileo's work is an examination of the Filipino diasporic psyche through a personal and political lens. Curated by Isabel Manalo.
Passages: Keith Morrison, 1999-2019
June 15, 11 a.m. – 4 p.m.
Katzen Museum 3rd Floor Exhibition
This exhibit surveys thirty paintings and watercolors by the Jamaican-born Keith Morrison. A magician of color and space and a teller of tales, fanciful and real, Morrison focuses on the tangible and spiritual components of culture. His subjects encompass Afro-Caribbean and Meso-American art and architecture, as well as the somber history of the Middle Passage. By turns mystical, meditative, and joyous, Morrison's work invites our entry into the rich visual world of his making. Curated by Judith Stein.
Plans to Prosper You: Reflections of Black Resistance and Resilience in Montgomery County's Potomac River Valley
June 15, 11 a.m. – 4 p.m.
Katzen Museum 2nd Floor Exhibition
The exhibition's title takes its name from bible verse Jeremiah 29:11 to echo the central role of the Black church in bringing communities together, inspiring hope, and acting as a vector for social change. The goal of this exhibition is to offer a space for learning and meditation that highlights the Black history of Montgomery County and western Washington, DC and pay homage to the communities that championed fights against racial discrimination through faith, family, and fellowship. While this exhibition highlights the communities of Scotland, Tobytown, and Macedonia-Moses, MD, it is intended to inspire similar exhibitions and continue to prompt in-depth collaboration within and beyond these communities.
Gallery Talk: Maia Cruz Palileo
June 15, 5 p.m. – 6 p.m.
Katzen AU Museum
Curator Isabel Manalo and artist Maia Cruz Palileo will examine works that hinge on fantasy and memory, but hold salient political commentary surrounding American colonization of the Philippines. Free and open to all. RSVP: tinyurl.com/aumuseumkatzen
Summer Opening Reception
June 15, 6 – 9 p.m.
Katzen AU Museum
Mix and mingle with artists, curators, and fellow patrons at the museum's summer opening reception and see five new exhibitions on view. Free and open to all, no RSVP required.
Gallery Talk: Being Here as ME
June 17, 12 – 2 p.m.
Katzen AU Museum
Curator Yu-Chuan Tseng will be joined by artists Pey-Chwen Lin, Pei-Shih Tu, and Tzu-Ning Wu for a talk on Being Here as ME. Attendees will learn about each artist's use of new media to question societal norms. A light lunch is included. Free and open to all. RSVP: museum@american.edu.
Discover the World of Communication, A Pre-college Program for High School Students
June 18 – 28
American University School of Communication
Learn to build a digital portfolio, write a script, shoot and edit a film, write a news story like a pro, speak with confidence, persuade, inform, educate, and entertain. These professional, hands-on workshops are open to students entering grades 9 through 12, and are taught by American University School of Communication faculty and communication professionals. For more information and to register: https://www.american.edu/soc/discover/
Young Voices for the Planet Film Screening & Panel Discussion
June 20, 6 – 8 p.m.
Malsi Doyle and Michael Forman Theater (McKinley Building)
American University School of Communication invites everyone to attend a film screening and panel discussion featuring New York Times best-selling author Lynne Cherry (The Great Kapok Tree).  The Young Voices for the Planet short documentaries and A.C.T.I.O.N. plan champion youth who are changing minds, changing laws, and changing the world. Reservations (recommended): https://www.eventbrite.com/e/young-voices-for-the-planet-film-screening-panel-discussion-tickets-7037454215
Free Parking: DMV Printmaking
June 27, 5:30 – 7 p.m.
Katzen AU Museum
As part of the Katzen's continuing series of salon-style conversations in the Alper space, curator Matthew McLaughlin will lead a discussion surrounding the work of 19 local printmakers on view currently. RSVP: tinyurl.com/AlperTickets