Community Town Hall and Reception with President Burwell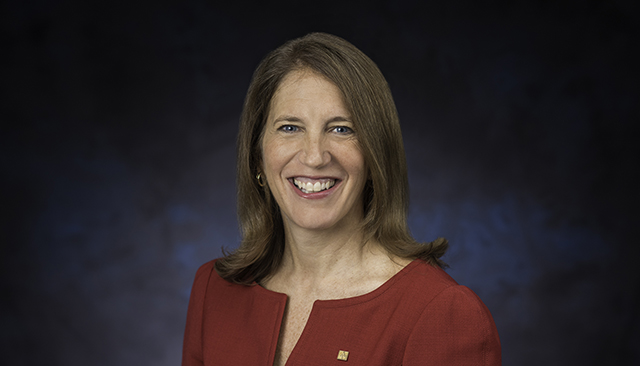 American University invites its neighbors to the rescheduled annual Town Hall meeting and reception with President Sylvia Burwell on Thursday, March 7.
The Town Hall will begin at 7 p.m., followed by the reception at 8 p.m. Both events will take place in Rooms 1-3 of Constitution Hall on AU's East Campus and are open to the entire community.
Parking for the event will be available in the East Campus surface parking lot, accessible from Nebraska Avenue. Please RSVP to communityrelations@american.edu.
Community Liaison Committee Meeting Rescheduled to Thursday, April 18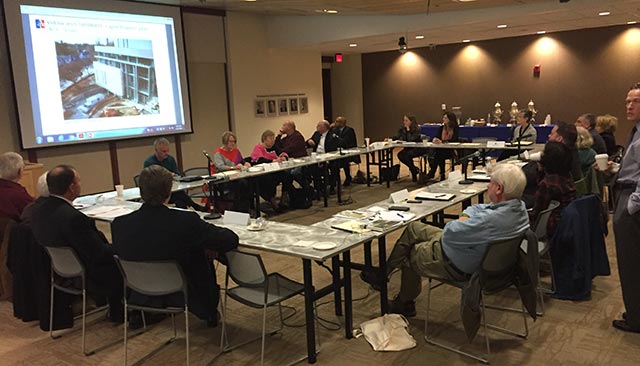 American University's Community Liaison Committee (CLC)quarterly meeting has been rescheduled from Wednesday, March 13 to Thursday, April 18.
The meeting will begin at 6:30 p.m. in Rooms 1 – 3 of Constitution Hall on AU's East Campus. Neighbors are invited to join AU staff at 6 p.m. for pre-meeting coffee and conversation. Free parking is available in the East Campus surface parking lot, accessible from Nebraska Avenue.
The CLC was established to foster positive relations and to maintain regular communication between the university and its neighbors. As specified in the D.C. Zoning Commission Order for AU's 10-year Campus Plan, the CLC comprises individuals from neighboring community organizations and representatives from the university.
Additional information on the CLC, including meeting agendas and minutes can be found at https://www.american.edu/communityrelations/clc/index.cfm.
AU Names New Assistant Vice President of Community and Government Relations
American University announced that Ed Fisher will be its new assistant vice president of community and government relations.
Fisher will lead AU's engagement with the university's neighboring communities, the District of Columbia and federal governments, and the region. Among his responsibilities, he will work closely with stakeholders across the university to coordinate the development and oversight of the new Campus Plan. Fisher also will play an important role in implementing AU's new strategic plan and its imperative to enhance the university's engagement with AU's local community, Washignton, DC more broadly, and the region.
Fisher is an experienced community, government affairs, and real estate professional in both the public and private sectors. He served most recently as the executive director of the St. Elizabeth's East Development, a post to which he was appointed by Mayor Muriel Bowser. He managed all aspects of the largest land mass real estate project in the District with investments projected to exceed $2 billion.
Previously, he served as the director of community affairs for CareFirst BlueCross BlueShield, where he developed and implemented strategies for community investments and corporate philanthropy. He also has held various leadership positions with the Council of the District of Columbia including chief of staff, committee director, and legislative counsel. In these roles, he drafted legislation, advised on policies, directed legislative strategies, initiated community engagement, and managed the day-to-day operations of a Council office. Fisher also worked in the financial services sector at SunTrust Bank and litigation at various agencies in the federal government. 
"Ed brings valuable government, community, and private sector experience to this important position," said AU President Sylvia M. Burwell. "We are thrilled to have someone so deeply rooted in Washington, D.C., leading our community and government relations efforts."
"As a native Washingtonian, I'm very excited to join American University, a critical part of the Washington community," Fisher said. "I look forward to working with the campus to further AU's efforts to engage and partner with our neighbors, the city, and the region."
Fisher earned his law degree at the Columbus School of Law at The Catholic University of America. He received a bachelor's degree in business management from Hampton University.
AU Recognized By Climate Action Organization For Achieving Carbon Neutrality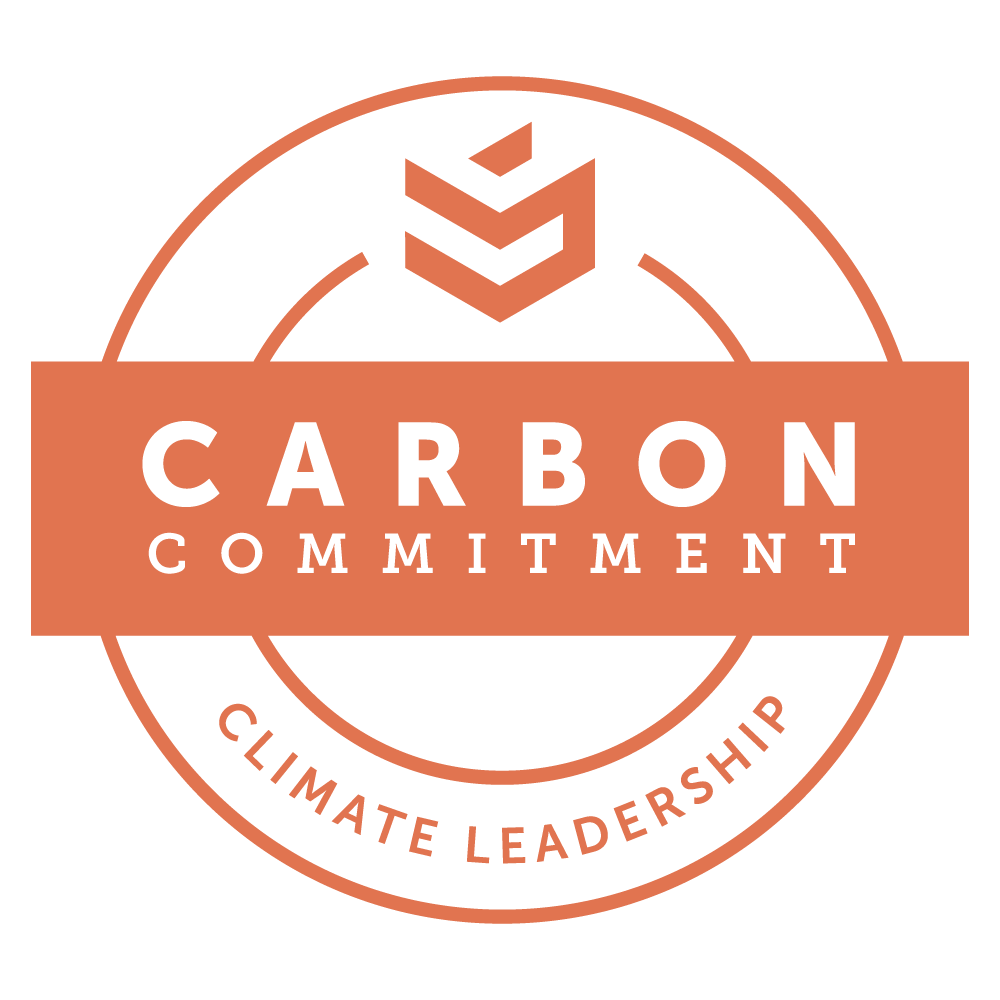 American University was recognized earlier this month by Second Nature for being the first urban campus, large institution, and research university to achieve carbon neutrality. 
Second Nature – an organization dedicated to accelerating climate action on campuses and across public sectors – gave the recognition to AU at the 2019 Higher Education Climate Leadership Summit. Hosted by Second Nature and the Intentional Endowment Network (IEN), the summit was a gathering of leaders in higher education, including presidents, trustees, CFOs, endowment/foundation officers, and sustainability directors. 
Director of Sustainability Megan Litke, who accepted the recognition on behalf of AU, said, "American University is proud to be a leader in working toward shared climate goals. Climate change is one of the most urgent issues of our time, and we are grateful to Second Nature for the recognition, but more importantly, for being a driving force for climate action in higher education."
The purpose of the gathering was to plan and equip for the large-scale solutions needed in the next decade to avoid the worst impacts of climate change. The focus of discussions was on finding ways to innovate, scale, and accelerate progress in climate action. Attendees examined how campuses can reduce their carbon footprint and increase their campus resilience to climate impacts.
Litke also gave a presentation on the university's offset purchasing strategy. She explained that American University pursues strategic carbon offset projects that match the theme of the emissions source with positive impact and investment. For example, to offset local emissions due to commuting, AU will plant 650 trees within DC city limits to benefit the local environment and community impacted by commuting. AU's four major carbon offset investments are in efficient trucking, tree planting, investment in cookstoves in Kenya, and landfill gas.
Attend A Lecture at The Osher Lifelong Learning Institute at American University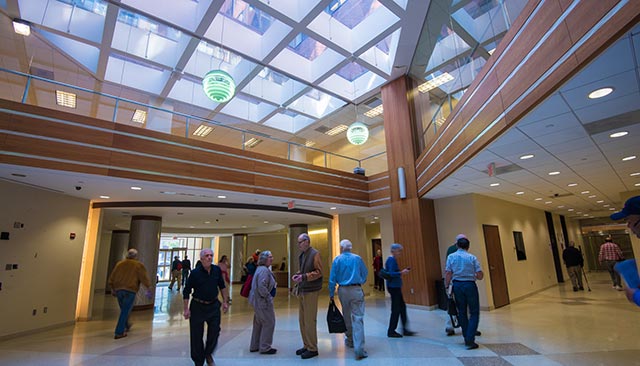 The Osher Lifelong Learning Institute at American University invites you to attend weekly lectures held throughout the spring and fall semesters. Lectures are one-hour long and are held Friday afternoons.   
Wide-ranging topics run the gamut from art, music, and literature to public policy, economics, and politics to astrophysics, history, and sports. Upcoming lectures include:
Joseph Esposito, author of Dinner in Camelot: The Night America's Greatest Scientists, Writers and Scholars Partied at the Kennedy White House
Jeremy Brown, first permanent director of the Office of Emergency Care Research at the National Institutes of Health
Mervin Richard, chief of conservation at the National Gallery of Art
Howard McCurdy, professor in the School of Public Affairs at American University
Robert Wilkins, judge appointed to the United States Court of Appeals for the District of Columbia Circuit in 2014
Scheduled lectures are announced about one month ahead of time through OLLI's email list and e-newsletter and may be attended by members as well as non-members of OLLI. However, as seating is limited, members will receive an Eventbrite registration link at 8:30 a.m. on the Tuesday preceding the next week's lecture. Non-members may register through the Eventbrite link beginning 8:30 a.m. on the Wednesday before the next week's lecture.   
To become a member of OLLI, simply create an account, pay a membership fee, and register for the study groups of your choice during open registration. Membership costs $300 per semester or $550 if you choose to pay for fall and spring. Benefits to becoming an OLLI member include: 
Eligibility to enroll in up to three study groups in a semester.
Eligibility to enroll in February and July "Shorts," three- to five-day immersion study groups; and June "Minis," study groups which are one session per week for four weeks.
Opportunity for increased social interaction and new friendships based on a shared interest in learning; and informal lunchtime discussions and special events such as open houses or the holiday party.
Invitation to attend Special Events featuring day trips, museum tours, discussions, and other activities.
Invitation to attend a holiday party held in December and a springtime social event.
Access to AU's Bender Library during the academic programs for which you are registered.
Eligibility for an annual membership at the Jacobs Fitness Center at a discounted rate.
If you have been a member of OLLI in the past, you may login to renew your membership.
Jiri Kolar (1912 – 2002): Forms of Visual Poetry
Now through March 17, 11 a.m. – 4 p.m.
Katzen Museum Third Floor Exhibition
This exhibition is dedicated to one of the most remarkable Czech poets and visual artists associated with Modernism, Jirí Kolár. During the Communist regime in Czechoslovakia, Kolár encountered considerable challenges, including a prison sentence for the critical stance towards the system expressed in his poetry. Whether because "images" were less easily censurable than "words" or for other personal reasons, from about 1959, he focused exclusively on visual arts – especially various experimental forms of collage. Yet most of his mixed-media works remained profoundly concerned with the word/image relationship and can best be described as "visual" poetry. The selection presented is representative of the main aspects of his oeuvre as it evolved over several decades.
Michael B. Platt + Carol A. Beane: Influences and Connections
Now through March 17, 11 a.m. – 4 p.m.
Katzen Museum First Floor Exhibition
Standing at the foot of Australia's sacred sandstone monolith known as Uluru, Michael B. Platt and Carol A. Beane envisioned a world invisible to many others. The world is at once primordial and imminent, spiritual and mortal. This exhibition is a collaborative offering from one of Washington's most prolific pairs; an offering of visibility from one world into another. Inspired by the ancestral stories told by the indigenous keepers of Australia's most sacred grounds, Platt and Beane fuse poetic image with word. The union culminates in an aesthetic experience of the human spirit that transcends time, place, and identity. Presented by the Alper Initiative for Washington Art. 
Nancy at Ninety: A Retrospective of Form and Color
Now through March 17, 11 a.m. – 4 p.m.
Katzen Museum Exhibition – All Floors
This retrospective of seven decades of the work of Washington, DC sculptor Nancy Frankel celebrates her ninetieth birthday in 2019. Working in various media since the 1950s – including wood, Plexiglas, plaster, design cast, and steel – Frankel has explored a fundamentally geometric vocabulary, often with a sense of playfulness. In addition to her freestanding works in three dimensions, a few of her many graphite drawings and tempera paintings will be represented, as well as one of her large wall reliefs.
The Gifts of Tony Podesta
Now through March 17, 11 a.m. – 4 p.m.
Katzen Museum Second and Third Floor Exhibitions
This first major exhibition drawn from our Corcoran Legacy Collection features strong and provocative photography and sculpture donated by Tony Podesta over the past decade to the Corcoran Gallery of Art, now part of the American University Museum's holdings. Podesta has earned the reputation of being a fearless supporter of challenging contemporary art by women. He is an important patron of the arts nationally and internationally, with an outsized impact throughout the Washington art world.
Women's Lacrosse vs. Presbyterian
March 2, 12 – 2 p.m.
Jacobs Field
Men's Basketball vs. Holy Cross
March 2, 2 – 4 p.m.
Bender Arena
Nancy at Ninety Gallery Talk
March 2, 3 – 4 p.m.
Katzen AU Museum
Curator Claudia Rousseau will interview Nancy Frankel about her extensive career as a sculptor and how music and organic geometry have influenced her practice.  Free and open to all, no RSVP required.
Katzen Docent-led Tour
March 3, 9, 16, 2 – 3 p.m.
Katzen AU Museum
A docent-led tour of one or more of our current exhibitions. No RSVP required. Please meet at the front desk.
Impossible Exodus: Iraqi Jews in Israel with Orit Bashkin
March 5, 6 p.m.
Butler Board Room
Join the AU Center for Israel Studies to hear Orit Bashkin (University of Chicago) speak about her new book, Impossible Exodus, which explores the lives of Iraqi Jews in Israel. Books will be available for sale and signing at reception. Co-sponsored by American University Center for Israel Studies and Islamic and Middle East Studies. Admission is free with RSVP: https://tinyurl.com/AUIMPEXO
The New Playbook for Navigating the Newsroom in the #MeToo Era
March 5, 7 p.m.
McKinley Building, Malsi Doyle and Michael Forman Theater
#MeToo is a powerful movement that has changed the way people – especially men – navigate space at work, play, and in society. Gloria Rivera of ABC News and co-founder of Press Forward will discuss new ways in which people operate in the #MeToo era. RSVP: www.SOCGloriaRiviera.eventbrite.com
Yoga in the Galleries
March 6, 13, 10 a.m.
American University Museum at the Katzen Arts Center
Led by certified Kripalu Yoga teacher Eva Blutinger, this yoga class provides mental clarity and relaxation in the peaceful surroundings of our art galleries. Please bring a mat. Cost is $10 for non-members, $5 for museum members, and free for members at the Associates level and above. Sign up at www.tinyurl.com/aumtickets.
Cold Case: A Conversation with Jerry Mitchell
March 6, 6:30 p.m.
McKinley Building, Malsi Doyle and Michael Forman Theater
Celebrated investigative journalist and MacArthur "Genius" Grant-winner Jerry Mitchell talks with AU School of Communications Assistant Professor Sherri Williams about Mitchell's work with Mississippi's The Clarion-Ledger that has exposed injustices and corruption prompting investigations, criminal convictions, reforms of state agencies, and the firings of boards and officials.  Seating will be on first-come, first-served basis. Reservations recommended: https://socjerrymitchell.eventbrite.com
AU Farmers' Market
March 6, 13, 20, 27, 10 a.m.
Quad Space in front of Mary Graydon Center
Every Wednesday, the quad space around the Mary Graydon building buzzes with activity as students, faculty, staff, and neighbors browse goods ranging from farm-fresh vegetables to homemade breads and desserts at the AU Farmers' Market. The market is a coordinated effort between AU and Pennsylvania-based Agora Farms. Girardot's Crumbs Bakery also offers a variety of fresh breads as well as chocolate chip cookies, mini pies, and cobblers.
Women's Basketball vs. United States Naval Academy
March 6, 7 – 9 p.m.
Bender Arena
Men's Basketball vs. Navy – Patriot League Tournament Quarterfinals
March 7, 7 p.m.
Bender Arena
March Madness comes to Bender Arena! The #4-seed AU Eagles men's basketball team will take on Navy, as they host a Patriot League Tournament Quarterfinal game in Bender Arena.  Ticket prices for the quarterfinal game, set by the Patriot League, are $14 for adults and $7 for seniors (65+) and youth (under 13). Rate for groups with 10 or more people is $5 per person and must be purchased in advance through the box office. AU students with valid AU ID will be admitted free of charge. Tickets are on sale now via AUeagles.com/Tickets. Fans also can visit the Athletics Ticket Office in person, or call (202) 885-TIXX (8499) Monday through Friday between 10 a.m. and 5 p.m. to secure their seats.
INTERFERENCE Concert
March 7, 7:30 – 8:30 p.m.
Katzen AU Museum
The musical collective INTERFERENCE will present contemporary and classical works that draw connections to the notion of process music, including minimalism, algorithmic music, and chance determinism. Featuring a combination of acoustic and digital music instruments, computer performers, and visual components, INTERFERENCE explores this terrain with a distinct intermedia focus. Free and open to all, no RSVP required.
JRA Distinguished Artist Lecture with Tim Harding
March 10, 2 – 3 p.m.
Katzen AU Museum
In describing his work, fiber artist Tim Harding uses words more applicable to painting and photography. He speaks about pixels, light and shadow, figure and ground, and references the Pointillists or Hockney and Rothko. Harding brings together elements of fine art and applied art to create textile pieces that defy categorization and allow them to be considered for their intrinsic beauty. This lecture is part of the James Renwick Alliance's Distinguished Artist Lecture Series. Free and open to all, no RSVP required. To register for Harding's accompanying workshop, click here.
Women's Basketball Patriot League Tournament Quarterfinals
March 11, 7 – 9 p.m.
Bender Arena
2019 Environmental Film Festival
March 14 – 24, See website for times and locations 
The Environmental Film Festival in the Nation's Capital is the world's premier showcase of environmentally-themed films that celebrate the Earth and inspire understanding about stewardship of the environment through the power of film. Each March in Washington DC, the Environmental Film Festival presents 100-plus films to audiences throughout the city.
For more information, visit: https://dceff.org/.
Eco-Comedy Video Competition with the Center for Environmental Filmmaking
March 19, 7 p.m.
McKinley Building, Malsi Doyle and Michael Forman Theater
The Eco-Comedy Video Competition is sponsored by the Center for Environmental Filmmaking (www.environmentalfilm.org) and The Nature Conservancy (www.nature.org). The 2019 theme is: Climate Change. Yes, we know, it's a vast, unwieldly topic that already has people rolling their eyes! Filmmakers were challenged to produce a short (less than 3 minutes), humorous videos. The winners of the four category submissions (K-8, High School, College/University, and Nonstudent) will be showcased in this program. For more information, visit: https://dceff.org/event/eco-comedy-video-competition-center-environmental-filmmaking-american-university/.
"Golda Meir: A Life in Politics" Amos Perlmutter Memorial Lecture with Francine Klagsbrun
March 19, 7 – 8:30 p.m.
East Campus Constitution Hall
Author Francine Klagsbrun will discuss Golda Meir and her legacy. Klagsbrun's book, Lioness: Golda Meir and the Nation of Israel, a biography of the fourth prime minister of Israel, won the 2017 Jewish National Book Award. The annual lecture is in memory of SPA Professor Amos Perlmutter, who taught at the university for nearly thirty years, and was a world-renowned scholar of political leadership in the Middle East. A reception with book sale and signing will follow the discussion. Admission is free with RSVP: https://tinyurl.com/LionessAU
Sreening of "Harvest Season" (preceded by "Who Speaks for Nature")
March 20, 7 p.m.
McKinley Building, Malsi Doyle and Michael Forman Theater
This film delves into the lives of people who work behind the scenes of the California wine industry during one of the most dramatic grape harvests in recent memory. Mexican-American winemakers and migrant workers are essential to the wine business yet are rarely recognized for their contributions. Their stories unfold as wildfires ignite in Napa and Sonoma counties, threatening the livelihoods of small farmers and winemakers who already grapple with a growing labor shortage, shifting immigration policies, and the impacts of a rapidly changing climate. For more information, visit:  https://dceff.org/film/harvest-season/.
Screening of "The Woman Who Loves Giraffes"
March 21, 7 p.m.
McKinley Building, Malsi Doyle and Michael Forman Theater
Dr. Anne Innis Dagg retraces the steps of her groundbreaking 1956 journey to South Africa to study giraffes in the wild. Now, at 85 years old, Anne sees a startling contrast between the world of giraffes she once knew and the one it has become. Weaving through the past and present, her harrowing journey gives us an intimate look into the factors that destroyed her career and the forces that brought her back. For more information, visit: https://dceff.org/film/woman-loves-giraffes/.
Diversity and Impact Workshop
March 22, 4 p.m.
McKinley Building, Room 101
A workshop exploring how communities can tell their "eco-stories." Film/Media-makers and community advocates come together to present compelling short films and innovative participatory storytelling projects and generate ideas for telling urgent new stories. Featured guests include Kalyanee Mam (director, Lost World), Roshan Patel (director, Field in Focus shorts), Sirjaut Kaur Dhariwal (co-director, Healing Baltimore's Harbor: A Pipe Dream?), Laura Waters Hinson (founder, Image Bearer Pictures), and Leah Mahan (Documentary Director/Producer).  Free to attend. For reservations: https://dceff.org/event/diversity-impact-workshop/.
"Before Stonewall" Documentary Screening and Discussion
March 22, 6:30 p.m.
McKinley Building, Room 101
This historic documentary by filmmaker Greta Schiller details the history of LGBT discrimination and resistance before the Stonewall Rebellion in 1969. Schiller will join a panel of experts on April 3 for the panel discussion Stonewall 50: Exploring the Role of LGBT Media Representations in the LGBT Liberation Movement. This year is the 50th anniversary of the Stonewall Rebellion. Moderated by Joshua Alem. Pizza and refreshments will be served. For reservations: https://AUSOCBeforeStonewall.eventbrite.com 
Women's Lacrosse vs. Army West Point
March 23, 1 – 3 p.m.
Jacobs Field
Exploring the Real World of Virtual Reality
March 23, 1 p.m.
National Geographic 1145 17th St NW
Join award-winning VR creators Max Salomon and Malvina Martin (executive producers at Black Dot Films), Vanina Harel (filmmaker, National Geographic Explorer) and Krzysztof Pietroszek (AR/VR Professor at AU's School of Communication) for a discussion of virtual reality filmmaking. The presenters will take you behind the scenes of what it takes to create immersive programming, and you will experience environmentally-themed VR content in National Geographic's one-of-a-kind VR theater. Award-winning filmmaker Maggie Burnette Stogner (executive director, Center for Environmental Filmmaking) will moderate a discussion with the presenters. For more information, visit: https://dceff.org/event/exploring-real-world-virtual-reality/.
Covering a Diverse and Divided America, with Farai Chideya
March 25, 12:15 – 1:30 p.m.
McKinley Building, Media Innovation Lab (MCK 100)
A conversation with Farai Chideya, multimedia journalist, novelist, author, political and cultural analyst and educator. For reservations: https://AUSOCFarai.eventbrite.com.
Women's Lacrosse vs. Loyola
March 27, 4 – 6 p.m.
Jacobs Field
"Reporter" – A Conversation with Seymour Hersh
March 27, 6:30 p.m.
McKinley Building, Malsi Doyle and Michael Forman Theater
Pulitzer Prize-winning investigative journalist and best-selling author Seymour Hersh joins Investigative Reporting Workshop Executive Editor Charles Lewis to talk about his 50-year career uncovering some of the U.S. government's biggest secrets — from the Vietnam War My Lai massacre to Watergate abuses of power to the Abu Ghraib torture and prisoner abuse scandal. The free program includes a reception and book-signing by the author of Reporter: A Memoir. First come, first seated. For reservations: https://IRWSeymourHersh.eventbrite.com.
The Government Inspector
March 29, 8 – 11 p.m.
Greenberg Theatre
When the crooked leaders of a Russian province learn that an undercover inspector from the capital will pay them a surprise visit, a case of mistaken identity sends the town into panic and greed. A sharp satire of stupidity, vulgar self-interest, and political corruption, Nikolai Gogol's nineteenth-century comedy will feel surprisingly cathartic for American audiences today.Tickets: $10 – $15. RSVP: http://auartstix.universitytickets.com/user_pages/category.asp?id=75