WinterFest Ushers the Holiday Season to Tenleytown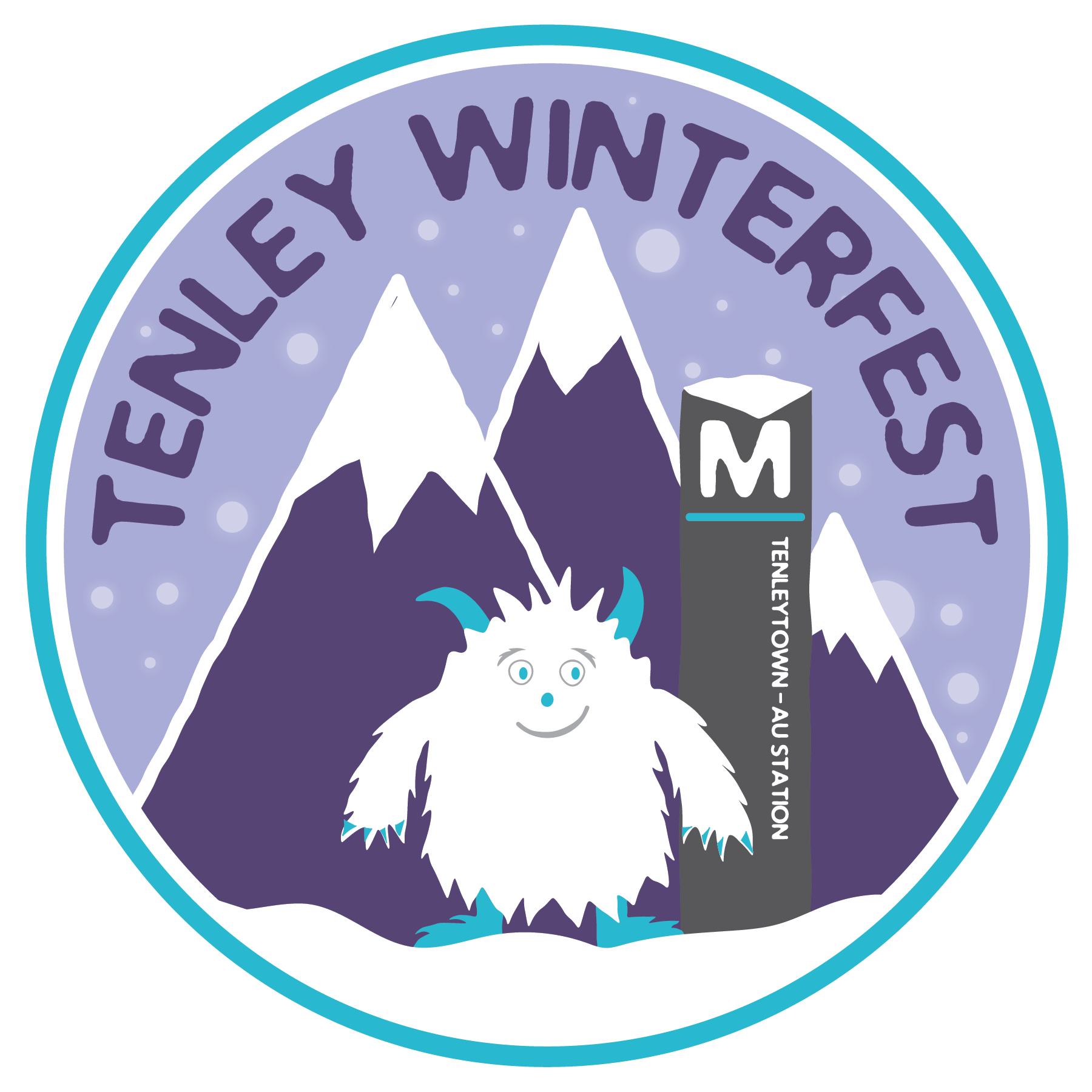 Eat, drink, and go shopping during Tenley WinterFest, November 29 through December 7. Now in its eighth year, the annual celebration of the holiday season showcases local businesses, community groups, and the Tenleytown neighborhood.
"American University is proud to once again join Tenleytown Main Street and a host of community partners to support this great local event," said Maria Barry, AU Director of Community Relations. "I hope to see all of our Tenley neighbors at this year's WinterFest."
Festive seasonal events include the Yeti Hunt at local businesses, storefront window decorating contests, historic neighborhood tours, live music and caroling, and more.  Events take place throughout Tenleytown and are free to attend.
The celebration also features a Restaurant Week where more than a dozen local restaurants offer specials throughout WinterFest.  Options range from caffeinated fare at Coffee Nature to international cuisines at Tartufo, Le Chat Noir, and Masala Art.  Discounts of up to 20 percent at many of the participating establishments also mean that diners can eat out all week long.
The celebration culminates with the Winter Market at Janney Elementary on December 7, featuring 100 vendors offering artwork, jewelry and accessories, home décor, sweet and savory treats, and other gifts to complete one's holiday shopping list.
Tenley WinterFest is presented by Tenleytown Main Street, in partnership with local businesses and community groups. Find Tenley WinterFest events and special promotions through the Tenleytown Main Street app, available for download in the App Store or on Google Play. More details are available at www.tenleywinterfest.org.
Bright Lights, Big Savings: LED Lights Installed in Fitness Center, Campus Store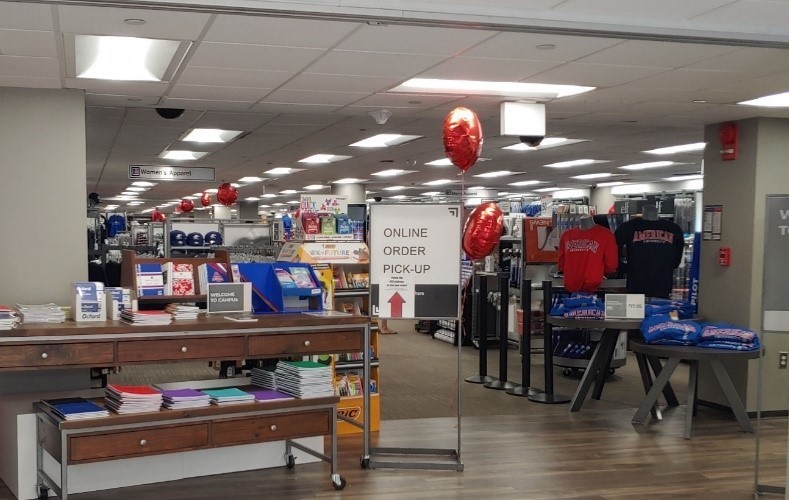 If you've been to the AU Campus Bookstore or Cassell Fitness Center recently you may have noticed a change.  Over the summer, AU's Energy and Engineering team installed energy-efficient LED lighting upgrades at both locations. Students and visitors now can have better visibility while exercising and store browsing knowing that the new fixtures help to reduce energy consumption on campus.
Energy-efficient LED lighting improves light quality, lowers energy consumption, and reduces maintenance through longer lamp life. In recent years, AU has increased its usage of LEDs within interior building spaces. Currently, all parking garages and most exterior lights use LED fixtures.
The campus store lighting upgrade will result in energy savings of 24,475 kWh annually and a reduction of 17.3 metric tons of carbon (42,317 miles by car equivalent) per year. The new lights match the fixtures in the foyer outside the bookstore that previously were changed to LEDs and created a brighter area.
"The sales floor looks great with the new lights and compliments our new store entrance," said Store Manager Brent Fisher. In addition to the bookstore, the lights above the stairs and corridor, outside the Bridge café, also were replaced with LED lights. New and improved lighting in the Cassell Fitness Center will yield savings of 29,285 kWh annually and reduce carbon emissions by 20.7 metric tons (equivalent to 50,633 miles driven by car) per year. The previous pendant drop-lighting had an industrial face, while the new energy-efficient pendants are frosted, allowing light to flow easily between the ceiling and space. The lights in the workout studios also were replaced with LEDs.
Both lighting upgrades were the result of a close partnership between AU and the DC Sustainable Energy Utility (DCSEU). DCSEU works with organizations and residents in the District to offer financial incentives for energy conservation projects as part of a contract agreement with the DC government to reduce district energy consumption and promote environmental preservation. AU's energy team has collaborated on innovative energy solutions with DCSEU since 2012.  
Choosing energy-efficient lighting is one of the easiest ways to reduce the energy output of buildings. Lighting upgrades are less invasive than other building improvements and can improve the aesthetics of the room by adding a modern look. LEDs also have much longer life expectancies than fluorescents. The fixtures used in both projects are projected to last 15 – 20 years.
LEDs are seen consistently as the greener choice of lighting compared to fluorescent or incandescent bulbs. Though they have higher upfront costs, the energy and maintenance savings make LEDs the most competitive lighting solution on the market. Additionally, green building certification programs such as LEED and the Environmental Protection Agency's Energy Star give points towards buildings utilizing greener lighting. Energy-efficient lighting aligns with AU's policy of meeting LEED Gold building energy standards for any new construction and major renovation projects.
Reducing energy waste and acting responsibly in the manner in which we consume energy is one of the ways AU is acting as a leader in energy and sustainability. 
Diversity and Inclusion for Student Veterans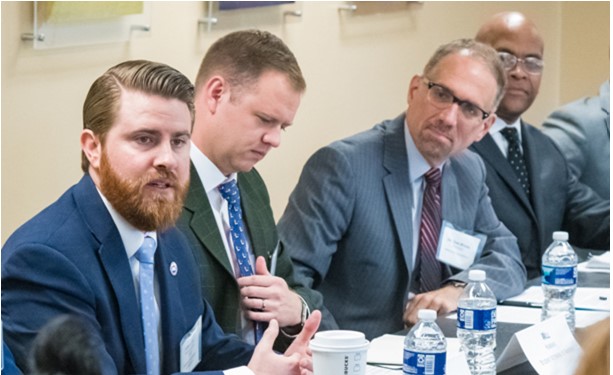 American University and Student Veterans of America recently cohosted a roundtable to consider important questions about how diversity and inclusion apply to student veterans. The event brought faculty, staff, administrators, alumni, and students from several DC-area universities together with members of the veteran community. It was organized by Tony Hollinger, director of military-affiliated student support and special initiatives, at AU's Office of Campus Life and Will Hubbard, chief of staff at Student Veterans of America (SVA).
"The hope is [that] universities will walk away with the idea of making a commitment to veteran inclusion," said Hubbard, an AU alumnus who also serves on the President's Council on Diversity and Inclusion at AU.
The complexities of intersecting identities emerged as the overriding theme of the roundtable, as everyone in attendance acknowledged the major obstacles student veterans face in higher education, including self-identifying as veterans. 
"It's less a fear of being targeted and more of being labeled as damaged, broken, or not able to do something," said Jared Lyon, SVA's chief executive officer. "Or they may have had a negative experience in their own time in the military and are not willing to associate with that time. It's complex."
Student veterans often also fall into the broader category of post-traditional learners. According to the National Center for Education Statistics, the vast majority of enrolled undergraduates are older than 25, hold full- or part-time jobs, may have spouses and children, and often commute to school. As this population deals with additional life challenges, it can be difficult to maintain connections to the university community. 
Lyon stressed the importance of universities going beyond simply identifying as "veteran friendly" to become "veteran inclusive." Friendliness is difficult to measure, he pointed out, while "inclusion is [about] trying to ensure that all of us can bring our whole selves to whatever endeavor we face. When we get it right for veterans, we get it right for all post-traditional students."
Hollinger added that AU is in the process of forming an affinity group for faculty and staff who identify as veterans. "It would be an opportunity for [us] to come together, just as our students come together around the SVA chapter. We are literally at the starting mark, but it is something we are leaning forward into."
Representatives from area institutions also reported on their efforts to establish inclusive settings for student veterans, including the invaluable information they garnered from campus climate surveys as a way to measure student veterans' experiences, emphasizing that "mere numbers on campus do not equate to success, to a student feeling comfortable."
SVA, founded in 2008 to provide military veterans with the resources and support necessary to succeed in higher education, is one of the largest student organizations in the U.S.  It currently comprises 1,528 chapters with 754,000 active student members and 2.1 million alumni.
Clawed the Eagle Visits Horace Mann School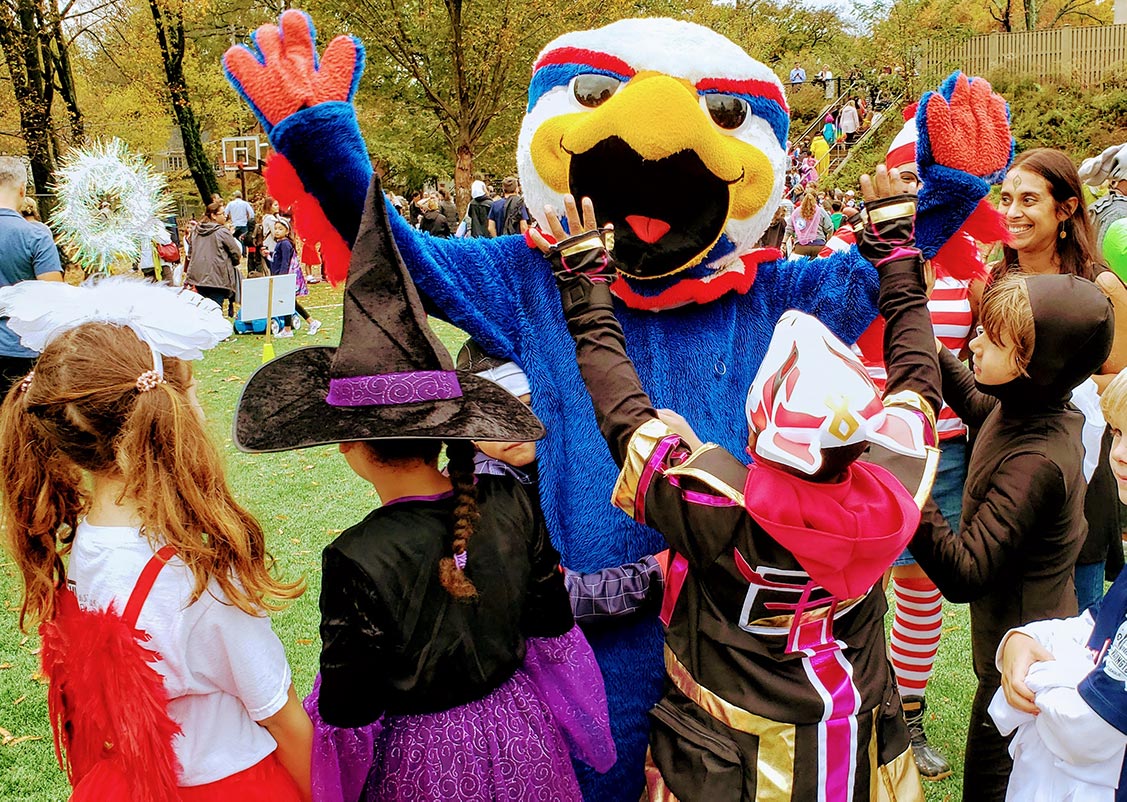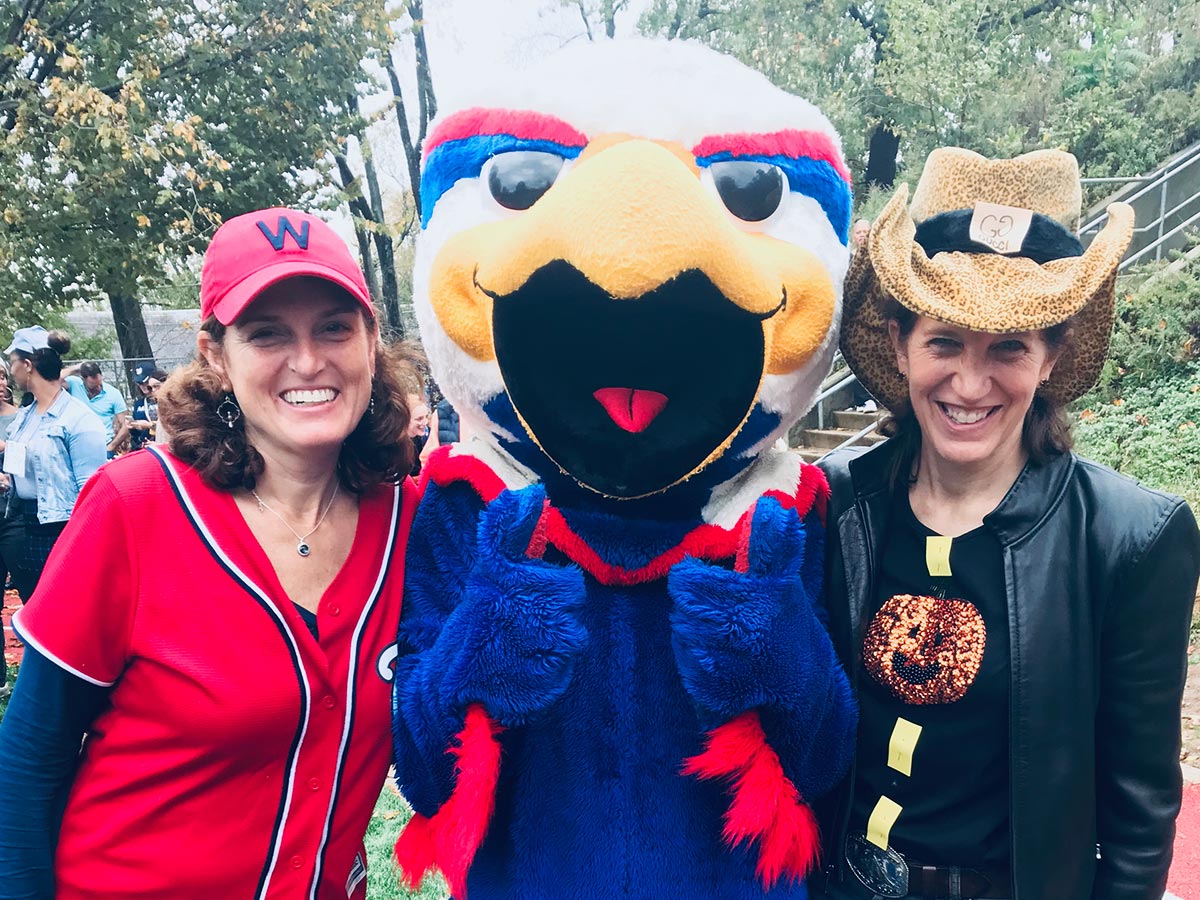 Cultural Events and Performances
Grace Hartigan and Helene Herzbrun: Reframing Abstract Expressionism
Now – December 15
Katzen Museum
Grace Hartigan and Helene Herzbrun were both remarkable painters of the second Abstract-Expressionist generation who lived and worked as influential artists and teachers in the Baltimore/Washington region for many decades. Although they began their careers as gestural abstractionists in the mold of Pollock and de Kooning, both went on to reinvent and revitalize the signature styles of the Ab-Ex movement in powerful and personal ways. They were enabled to do so in large part by their self-selected, "outside-of-New York" locale, which permitted each of these very different artists to develop her own dialogue with painting, away from the shifting fashions and pressures of the commercial mainstream. This show brings together more than two dozen large-scale and rarely seen works by Hartigan and Herzbrun from private and public collections, many in the Baltimore/Washington area. It redirects attention to the local contexts and communities in which these works were produced and deepens understanding of the relationship between mainstream modernist movements such as Ab-Ex and their rich regional transformations.
Topographies of Life: Pam Rogers, Lynn Sures, Mel Watkin
Now – December 15
Katzen Museum
Using the medium of drawing to varied and distinctive effect, Rogers, Sures, and Watkin trace human connections to the natural world – across time and varied landscapes. From depictions of the deserts of Kenya, forests of the Midwest, to the Potomac watershed, these artists are deeply attuned to the mutually affecting relationship between the anthropological and natural worlds.
Moves Like Walter: New Curators Open the Corcoran Legacy Collection
Now – December 15
Katzen Museum
This collection is a product of Director and Curator Jack Rasmussen's spring course on curatorial practice. Graduate students in art history, arts management, and studio art curated a playful and provocative interpretation of the 9,000-piece gift from the Corcoran. The exhibition is inspired by Walter Hopps, briefly the Director of the Corcoran and an erratic but seminal American curator of contemporary art. The curators have divided their responses into five sub-groups, Boundless: Existing Within Ambiguous Space, The Road Home, The Selfless Spirit: Nature vs. Nurture and the Effects of Motherhood in the Corcoran Collection, American Legacy: Reconsidering Non-Western Subjects in the Corcoran Collection, and Redefining the Gaze: Shifting the Power.
Yoga in the Galleries
November 6, 13, 20, 27, 10 – 11 a.m.American University Museum at the Katzen Arts Center
Led by certified Kripalu Yoga teacher Eva Blutinger, this yoga class provides mental clarity and relaxation in the peaceful surroundings of our art galleries. Please bring a mat. Cost is $10 for non-members, $5 for museum members, and free for members at the Associates level and above. www.tinyurl.com/aumtickets.
CHOREOLAB: A Concert of Works in Proces
November 8, 9, 8 – 10 p.m.
Greenberg Theatre
An annual workshop for emerging student choreographers who approach their work as though in a laboratory: experimenting, upending assumptions, and valuing process as highly as results. Post-show conversation with choreographers and cast. RSVP:
https://auartstix.universitytickets.com/w/event.aspx?id=1417&r=e645bbe7e93340c1b85103bfb0d78a3b
Gallery Talk: fair is foul & foul is fair
November 9, 5 – 6 p.m.
Katzen Museum
Explore themes of foulness and fairness in this gallery talk focused on works by collaborating Irish artists Aideen Barry and Alice Maher. Featuring a vocal performance by Ceara Conway of a poem specially created for this exhibition. Free and open to all, RSVP:
https://www.eventbrite.com/e/gallery-talk-fair-is-foul-foul-is-fair-tickets-73334169475
Late Fall Opening Reception
November 9, 6 – 9 p.m.
Katzen Museum
Mix and mingle with artists, curators, and fellow patrons and preview five new exhibitions. Free and open to all, no RSVP required.
Radical Link
November 9 – December 15
Katzen Museum
The latest project by Tel Aviv-based multi-media artist Michal Heiman traverses time, space, gender, race, and institutional practices of asylum, as Heiman offers a new way to extend solidarity to those who engage in acts of resistance by creating a new community. It includes women who have been subjugated by the Surrey County Asylum in London and the San Servolo Asylum in Venice, asylum seekers, artists, activists, prosecutors, gatekeepers, and those who have suffered under the violence of racism and misogyny. Through the strategies of intervention and the use of archival materials, photographs, films, sound work, and her presence in the gallery, she generates the political, cultural, gendered, and psychic conditions of a potential "radical link."
Christine Neill: Observations from the Valley Floor
November 9 – December 15
Katzen Museum
Christine Neill is a nationally celebrated American artist whose work blends motifs of biological examination with visual processes and techniques. She has exhibited widely while influencing thousands of students throughout her long tenure as professor at the Maryland Institute College of Art. The effects of environmental changes on human life and the reaction of the earth's habitats to these threats underlie her investigations and images.
fair is four and foul is fair
November 9 – December 15
Katzen Museum
"Fair is foul and foul is fair" as claimed by the witches in Macbeth describes a world where nothing – no message, no deed – is ethically clear. In Shakespeare's fair/foul world, evil walks abroad in the guise of good, and all expectations are confounded and confused. In this double exhibition by Alice Maher and Aideen Barry, tropes of what could be considered fair and foul morph into unrecognizable, interchangeable and above all, challenging artworks. Both artists engage at the fault lines of artmaking where sociocultural movements, media, imagery, and language overlap and collapse to animate new, personal ways of communicating this semiotic conundrum. Both also bring an individual, stinging humor and critique to their investigations of hybridity, carnality, and social politics in historical time.  The focus of both artists on the interchangeabilities of fairness and foulness is played out in this exhibition with a fascinating and urgent energy.
ARCADIA: The Clyde's Murals by William Woodward
November 9 – December 15
Katzen Museum
William Woodward's vibrant, 72-foot mural, Arcadia (1980), evokes a landscape of pure painterly invention, a lost world that has inspired poets, artists, and musicians since antiquity. 
These 11 impressive panels – with scenes influenced by artists from Poussin to N.C. Wyeth and Howard Pyle – depict magical forests, naked nymphs and frolicking fauns, satyrs, centaurs, and mystical seashores with mermaids, pirates, and treasure ships became a success de scandale when they were first unveiled at the now legendary Clyde's Restaurant of Tyson's Corner, Virginia.
Dark World: Photographs by Frank Hallam Day
November 9 – December 15
Katzen Museum
This exhibition, as its name implies, examines the distinctive quality of settings in various corners of the world as seen at night, and combines multiple bodies of the artist's work spanning more than 12 years. Day, a DC-based fine art photographer, has worked all over the world, often at night, looking for and in some cases creating a nocturnal mise-en-scène. The images are mysterious, unsettling, and examine the uncertainties, ambiguities, and possibilities of photographs shot at night and with unusual and sometimes unexpected light sources. The exhibition features work from Bangkok, Berlin, New York, Florida, Myanmar, Cambodia, and elsewhere.
AU Symphonic Band: The Divine Comedy
November 10, 3 – 4:30 p.m.
Abramson Family Recital Hall
The ensemble tackles Robert W. Smith's devilishly difficult Symphony no. 1 for Band (The Divine Comedy), each movement depicting a portion of Dante's literary masterpiece. RSVP: https://auartstix.universitytickets.com/w/event.aspx?id=1412&r=ccfe73053f56479f8fb07691bd551bca
AU Improv Show
November 15, 6 – 8:30 p.m.
The Wechsler Theater
For the second show of the semester, the performers will take suggestions from the audience and improvise sketches based on what they are given. RSVP: http://aumissionimprov.com
AU Jazz Orchestra: Fall for Jazz
November 15, 7:30 – 9 p.m.
Abramson Family Recital Hall
From big band to funk-rock to Latin sounds, AU's own jazz orchestra brings the swing. Conductor Josh Bayer is a guitarist, composer, and director who has performed at the Kennedy Center, The Detroit Opera House, and National Public Radio. RSVP: 
https://auartstix.universitytickets.com/w/event.aspx?id=1413&r=f8687fc847ad413b98d0a0f46fe06ded
Gallery Talk: Dark World
November 16, 3 – 4 p.m.
Katzen Museum
Frank Hallam Day illuminates dark corners of the world in a discussion of his photographs on view in Dark World. Free and open to all, RSVP: https://www.eventbrite.com/e/gallery-talk-dark-world-tickets-73262573329
AU Symphony Orchestra: Discovering Kalinnikov
November 16, 3 – 4:30 p.m., 7:30 – 9 p.m.
Abramson Family Recital Hall
A household name in Russia yet virtually unknown in the United States, Vasily Kalinnikov numbers among the great early twentieth-century composers. Hear his thrilling Symphony no. 1 alongside selections from Wagner's Tristan und Isolde. Jiaming Wu, winner of AU's 2019 Concerto and Aria Competition, will play the first movement of Mozart's Piano Concerto no. 12 in A Major. RSVP: http://ow.ly/zooH50w3ifk
JRA Distinguished Artist Series: Rebecca Hutchinson
November 17, 2 – 3:30 p.m.
Katzen Museum
Rebecca Hutchinson's complex paper clay pieces evoke the natural world. Using a range of surprising materials, she combines papermaking and ceramics to create artworks that surpass one medium alone. Groupings of huge hanging pods, forests of crocheted paper clay vines, and bunches of overgrown flowerlike forms that feel freshly gathered from a giant's field and hung to dry all celebrate the "complexity of engineering" and the inexorable force of survival in the natural world.  Hutchinson is a Professor of Ceramics at UMass/Dartmouth. Presented in conjunction with the James Renwick Alliance's Distinguished Artist Series, this lecture is free and open to the public. To register, Hutchinson's accompanying workshop, click here.
Dance Capstone Performances
November 22, 6 – 7:30 p.m.
Katzen Museum
Graduating dance students present an evening of looping performances throughout the galleries of the AU Museum. Projects include provocative TED-style talks, new choreographies, demos, and powerful dancing. Discussion and reception follow. RSVP: https://auartstix.universitytickets.com/w/event.aspx?id=1403&r=f0a219dc01094280aa5456c41429dc41
AU Workshop Concert: Interchange
November 22, 7:30 – 9 p.m.; November 23, 6 – 7:30 p.m.
Abramson Family Recital Hall
AU's experimental jazz ensemble find common ground between wide-ranging musical traditions: jazz and classical, electric and acoustic, written and improvised, homegrown and global. RSVP: 
https://auartstix.universitytickets.com/w/event.aspx?id=1414&r=bbb7980358914f279ada2977e3791725
AU Chorus: Carmina Burana
November 23, 7:30 – 9 p.m.; November 24, 3 – 4 p.m.
Abramson Family Recital Hall
One of the most recognizable and emotionally intense choral works of all time comes to life on stage. The first strains of the apocalyptic O Fortuna have riveted audiences in their seats for almost one hundred years. RSVP: http://ow.ly/dQj850wdGZ3
Field Hockey vs. Lafayette College
November 2, 11 a.m. – 1 p.m.
Jacobs Field
Men's Soccer vs. Army West Point
November 2, 2 – 4 p.m.
Reeves Field
Men's Basketball vs. College of William & Mary
November 8, 7 – 9 p.m.
Bender Arena
Wrestling vs. VMI & University of Maryland
November 9, 11 a.m. – 2 p.m.
Bender Arena
Women's Basketball vs. Villanova University
November 14, 7 – 9 p.m.
Bender Arena
Women's Volleyballs vs. College of the Holy Cross
November 15, 5 – 7 p.m.
Bender Arena
Women's Volleyball vs. Lafayette College
November 16, 2 – 4 p.m.
Bender Arena
Women's Basketball vs. High Point University
November 18, 7 – 9 p.m.
Bender Arena
Men's Basketball vs. Howard University
November 26, 7 – 9 p.m.
Bender Arena
Farmers' Market
November 6, 13, 20, 27, 11 a.m. – 4 p.m.
Quad Space in front of Mary Graydon Center
Every Wednesday, the quad space around the Mary Graydon building buzzes with activity as students, faculty, staff, and neighbors browse goods ranging from farm-fresh vegetables to homemade breads and desserts at the AU Farmers' Market. The market is a coordinated effort between AU and Pennsylvania-based Agora Farms.  Ravenhook Bakehouse also offers a variety of hearth-baked, European-style breads and pastries as well as fresh-brewed coffee.
Refugees and Asylum Seekers in Israel" International Conference 
November 10 – 11
East Campus, Constitution Hall
Israel was founded to become the home for Jewish refugees from all over the world and in recent years many non-Jewish refugees, mainly from Africa, have reached the Jewish state. This conference will look at the different groups of mainly non-Jewish immigrants, refugees, and asylum seekers by assembling the leading academic experts in the field, as well as activists and the voices of refugees themselves. Co-sponsored by American University's Center for Israel Studies, Jewish Studies Program, and American Associates, Ben-Gurion University of the Negev. Free and open to the public. RSVP:  https://tinyurl.com/AURefugeeConferenceSchedule
Conversation with Israeli Writer Ayelet Gundar-Goshen
November 11, 7 – 9 p.m.
East Campus, Constitution Hall
Award-winning Israeli writer Ayelet Gundar-Goshen will discuss her most recent books, Waking Lions (2017) and The Liar (2019) and the issue of African asylum seekers. Co-sponsored by Center for Israel Studies, Jewish Studies Program, Washington College of Law Jewish Student Law Association, and American Associates, Ben-Gurion University of the Negev.  Books available for sale and signing at dessert reception following the discussion. Free and open to the public. RSVP: https://tinyurl.com/AURefugeeConferenceRSVP