Communications
AU Commemorates National News Engagement Day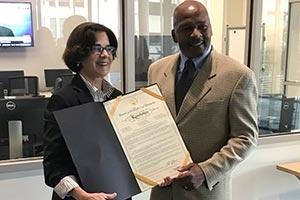 For the fourth consecutive year, the American University School of Communication has commemorated National News Engagement Day by challenging students with a fun way to engage with the news and rewarding them with prizes for their efforts. 
This year's observance rose to further prominence as D.C. Ward 3 Councilmember Mary Cheh presented a Ceremonial Resolution establishing October 3, 2017 as "News Engagement Day" in the District of Columbia. The Ceremonial Resolution recognized and honored the role that the free and responsible press plays in the maintenance and strengthening of democracy. It also emphasized each person's civic responsibility to stay up-to-date with local, national, and international news and cited the benefits of having an informed public.
Each year during the first week of October, journalism schools throughout the United States, Canada, and a half-dozen other countries craft programs to highlight the importance of young people staying informed of current events. "We believe this year's program was particularly important because of the increased hostility toward the news media around the world," said Professor John C. Watson, director of SOC's Journalism Division.
Each participating university chooses its own way to mark News Engagement Day. Many arrange panel discussions, forums, or discussions about the First Amendment. Watson has opted for the News Games at American University since 2014 when the observance was started by the Association for Education in Journalism and Mass Communication, the largest and oldest association of journalism professors in the United States.
Patterned on the TV game show Jeopardy! and The Hunger Games movie, the News Games competition pits students in teams of two to answer news-related questions. The winner gets $500 provided for the last two years by anonymous donors. This year's game was emceed by SOC alumna Markette Sheppard, host of Great Day Washington from local station WUSA-9. The program was recorded live before an audience of students and faculty in the studio at the Media Innovation Lab in the McKinley Building. Members of the WUSA-9 news team and AU President Sylvia Burwell provided video-recorded questions for the student competitors.

The grand prize is a trophy featuring the American University Eagle carrying a #2 pencil. The trophy is on display year round in the McKinley Building and is inscribed with the names of every winning team. Other prizes were contributed for the runners-up by NBC-4, the Newseum, WAMU, Politico, and NPR. These included included caps, t-shirts, and tote bags. The annual event has become so popular that participation has quadrupled just within the last two years and has extended beyond the School of Communication, according to Watson. In fact, this year's winners were Isaac Pokryska and Tanner Mecham - forming Team North Trunk Trivia - both of whom attend the School of International Service.