Athletics
Major Gifts Support AU Student Experience and Athletics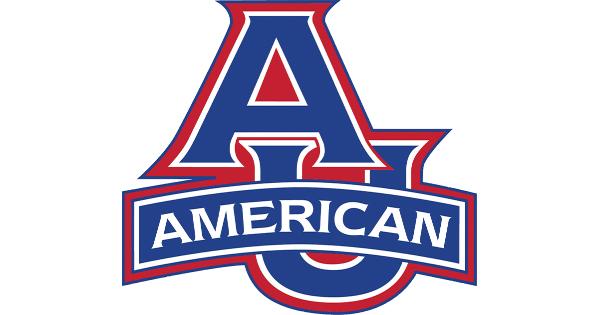 Underscoring American University's commitment to creating a student-centered, holistic experience inside and outside the classroom, two recent, significant gifts will help enhance the student experience and AU Athletics. A $3-million gift from the Bender Foundation, Inc. will support the development of the forthcoming Center for Athletic Performance (CAP), and gifts totaling $1.5 million will rename AU Athletics' Eagles Leadership Academy to recognize donor and Board of Trustees member Stephanie M. Bennett-Smith.
At a critical moment in the AU's history and for the landscape of higher education, both gifts advance the university's strategic vision by bolstering facilities, programs, and opportunities that will benefit the student body and the AU Athletics community
"The generosity of the Bender Foundation, Inc. and Stephanie Bennett-Smith will have a remarkable impact on our students well into the future," said Billy Walker, director of athletics and recreation. "By providing valuable resources for athletics, well-being and personal development, these gifts will enable our wonderful students to reach their full potential. The CAP will also allow us to enhance our recreation and fitness opportunities for all students. The AU Athletics community is proud to be a part of the vision for the university's future."
Critically, the CAP will serve as a springboard to elevate recreation, fitness, and wellness for all students, and will be an integral part of AU's efforts to promote student thriving. With 58,000 square feet of improved practice and training facilities for AU's 16 Eagle teams, the state-of-the-art facility will also strengthen AU's competitive edge in the Patriot League, aid recruitment efforts, and establish a new focal point of community pride. Additionally, the CAP will expand overall health and wellness resources available on campus.
"Center for Athletic Performance will be transformative for the entire AU community in a number of ways, particularly by adding much needed space for all students and creating more opportunities for community programming in existing spaces like Bender Arena" said Fanta Aw, vice president of campus life. "During a time of unprecedented challenges and crises, providing a positive physical, mental, and emotional environment, as well as new spaces to come together, will help students prioritize health and wellness—factors that are essential for their overall success."
A vision long in the making, the CAP is made possible thanks to the partnership of donors who helped lay the foundation for this substantial project. In addition to the Bender Foundation, Inc. gift, early multi-million dollar commitments from AU Board of Trustees member Jack Cassell and his wife, Denise, and fellow Board member Alan L. Meltzer and his wife, Amy, launched the CAP into its planning phase. Their generosity helped bring AU's vision to life and has inspired other dedicated supporters to help make this valuable resource a reality.
This new investment in the CAP follows a long tradition of generosity and support for generations of Eagles from the Bender family. The Jack I. and Dorothy G. Bender Library and Learning Resources Center officially opened in January of 1979 and was dedicated in April of that year. As the center of AU's academic experience, it plays a vital role in connecting students, faculty, and scholars with information, ideas, and each other. In January 1988, the Bender Arena opened its doors and quickly became the heart of the student experience, hosting milestone events such as convocation and commencement. AU will retain this treasured space as the home of the university's signature events and the premier competition space for AU Athletics.
"It is an honor to help welcome a new era at American University via the Center for Athletic Performance," said Julie Bender Silver on behalf of the Bender Foundation, Inc. "Whether on the court or off, we look forward to helping AU students reach new heights through this incredible resource."
Just as the CAP will help AU deliver holistic health and wellness for all students, the newly named Stephanie M. Bennett-Smith Leadership Academy helps ensure that student-athletes receive a comprehensive experience that prepares them for life post-AU.
"Thanks to the vision and generosity of Stephanie Bennett-Smith, this program gives our student-athletes hands-on training, professional development opportunities, and dedicated time to plan for their future—vital elements of success for any student," said Walker.
Established in 2018 as the AU Eagles Leadership Academy, the program represents AU Athletics' commitment to recruiting and nurturing student-athletes who shine as competitors and as members of the broader AU community. A part of the Student-Athlete Support Program and the Office of Undergraduate Education and Academic Student Services, the Academy allows student-athletes to expand leadership skills, experience growth, confront challenges, and have formational conversations about their lives.
Bennett-Smith and her late husband, Orin Smith, shared a passion for athletics. They also shared a belief that lessons learned through sports are character-shaping and lifelong, and that student-athletes need access to a range of skills to truly thrive. To meet these needs, the Academy offers professional development activities, leadership seminars, and community service and engagement. A signature component is the Orin R. Smith Life Skills Etiquette Dinner, an annual business and networking skills event that honors its namesake.
"Most educators believe that learning takes place not only in academic classrooms but also through out of classroom experiences," said Stephanie M. Bennett-Smith. "In addition to 'on the field' or 'on the court' experiences student athletes benefit from activities which prepare them for productive futures and give them the opportunities to come together and practice the skills that will be critical in their futures. Helping our student athletes prepare to serve and lead—and represent AU throughout their lives—is one of the most important things we can do."
During a time of transformation and change in higher education, these extraordinary gifts from the Bender Foundation, Inc. and Stephanie M. Bennett-Smith help illustrate AU's innovative spirit and unwavering commitment to the student experience. As the university continues to move forward, philanthropic investments strengthen our strategic priorities, empower us to excel, and position us to lead for the future.